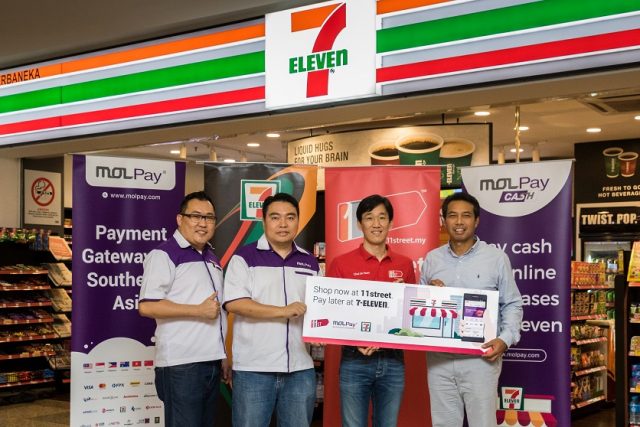 A new partnership with MOLPay, Southeast Asia's leading payment gateway service provider, now allows consumers to make cash transactions at over 2,200 7-Eleven outlets nationwide
KUALA LUMPUR, 20 November 2017 – Providing convenience to consumer is key for any businesses, and as Malaysia's second largest online marketplace, 11street is taking initiatives to ensure that consumers have variety when it comes to choosing the transaction method that suits them best.
Since the partnership with MOLPay, 11street has received more than 10,000 orders with MOLPay Cash @ 7-Eleven as the preferred payment method. The performance is encouraging and it indicates that the expansion of an omni-channel payment gateway is on its course to provide consumers with freedom to choose how and when to pay for their products.
"We live in a time where a user-friendly alternative drive our payment decision, and our collaboration with MOLPay and 7-Eleven embodies this," stated Chuljin Yoon, Chief Operating Officer of 11street. "As a result of technological advancement, consumers are always looking for the most suitable way to conduct daily activities and 11street endeavours to provide this convenience. This partnership also marks our strategic move as we innovate to provide newer payment methods, to support the growing number of transactions we receive per day."
Launched in 2014, MOLPay Cash was designed alongside with other standard payment channels to build convenient gateways and solutions to make purchasing goods online simpler for all consumers. Chief Executive Officer of MOLPay Sdn Bhd, Eng Sheng Guan shared, "As a service provider, it is very important to consider each consumer when designing a system that works and is adaptable to everyone. These solutions were conceptualised in order to cater to Malaysia's wide consumer base. This helps enhance the user experience for all online shoppers across the nation. This partnership with 11street and 7-Eleven creates the necessary awareness and ensures that everyone has options."
Deputy Chief Executive Officer of 7-Eleven Malaysia Holdings Berhad, Hishammudin Hasan said, "The central theme to 7-Eleven's commitment has always been about catering to consumer needs, in which the key driver for our business is convenience. We believe by partnering with MOLPay, it keeps us on point with the ever-changing business landscape; at the same time fullfils our consumers' needs by providing them with an avenue to process their transactions at any of our 7-Eleven stores nearest to them, 24-7."
With close to 13 million product offerings, 11street continues to explore significant partnerships that will offer consumers with a holistic online shopping experience. Having over 2,200 stores located throughout Malaysia, 7-Eleven plays a key role to provide convenience for the benefit of consumers on a nationwide scale. Along with MOLPay, it can be expected that the offline payment method (MOLPay Cash), will make the online marketplace a more holistically-abled e-commerce platform.
For more information on 11street and monthly promotions, please visit http://www.11street.my/.
About 11street (www.11street.my)
11street is a trustworthy and convenient online marketplace that offers a great variety of products at competitive prices. It strives to revolutionise today's consumers' online shopping experience by making it more personalised and engaging. 11street has a diverse selection of product categories which are tagged on Fashion, Electronics, Groceries, Health & Beauty, Kids & Baby, Leisure & Sports, Home & Living, and Books & Services including deal offerings like E-vouchers. 11street is also an optimised marketplace where its merchandising ecosystem, education and training programs can fully support sellers regardless of the size of their businesses. Established in Korea since 2008, 11street is now one of the top global e-commerce marketplace providers with 400,000 sellers serving over 30 million consumers worldwide. 11street also has a presence in Turkey and Thailand, known as n11 and 11street respectively. For more information, please visit http://www.11street.my.
About MOLPay Sdn Bhd (https://molpay.com/v3/)
MOLPay Sdn Bhd is part of the MOL Global Group, one of Southeast Asia's largest internet companies with offices in Malaysia, Singapore, Thailand, Philippines, Indonesia, Vietnam, Taiwan, Australia, New Zealand, Turkey, US and Brazil. MOLPay is the first payment gateway in Southeast Asia enabling online purchases to be paid physically with cash at popular retail chains, outlets or via online using global credit cards, debit cards, charge cards, e-banking, and e-wallets.
About 7-Eleven Malaysia Holdings Berhad (www.7eleven.com.my)
7-Eleven Malaysia Holdings Berhad through its subsidiary 7-Eleven Malaysia Sdn. Bhd. is the owner and operator of 7-Eleven stores in Malaysia. Incorporated on 4 June 1984, 7-Eleven Malaysia has made its mark in the retailing scene and have been a prominent icon for over 28 years.
7-Eleven Malaysia is the single largest convenience store chain with more than 2,200 stores nationwide, serving over 900,000 customers daily.