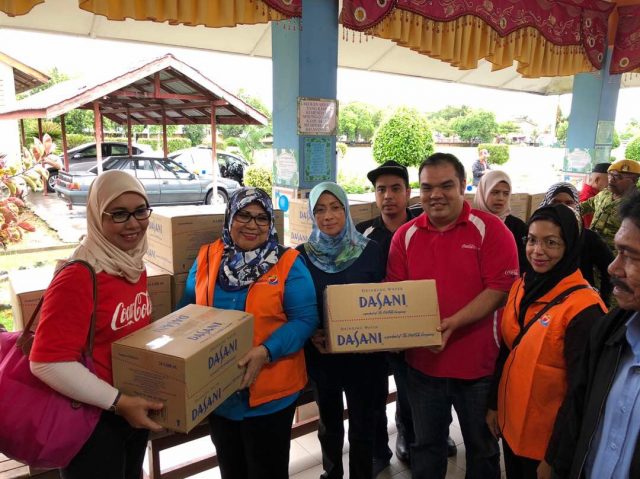 8 December 2017
With unrelenting heavy rains falling across the nation recently and more expected in coming weeks as we draw closer to the end of the year, Coca-Cola Malaysia is prepared to activate its extensive nationwide supply network to deliver clean drinking water to evacuees.
The company recently distributed 48,000 bottles of its Dasani drinking water across seven evacuation centers in the Pasir Mas, Kota Bharu and Rantau Panjang districts of Kelantan and also Hulu Terengganu in the state of Terengganu.
The timely donation provided around 5,000 evacuees with immediate access to clean drinking water for drinking and food preparation, which is critical for reducing water-borne diseases while providing hydration.
The bottles of water were officially handed over to the Minister of Women, Family and Community Development, YB Datuk Seri Rohani Abdul Karim, at SK Sri Ketereh in Kota Bharu Kelantan.
The Welfare Department committee under the ministry expressed gratitude for the much needed supply of clean drinking water which was also used to prepare fresh hot meals at the relief centers, and Coca-Cola's commitment to provide aid in the future.
In early November, Coca-Cola Malaysia quickly reacted to the unexpected floods in the northern states of Penang and Kedah and donated 24,000 bottles of Dasani mineral water to relief centres and other distribution channels.
"As a business that operates locally, the Company is committed to assisting local relief efforts where needed and this happens in communities and countries around the world. In many cases, The Coca-Cola Company is in a unique position to provide assistance during and after natural disasters when the community needs to rebuild their lives because of our large distribution network and presence in over 200 countries," said Coca-Cola's Bottling Investment Group Malaysia-Singapore-Brunei CEO, Gareth McGeown McGeown.
The Coca-Cola Company in Malaysia
In addition to Coca-Cola, one of the world's most valuable brands, the Coca-Cola system in Malaysia manufactures, markets and distributes over 80 products including sparkling beverages (Fanta, Sprite, A&W, Schweppes), zero-calorie sparkling beverages (Coca-Cola Light, Coca-Cola Zero Sugar, Sprite Zero), juice drinks (Minute Maid Pulpy), teas (Heaven and Earth), isotonic (Aquarius) and water (Dasani).
Coca-Cola has invested RM1 billion in Malaysia since 2010, creating more than 800 jobs and touching over 75,000 customers directly with a total reach of over 200,000 customers across Peninsula Malaysia and East Malaysia. Through its programmes and partnerships Coca-Cola Malaysia aims to make a lasting positive difference in the local community.
From recycling through partnership with the Malaysian Nature Society and Universiti Putra Malaysia (UPM), to working with Raleigh International and Muslim Aid Malaysia to provide access to clean water for more than 22,000 villagers in rural Sabah, and economically empowering women through the Coca-Cola KU entrepreneurship programmes – Coca-Cola is committed to building sustainable communities in Malaysia.