Taiwanese beverage company HeySong Corp has cast its eyes on Southeast Asia. HeySong chairman Chang Pin-tang was quoted by Taipei Times as saying "we are upbeat that some of our key products are very likely to grab market share [in the region's soft drink market]." He was referring to the company's carbonated drinks containing vitamin C.
HeySong has 7% of Taiwanese drinks market
This is the first time HeySong organised an investor conference, the first in 18 years since listing on the Taiwan Stock Exchange. According to the company's investor conference material, which can be downloaded here, the company owns a 7% value share in the Taiwanese drinks market worth TWD 55.86 billion in 2016. Within the carbonated soft drinks space, Heysong has 30% and is second in sports drink.
Targeting Southeast Asia as part of Taiwan's New Southbound Policy
In line with the Taiwanese government's New Southbound Policy, which is to enhance cooperation and exchanges between Taiwan and 18 countries in Southeast Asia, South Asia and Australasia, Heysong will use its high value-added products to tap into Southeast Asian carbonated soft drinks market. HeySong will develop new export markets in Hong Kong, Singapore, the Philippines and Thailand.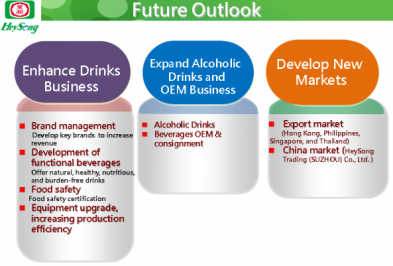 At the moment, the company is doing OEM for Suntory C.C. Lemon and is exporting the carbonated soft drink enriched with vitamin C to Hong Kong since 2008.
HeySong's recent activities in Southeast Asia
The same Suntory C.C. Lemon was recently put on trial in 99 Speedmart, the biggest minimarket chain in Malaysia. We have reported the story back in October 2017. Click here for the article.
In the Philippines, HeySong has already rolled out its C&C range of sparkling drink – apple, orange and lemon through the 7-Eleven convenience stores in the country in October 2017.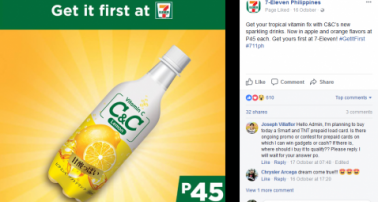 What Mini Me thinks
Vitamin enriched carbonated soft drinks has become the focal point and as a differentiation strategy for new comers in the hugely crowded carbonated soft drinks market in Southeast Asia.
In Thailand, the soft drinks market is expected to drop by 5% in 2017 and down by another 7% in 2018, said Fabian Mosquera, country manager of Ajethai Co., Ltd. However, the functional drinks category is expected to grow 4% in 2017, said Fabian. This is where the vitamin enriched beverage will likely excel as consumers shift to innovative healthy drinks