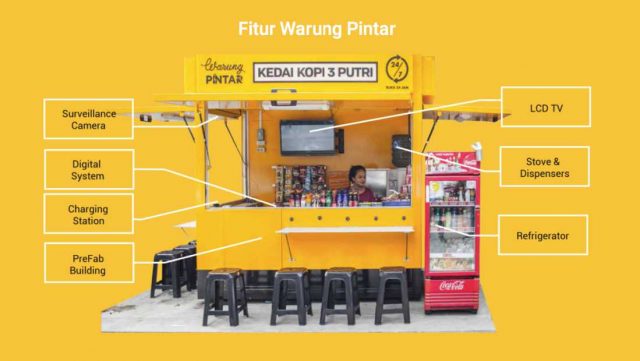 Indonesian retail tech startup Warung Pintar has started a project to upgrade traditional warung or roadside stalls into Warung Pintar or 'smart kiosk store,' reported Reuters. The new prefab kiosks comes with a distinctively orange colour and is equipped with an LCD TV, a charging station, digital POS, a surveillance camera, digitalised book keeping and a refrigerator. Shoppers can do online transactions such as purchasing flight ticket or phone credit in addition to grocery shopping. So far, there are now 12 Warung Pintar owners in Jakarta.
Traditional trade has the biggest share of FMCG sales in Indonesia. The ubiquity of warung, which sells limited SKUs but essential goods, has made it a popular choice for top up shopping or daily shopping.
However, warung is under threat from the modern trade especially minimarkets, which offer a more competitive price and comfortable shopping experience.
More information about Warung Pintar can be found by clicking this link.

Start with a capital of IDR 50 million (USD 3,666). Return of investment in 10-12 months and monthly profit of up to IDR 6 million.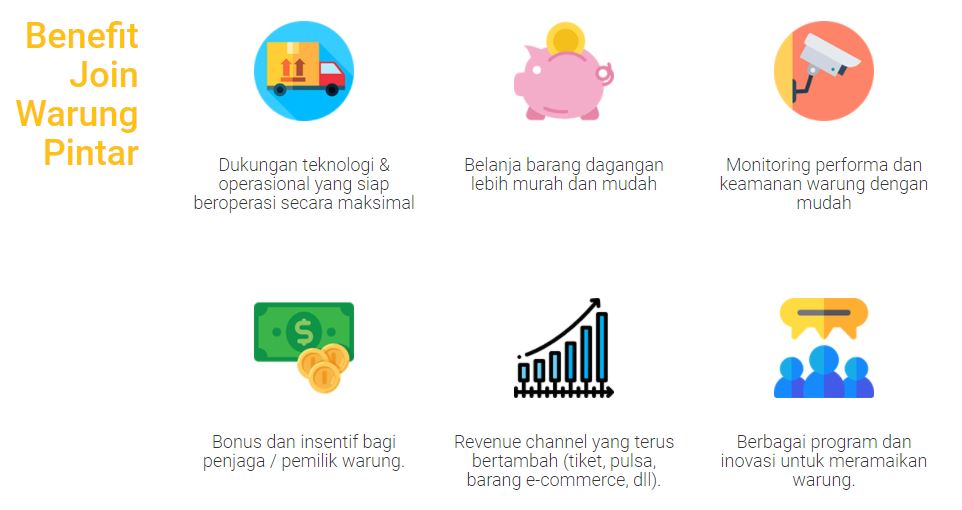 Bonus and incentives for owners
Growing revenue channel eg tickets, mobile top up and e-commerce
Access to cheaper goods
Technology support that is fully operational and ready to be used
CCTV to monitor and safeguard the safety of the stall
Warung Pintar has received early stage funding worth USD 4 million from MDV, East Ventures, Digital Garage, Insignia Ventures Partner, Triputra Group and several other angel investors.