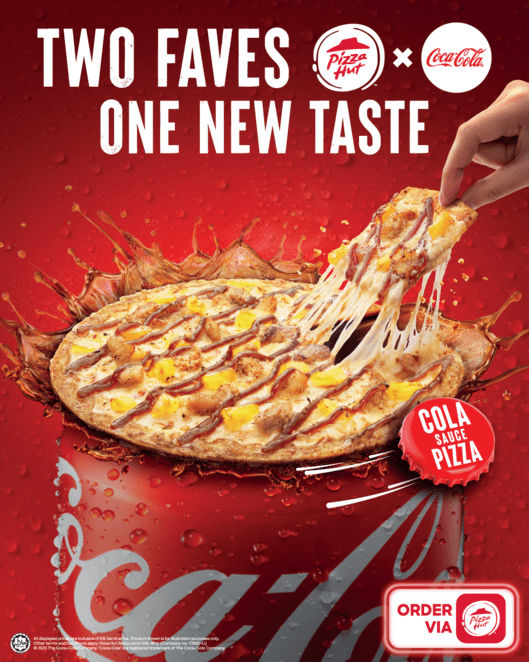 KUALA LUMPUR, 31st July 2023 – Pizza Hut Malaysia and Coca-Cola are thrilled to announce an iconic partnership that sees the two leading* brands teaming up to introduce a range of innovative offerings featuring the new Hawaiian Cola Pizza and Krispy Cola WingStreet. The two have fused their most loved signature products, combining two distinct flavours and created a new taste experience.
Launching on 1st August 2023, this month-long campaign promises pizza and wing lovers an unforgettable experience in flavour. The contemporary combination took over four months of development where multiple recipes and combinations were tested before finding the perfect match. The result is a unique taste sensation that brings out the iconic flavours of both Pizza Hut and Coca-Cola in one bite.
The Hawaiian Cola Pizza is a fusion of Pizza Hut's top selling Hawaiian Chicken Pizza and a specially concocted sauce made with the signature Cola syrup. This creates a symphony of piquant and savoury flavours that end with the surprising note of Cola's signature fizz. Meanwhile, the Krispy Cola WingStreet features juicy chicken wings coated in a special cola-based glaze, delivering a zesty and irresistible taste.
Pizza Hut Malaysia Chief Marketing Officer Emily Chong said "We are delighted to co-create this new exciting offering with Coca-Cola. Pizza Hut and Coca-Cola are both brands that constantly drive innovation and this is why the two brands have remained a favourite for people from all walks of life."
"Mash-ups always create intrigue, especially with well-loved flavours. Hence, this unique creation is a testament to our shared values of finding new and fulfilling ways to delight our customers," she said.
Coca-Cola's Bottling Investments Group Chief Executive Officer for Singapore, Malaysia, and Brunei,Tolga Cebe said the partnership between the brands is a much anticipated one.
"Pizza Hut, over the years has been delivering superior quality in all their ventures and that is synonymous with our values, which is prioritising the customer experience.
"As leading brands in our fields Coca-Cola and Pizza Hut have always been a perfect combination. With this unique new offering, customers can now savour both flavours in a single, mouthwatering creation, bringing them a truly Real Magic experience between Coca-Cola and Pizza Hut," he said.
To amplify the excitement, a special vending machine will be installed in a surprise location within the Klang Valley. Fans who encounter the vending machine will be treated to a surprise, thus adding an extra layer of enjoyment to the experience.
Selling nationwide across all 453 Pizza Hut stores, the Pizza Hut X Coca-Cola range can be enjoyed as part of the Pizza Hut MyBox combo, Huts Meal combo or WingStreet Combo with an additional RM3.90 for each set. This promotion is available for dine-in, takeaway and delivery which can be ordered through Pizza Hut Apps, www.pizzahut.com.my or via popular food aggregator platforms.
For more information about the location of the special vending machine and further updates on the Pizza Hut X Coca-Cola campaign, fans of the brands can follow Pizza Hut Malaysia's official Facebook (www.facebook.com/PizzaHutMalaysia) and Instagram (www.instagram.com/PizzaHutMalaysia) pages.
Mark your calendars and head to your nearest Pizza Hut outlet starting 1st August 2023 to 15th September 2023 to experience the extraordinary Cola-boration, where two of Malaysia's most loved* brands come together to create an unforgettable and never-before-seen dining experience.
Source: Pizza Hut is No. 1 Pizza* Brand in Malaysia (Source : YouGov Malaysia, YTD June 2023).
Source: Coca-Cola is No. 1 Sparkling* Brand in Malaysia (Source : Nielsen Retail Audit, YTD June 2023) *exclude Isotonic.