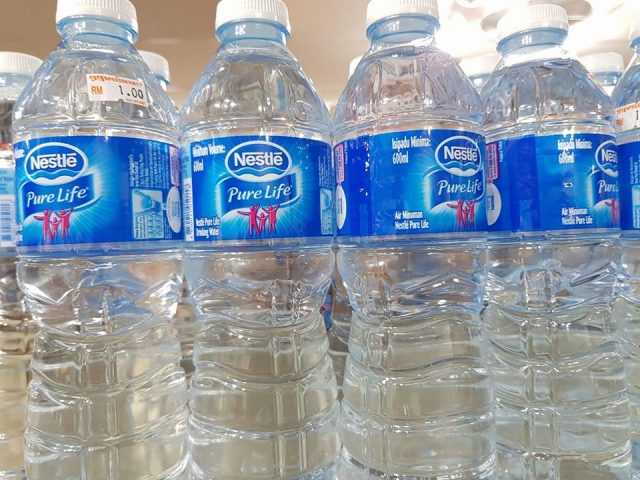 Nestlé Malaysia has finally entered the bottled business by making available its Pure Life brand in the country. The author first spotted the Pure Life drinking water at a food vendor outside of Giant supermarket in Kuala Lumpur.
Bottled water is one segment that has not been in Nestlé Malaysia's portfolio. According to Nestle, the company has started making available Pure Life drinking water since late February 2018 and is available at 99 Speedmart, Aeon and other selected retailers.
Imported from Thailand
The Nestle Pure Life in Malaysia is imported from Thailand. It is manufactured by Nestle (Thai) Ltd in the Surat Thani factory in southern Thailand. The Surat Thani plant is the second Pure Life manufacturing site in Thailand, launched in 2017, designed to serve 14 southern provinces. The first plant is located in Ayutthaya, north of Bangkok. The southern factory produces Pure Life in 330ml, 600ml and 1.5 L sizes. Pure Life is certified halal by the Thai halal certifying body.
Drinking water
On the packaging, Nestle Pure Life is labelled as a drinking water. On the back, it mentions the source of water as "underground water" and is certified by the Ministry of Health, Malaysia with the approved number that indicates it is a drinking water.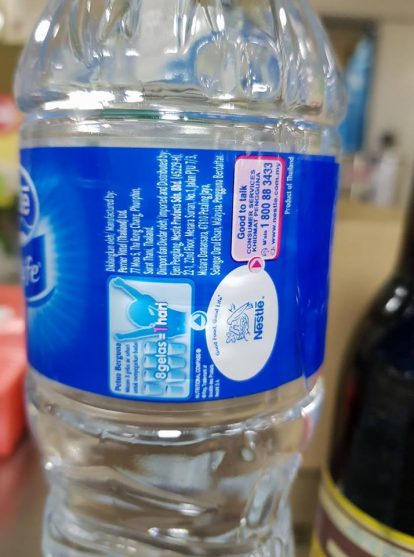 The bottled industry is facing a slowdown as evidenced by the performance of Spritzer Bhd, the market leader in bottled water, which reported in its 2017 full year report that "the Group experienced lower than expected sales volume due to the prevailing soft market sentiment locally resulting in distributors not able to meet sales targets set." The company also experienced poor sales in China due to "stiff competition."
To cope with rising cost of living, consumers are increasingly shifting to private label bottled water, which offers better value for money. Almost all retailers now have private label drinking and mineral water. KK Super Mart has bottled water selling in carton stacked prominently in front of the shop selling at an affordable price of less than RM 10 for 12 x 1.5L.
Pure Life is available in 600ml and 1.5L. The promotion price at 99 Speedmart is RM 1.00 for the 600ml and RM 2.00 for the 1.5L. The regular price for the 1.5L is RM 2.80 and 600ml is RM 1.40.