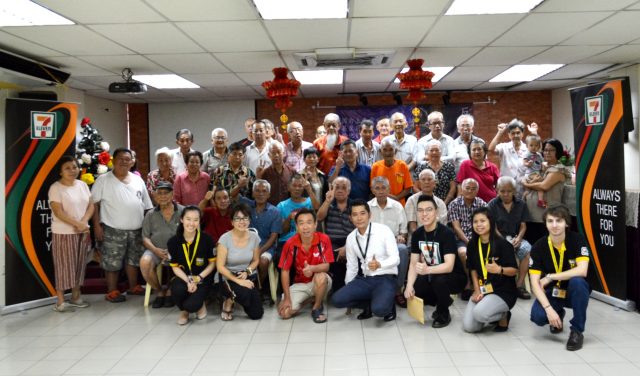 Kuala Lumpur, 28 February 2018 – Festive seasons are a time for celebration, and during Chinese New Year, the nation's favourite convenience store 7-Eleven Malaysia journeyed to Charis Senior Citizen Home alongside its startup NGOHub Asia to celebrate the occasion with the elderly by preparing a delectable feast for them.
The festive spread consisted of dishes such as Chinese style-fried vermicelli with cabbage and shitake mushrooms, boneless salted egg chicken pops, garlic stir-fry mixed vegetables, chicken and prawn dumplings with Asian chili dip, assorted 'nyonya kuih' for dessert, and a refreshing minty lime drink. 7-Eleven Malaysia also distributed daily necessities such as cream crackers and cereal drinks as well as red packets to the community.
Charis Senior Citizen Home was founded by Rev. Leong Ka Meng in 1997, and the organization was formerly a walk-in centre whereby free meals and provisions were offered to the elderly who are underprivileged, homeless, abandoned or have lost complete contact with their family.
In 2004, the organization decided to expand their services, and opened up a shelter for these forgotten individuals. However, they are only able to accommodate up to 25 occupants due to limited space and helpers. The shelter currently has 24 male occupants and is located on the 2nd floor of a shop lot at Jalan Pasar Baru, Pudu. The 1st floor of the building, on the other hand, is the walk-in centre and operates from 6:00a.m. – 10:30p.m.
Ronan Lee, 7-Eleven Malaysia General Marketing Manager said, "It is a pleasure to be spending time with the elderly here, and during this festive period, they would appreciate having some company as it gives them the assurance that there are others who are looking out for them. Living up to our tagline of 'Always There for You', we wanted to bring a sense of merriment and festivity to the community during Chinese New Year, and we are glad to have done it today."
During a sharing session with the community, Rev. Leong expressed his gratitude, "On behalf of the community, thank you 7-Eleven Malaysia for coming to visit and support us. We are happy and grateful to have you here to celebrate this auspicious occasion with us." Charis Senior Citizen Home welcomes contribution from the society, be it in the form of financial aid or volunteers who can simply spend some time with the community here.
About 7-Eleven Malaysia
7-Eleven Malaysia Holdings Berhad through its subsidiary 7-Eleven Malaysia Sdn. Bhd. is the owner and operator of 7-Eleven stores in Malaysia. Incorporated on 4 June 1984, 7-Eleven Malaysia has made its mark in the retailing scene and have been a prominent icon for over 33 years. 7-Eleven Malaysia is the pioneer and largest 24-hour standalone convenience store operator in Malaysia with over 2,200 outlets nationwide and serves more than 900,000 customers daily. 7-Eleven stores can be found across bustling commercial districts to serene suburban residential compounds throughout Malaysia, from petrol stations and LRT stations to shopping malls and medical institutions. 7-Eleven is Always There For You.