Kuala Lumpur, August 14, 2020 – Orang Asli community have felt the economic impact of COVID-19 through reduced economic opportunities.
Ayam Brand™ in cooperation with the Department of Orang Asli Development (JAKOA) is introducing the #AyamWithYou community care campaign to Orang Asli communities in Johor, Pahang, Perak and Selangor.
The #AyamWithYou community pantry is now self-sustaining in 13 locations nationwide with communities coming together to give and to take daily essentials such as food, to help those in need, supported by product contributions from Ayam Brand, Mission Foods and Alce Nero.
The community care campaign is being rolled out at Kampung Kangkar Senanga, Kampung Orang Asli Teluk Gunung, Kampung Orang Asli Tibang and Kampung Orang Asli Changkat Bintang with one month's supply of Ayam Brand and Alce Nero products being contributed to a total of 167 Orang Asli families from these communities.
The Director General of JAKOA, Prof Dr Juli Edo said that the #AyamWithYou campaign was needful for its tangible and psychological support of Orang Asli communities through the contribution of food essentials during these challenging times.
"The stimulus provided for Orang Asli has been helpful for many communities, nationwide but they are still facing economic challenges, specifically putting food on the table. The #AyamWithYou campaign is a timely and positive uplift for Orang Asli communities, a reminder that they are not alone, as organisations and individuals have their interest at heart. Our thanks to Ayam Brand and Alce Nero for their generous contribution of premium healthy food products," Prof Dr Juli Edo says.
As the communities are deep in the interior, JAKOA will take on the logistics support, and coordinate with the Tok Batin to distribute a box of 27 products to heads of households in each community, while ensuring that social distancing is practised.
"These communities are hard hit economically, and the contribution of food items with longer shelf lives is a vital lifeline. We hope more organisations join the #AyamWithYou campaign, or initiate their own charitable giving," he adds.
Through its long-running Corporate Social Responsibility programmes Ayam Brand™ has contributed more than 2 million healthy meals for charity, providing nutritious food to more than 21,800 people from 524 charity organisations and NGOs over the past 13 years.
The #AyamWithYou community care campaign has supported front liners at Hospital Sungai Buloh, the homeless, the differently abled, orphans, single mothers and the elderly since the Covid-19 pandemic started in Malaysia. Approximately 20,000 Ayam Brand products have been distributed to date.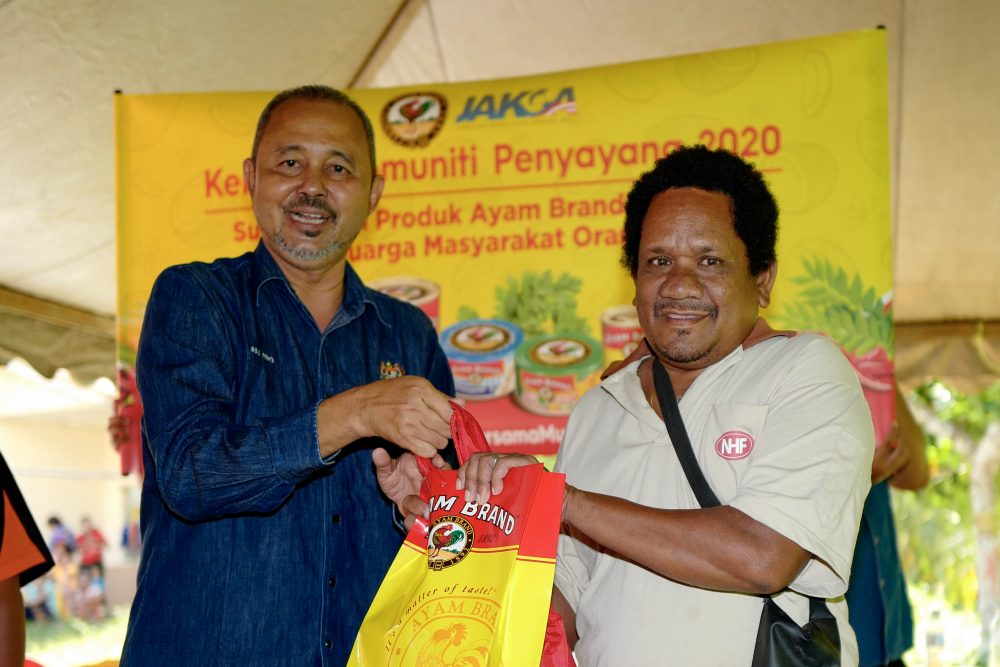 "We have reached out to different communities, especially those in need through the community care campaign, and are glad to work with JAKOA to support Orang Asli communities. Our products are nutrient dense with reduced sugar and sodium that well suit Orang Asli diets. We modified the community pantry concept as there are fewer donors due to the isolated locations. We welcome other brands to join us in supporting these communities. The take away from the #AyamWithYou campaign is that as communities we can lift each other up," says Ayam Brand Malaysia's Marketing Manager, Ms Teoh Wei Ling.
The #AyamWithYou campaign was a welcome surprise to residents of Kampung Orang Asli Changkat Bintang in Selangor, Kampung Kangkar Senanga in Johor, Kampung Teluk Gunung in Pahang, dan Kampung Orang Asli Tibang in Perak.
"Times are very tough for us as economic activity in our area has reduced, and opportunities are scarce. This contribution from Ayam Brand and JAKOA eases some of our worries on providing for our families. We appreciate the thoughtfulness, and the quantity of quality products. This can keep all 39 families here fed for a month or longer. We have not tried tuna, saba or pasta before so this is also a culinary adventure for us!" Tok Batin Hassan bin Kaku from Kampung Orang Asli Changkat explained.
A villager said the contribution was a windfall, generous and highly welcomed by the Changkat Bintang Orang Asli community.
"All of us know Ayam Brand, but it is a luxury or special occasion treat. And now we have enough to last a month. We don't even need a can opener for the tuna, saba, baked beans and santan. We are feeling that the rest of Malaysia is with us too through the #AyamWithYou campaign," the villager shares.
Find out more about the #AyamWithYou community care campaign, visit https://www.ayambrand.com.my.
About Ayam Brand
Ayam Brand, a household name in Malaysia and Asia for 128 years, is famed for its wide range of quality and healthy canned food that are preservative free and contain no added MSG. Ayam Brand products are manufactured in state-of-the-art facilities that meet the highest international standards with worldwide-recognized certifications (HACCP, ISO 9001) and are certified 'Halal'. Since 2013, Ayam Brand has been ranked in the Top 10 of Malaysia's most chosen FMCG brands, according to the Kantar Worldpanel's Brand Footprint Study.