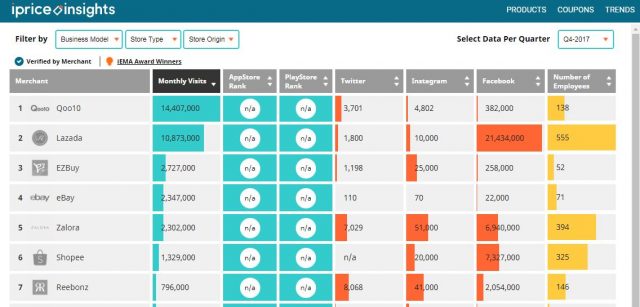 Singapore Budget 2018 emphasizing on growing the digital market in Singapore and Southeast Asia shows the high importance of this industry on the growth of the country's economy. The e-commerce market is highly triggered by the additional investment of Alibaba on local based start up, Lazada. Furthermore, with the recent acquisition of Uber by Grab, players in the region are excited for the news as it might signifies another huge movement or changes to the market.
Basket size is one of the key metric for impacting the unit economics profitability of the business. Recent study on Southeast Asia State of E-Commerce finds Singapore holds the biggest basket size in the region, spending the most on average per order, making it a valuable market despite their small size. Map of E-Commerce by iPrice observed the facts and track the changes that's going on in the e-commerce industry of Singapore. Here are the latest updates on the industry:
1. Qoo10 is the most visited website, first to break 8 figures traffic, followed by Lazada
The second half of 2017 showed Qoo10 leading the traffic among e-commerce website in Singapore. Launched in June 2010, Qoo10 accumulated 8.4 million traffic on average during Q3, followed by Lazada at 4.3 million, a total gap of 4 million between both websites.
In Q4, the e-commerce scene has gotten much more interesting. In just 3 months, the traffic for Qoo10 showed an increase of 70%, being the first in Singapore to break 8 figures for e-commerce's traffic, averaging 8.4 million in Q3 up to 14.4 million for Q4.
Lazada's traffic performed excellently as well for Q4, rising at a staggering percentage of 150%, from 4.3 million in Q3 to 10.8 million in Q4 on average.
A comparison from Similar Web spotted Qoo10 has reached 8 figures in traffic as early as September 2017, whereas Lazada managed to break theirs during November 2017 in which the month for 11.11 Single's Day sale happened, claimed as the world's biggest annual online shopping event.
Qoo10 is well-known to be among the first to launch in Singapore e-commerce landscape. The domination in traffic shows the first-mover advantage for occupancy of one market segment. Despite that, Lazada being at the second, has shown consistency on the gap of traffic with Qoo10. Although Qoo10 is the first to get 10 million in traffic, Lazada did not widen the gap between them by maintaining a consistent 4 million behind for traffic in both quarter.
Recently received another US$2 billion investment from Alibaba and the replacement of new CEO, Lucy Peng, the industry is excited to see how these changes on Lazada will change the game of e-commerce industry in Singapore.
On a side note, placing at number 3, 4 and 5 for highest traffic are EZbuy, Ebay and Zalora. They shared similar amount of traffics at around 2 million for Q4, with EZbuy leading at 2.7 million, followed by Ebay and Zalora at 2.3 million. However, EZBuy saw only an increase of 20% in traffic compare to Ebay and Zalora at 49% and 87% respectively between Q3 and Q4.
2. Shopee saw the highest growth on Facebook followers, Lazada holds the crown as most followed
First launched in 2015, Shopee observed an increase of 115% for Facebook followers. With 3.4 million followers on average for Q3, they grew to 7.3 million in Q4, taking the third spot as most followed Facebook page, replacing Zalora, which now placed 4th at 6.9 million.
StrawberryNET managed to maintain their spot at number 2 for both quarter. However, the king of all kings on Facebook followers is still Lazada, accumulated an impressive number of 18 million and 22 million for respective quarter, leaving their competitors largely behind.
According to a study by Social Samosa, only 1% of users who like a business page will visit that brand's Facebook page. Despite that, things are different in Singapore. Facebook is one of the platform used by Singaporeans for product and brand discoveries. 1 in 4 Singaporeans on Facebook browse the platform even while watching television, according to a study conducted by TNS.
Based on inferred and reported data for December 2014 by Facebook internal data, 3.2 million Singaporeans access Facebook via mobile devices on average. Study also finds Singapore mobile traffic has increased significantly over the years, accounting over 70% of the total e-commerce traffic.
3. Fashion merchants still dominate on Instagram and why?
3 out of the top 5 merchants with the most followers on Instagram are coming from fashion. Love, Bonito is the most followed Instagram account for Q3 and overtook by Althea on the last quarter of 2017. Althea showed an impressive growth of 23% on Instagram followers, reaching 147,000 by Q4.
Along with that, the other 3 merchants that make it to the top 5 are UBuy, MDS Collections and MCPLabel.
The social media platform which focuses on visual has become fashion world's new best friend. Followers are able to keep up with the latest beauty tips, celebrity looks and fashion trends, making it the most ideal place to engage with their fans.
4. Lazada, Zalora & Shopee are among the top in employment size
iPrice obtained the data for the number of employees currently working with each start up by analysing those who's on Linkedin and residing in Singapore.
The second half of 2017 showed Lazada lead the numbers by having the most number of employees followed by Zalora and Shopee. The data shows these 3 start ups are among the top when it comes to the amount of people they hired.
We can expect the numbers to be much higher as these numbers are only for those who's active on Linkedin. By the end of 2017, Lazada has 555 employees, Zalora has 394 followed closely by Shopee at 325 employees which are on the employment-oriented platform.
Click here to view the highly interactive infographic to understand more: https://iprice.sg/insights/mapofecommerce/
Methodology – The Map of E-Commerce ranks Singapore's top 30 e-commerce players based on their average quarterly traffic, mobile application ranking, social media followers and number of staff.
Monthly Visits – Average monthly website visits. Source: SimilarWeb.
App Ranking – Average ranking of mobile app. Source: App Annie. Data will be displayed as (n/a) if the ranking of app is not available.
Social Media Followers – Source: Facebook, Twitter & Instagram.
Number of Employees – Source: LinkedIn. Data will be displayed as (n/a) if the number of employees is not available.
List of Merchants – E-commerce who received more than 100,000 visitors per-month or 100,000 social media followers are qualified for this list.
The following industries were not included in this list: e-ticketing, financial services, rental services, insurance, delivery service, food & beverage, meta-search, couponing, cashback websites and e-commerce who solely provides classified ads/P2P services.
All e-commerce who initiated their business as a physical store were excluded from this list.