The excise tax on sugar-sweetened beverages under the Tax Reform for Acceleration and Inclusion (TRAIN) has been implemented for nearly half a year already. We take stock on how the tax has impacted the Philippines food and beverage industry.
Wholesale sugar prices increased
First, we look at sugar, the main raw material used in sweetened drinks. Data from the Sugar Regulatory Administration (SRA) shows the wholesale sugar prices in capital Manila have risen by as much as 19-27% between January 2018 and May 2018.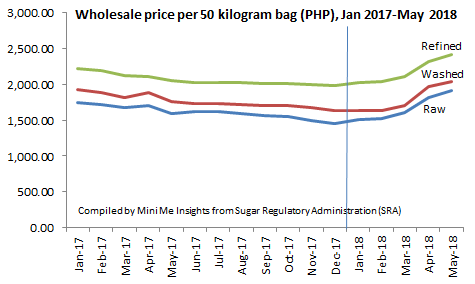 To mitigate the strong rise in sugar prices, the Philippine government has on 11 June 2018 approved the importation of around 200,000 metric tons of sugar.
Beverage companies are substituting high fructose corn syrup (HFCS) with sugar to avail a lower tax rate. The tax rate on drinks with HFCS stands at PHP 12 per litre, doubling that of those using normal sugar at PHP 6 per litre.
The shift towards sugar has generated a surge in demand for sugar for manufacturing purposes. The price hike is also compounded by the inability of local production to fill rising need as sugar production is forecast to have a shortfall of around 160,000 to 200,000 metric tons in 2018, said Department of Agriculture (DA) secretary Emmanuel Piñol.
The hike in price is impacting both beverage companies as well as confectionery players. The Philippine Confectionery Biscuits and Snack Association (PCBSA) on 4 June 2018 said they wanted to import sugar as the cost of domestic sugar is 200% more than imported sugar.
Coca-Cola Philippines was reported to have lowered the production of its Coca-Cola Original Taste product citing "market availability issues," reported Business Mirror on 18 June 2018. Due to lack of sugar supply, the beverage company is prioritising the production of specific SKUs to ensure uninterrupted supply. Fast food is impacted with some premises stopped providing customers with the classic Coke.
First quarter performance 
The first quarter 2018 report cards of the major beverages companies clearly reflect the impact of the TRAIN law. Price hike was the main strategy to bolster sales revenue at the expense of volume.
Zest-O first quarter sales down double digit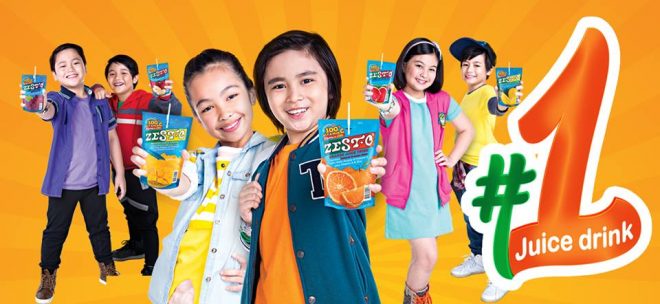 Zest-O Corp, known for its juice drinks and fruit soda, said in June 2018 that it might close some factories in the Philippines citing the tax on sugar-sweetened beverages (SSB), the wage hike proposal and rising sugar cost. Zest-O Chairman Alfredo Yao said the company experienced a double digit losses in its first quarter 2018 sales.
Tang sales down single digit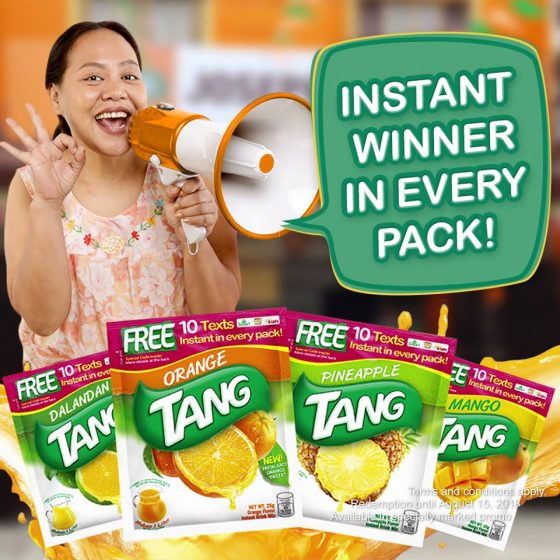 Mondelez's Tang powder drink sales in the first quarter of 2018 fell by single digit, said Mondelez Philippines head of corporate and government affairs Shanahan Chua. The company hopes sales would catch up once consumers adjust to the higher prices.
To boost sales, Tang has launched the mobile campaign and added more flavours to engage with consumers. The mobile campaign provides consumers with 10 free SMS with every pack purchased.
Tang has a lot of explanation to do as consumers are not pleased with the strong increase in price.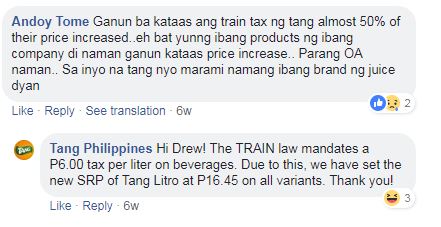 Cobra energy drinks sales volume down double digit
Cobra energy drink sales volume fell 18% year-on-year during the first quarter of 2018. The price hike of PHP 2 per 240ml returnable glass bottle has resulted in an increase in revenue despite lower volume.
Macay instituted huge price hike as remedial action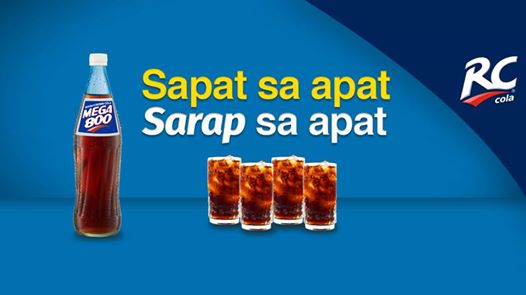 Macay Holdings, which is engaged in the bottling and distribution of RC Cola, reported an 8.8% rise in sales revenue in the first quarter of 2018 as the company implemented a "huge price increase" to cover the excise tax. Sales volume, however, fell and impacted bottom line with net profit after tax dipped 61% year-on-year.
Macay expects the Philippines' sweetened beverage industry will mirror experience in other countries that have implemented sugar taxes where the industry started to recover the following year.
Pepsi-Cola posts single-digit revenue growth
Pepsi-Cola Products Philippines, the bottler and distributor of PepsiCo beverages and snacks, reported a 3.7% year-on-year increase in net sales for the first three months of 2018.

However, the company posted a net loss of PHP 140 million for the first quarter of 2018 due to the impact of the "volume deleverage and higher cost of goods," a clear sign that volume was impacted.
Coca-Cola volume fell
The Philippines operation of Coca-Cola FEMSA, S.A.B. de C.V saw further decline in volume sales in the first quarter of 2018, down 8.1% with sparkling falling 7% compared with the same period a year ago. Q1 2016 performance was due to the election year and Q1 2017 because of the high base a year ago.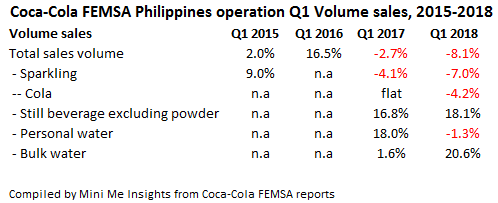 Q1 2018 revenue rose 18.5% year-on-year "driven by average price per unit case increase as an adjustment to the excise tax, partially offset by a volume decline."
C2 RTD tea suffers the same fate
URC's C2 was relaunched in the first quarter of 2018 to target a new set of consumers as Q1 2018 sales volume fell 2% or down 17% versus Q4 2018.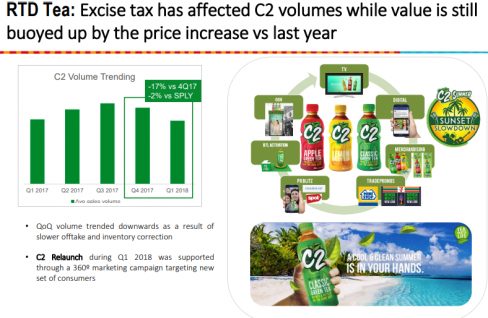 Conclusion
So far, there is less incentive for beverage manufacturers to lower their sugar content as there is no tax exemption on beverages with a sugar content below a certain threshold.
The SBS tax is applied on a per volume basis. Companies can reduce their sugar but since they can pass on rising cost to consumers to maintain value growth, most are keeping the sugar content intact or replace HFCS with sugar to reduce the tax rate.
The TRAIN law provides tax exemption to beverages sweetened purely with stevia or coconut sap sugar. However, local companies are still not embracing these natural sweeteners due to cost and taste factor.
The Healthier Choice logo has worked wonders in encouraging companies to reduce their sugar levels in Singapore, Thailand and Malaysia. There should be a similar program in the Philippines to get the industry moving towards sugar reduction.