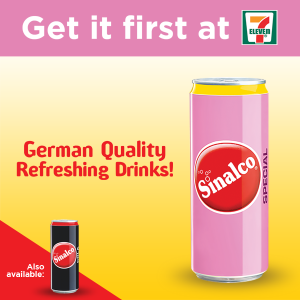 The German classic drink SINALCO is now available at 7-Eleven in the Philippines. Local Euro Interbev Corp was awarded the exclusive license to import, produce and sell SINALCO products for the Philippines market. The deal was granted by Germany's SINALCO International Brands GmbH & Co. KG, reported the news portal of the German-Philippine Chamber of Commerce and Industry in February 2018.
The drinks are packed in cans in Malaysia by Kian Joo and the ingredients are sourced from Germany.
Euro Interbev will focus on HoReCa and the modern trade channel with plans to produce select SINALCO SKUs domestically within 5 years.
Taste will be a key determining factor. One user was saying SINALCO tastes "between coke and rootbeer," while another claims the drink is "not too sweet and not too overpowering." With sweetened beverages coming under the new tax regime, it makes people wonder if sweetened beverages are worth pursuing.
Apart from 7-Eleven, SINALCO products are available in some leading supermarkets, such as Landmark, South Supermart, Makati Supermart, Puregold (Lifestyle), Sta. Lucia, Freshto, Hitop and Iloilo Supermart.