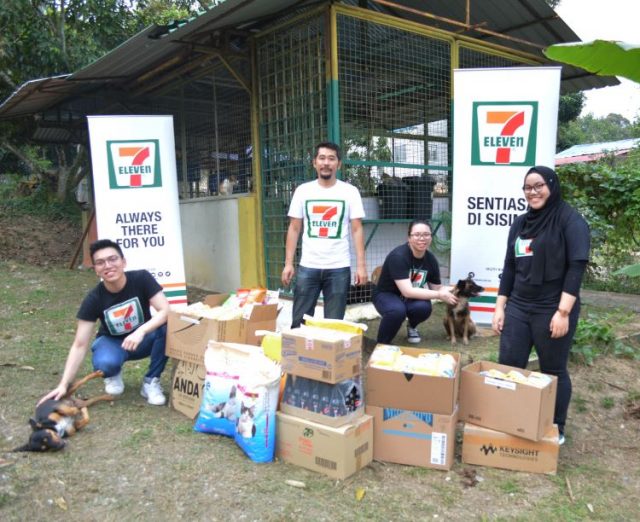 Kuala Lumpur, 2 August 2018 – 7-Eleven Malaysia, the nation's favourite convenience store-chain, recently journeyed to Hulu Langat, Selangor to pay Cherishlife Home a visit. Founded in 2010 by Lau Choy Sze, or more affectionately known as 'Aunty Winnie' to the animal-loving community, Cherishlife Home is a no-kill animal shelter, which also takes in injured cats and dogs.
The drive to the shelter gave volunteers a chance to enjoy the breezy cool air of the nearby forest surroundings – a break away from the hustle and bustle of Kuala Lumpur city. Upon reaching, volunteers from 7-Eleven Malaysia and NGOHub Asia were warmly greeted by playful and friendly cats and dogs at the vicinity, which houses more than 250 of them separately. From wandering the streets to suffering in the harsh conditions in heavily populated areas, these animals were rescued and now find peace and joy to roam the vast space available, which spans almost an acre wide.
To show support for the organization and aid in their daily operations, 7-Eleven Malaysia contributed various supplies ranging from dry nutritious pet food, grooming tools, cod liver oil, and diapers, amongst others. The volunteers also grabbed the opportunity to do some minor cleanup and play with the animals at the shelter.
Ronan Lee, 7-Eleven Malaysia General Marketing Manager said, "We are delighted with our efforts in aiding Cherishlife Home with their wonderful endeavours in providing care and shelter for the many cats and dogs rescued here. Hopefully, our trip here raises awareness on the many contributions and assistance the public can provide to this animal shelter, from simply spending quality time with the cats and dogs or taking one home via adoption to contributing monetary or in-kind donations such as pet food and basic medical tools. Here at 7-Eleven Malaysia, we believe all living creations should be cared for and we hope more volunteers can make the time to assist any social causes that appeal to them."
In the future, Cherishlife Home hopes to see a higher rate of adoption through no-kill animal shelters instead of through purchasing from pet shops or breeders. For more information on the types of assistance required by Cherishlife Home, visit their Facebook at www.facebook.com/cherishlhome.
About 7-Eleven Malaysia
7-Eleven Malaysia Holdings Berhad through its subsidiary 7-Eleven Malaysia Sdn. Bhd. is the owner and operator of 7-Eleven stores in Malaysia. Incorporated on 4 June 1984, 7-Eleven Malaysia has made its mark in the retailing scene and has been a prominent icon for over 33 years. 7-Eleven Malaysia is the pioneer and largest 24-hour standalone convenience store operator in Malaysia with over 2,240 outlets nationwide and serves more than 900,000 customers daily. 7-Eleven stores can be found across bustling commercial districts to serene suburban residential compounds throughout Malaysia, from petrol stations and LRT stations to shopping malls and medical institutions. 7-Eleven is Always There For You.