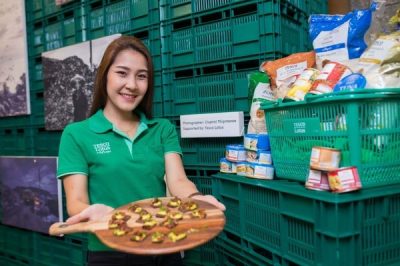 Tesco Lotus makes headway against food waste, with all hypermarket stores in Bangkok and major cities now donating surplus food to local charitiesand food waste data tracking under way
Tesco Lotus, part of the world's leading retail group Tesco, has announced another milestone in its effort to combat food waste in Thailand. The retailer now donates surplus food regularly from 40 hypermarkets in Bangkok and 12 other provinces, as well as five distribution centres, to local charities and those in need. Tesco Lotus is also in the process of tracking and publishing food waste data, in line with Tesco Group's belief that food companies need to be transparent about the levels of waste within their own operations, in order to find ways of reducing waste together over the long-term.
Ms. Salinla Seehaphan, Corporate Affairs Director, Tesco Lotus, said: "In July 2017, Tesco Lotus announced our commitment to lead in tackling food waste in Thailand using the farm to fork approach to minimise food losses and waste within our own operations. By the end of 2017, all 24 Tesco Lotus hypermarkets in Bangkok had stopped throwing away food and were donating surplus food regularly to local charities. We continued to roll out the programme to other large stores outside of the capital. Today, 40 Tesco Lotus hypermarkets and five distribution centres donate surplus food – both edible and inedible – to local charities for human consumption, animal feed, as well as bio-fertiliser production. The programme has helped to save nearly 550,000 kilogrammes of surplus food from going to landfill and in turn provided more than 1.3 million meals to those in need."
"In Bangkok, we work mainly with our partner Scholars of Sustenance (Thailand) who facilitates the donations of surplus food from our hypermarkets on a daily basis. We also work with several other charities and local organisations in other provinces to donate both edible and inedible surplus food. For example, inedible vegetables from our stores in Chonburi are donated to the Royal Thai Navy Sea Turtle Conservation Center, while in Rayong province, we work jointly with SCG Chemicals to utilise inedible fruits and vegetables in bio-fertiliser production. In Lampang, our colleagues deliver edible surplus food to a school for the blind, in their own time and out of their own initiative, whereas in Nakorn Ratchasima province, we work with local rescue team Hook 31 to donate surplus food to the Home for the Destitute. In Khon Kaen, food waste from our stores is composted and used by vegetable growers in Baan Non Kwao, who supply vegetables sold across Tesco Lotus supermarkets in the northeast."
"Admittedly, a lack of food banks and organisations with a nationwide reach and logistics capability presents a challenge to connect more stores outside of Bangkok and small format stores with charity partners. However, as our commitment is that no food that is safe for human consumption should go to waste, we will continue to explore ways and partners we can work with to ensure that surplus food goes to those who needs it."
"We believe that in order for companies to better manage food waste in their operations, it is important to identify hotspots and take action to reduce food waste. Tesco became the first retailer in the United Kingdom to publish independently assured food waste data in 2013. Tesco in Central Europe and Republic of Ireland also now publish their food waste data. In Thailand, we are working on tracking Tesco Lotus food waste data with an aim to publish it in the near future." Salinla concluded.
Notes to editors
About Tesco Lotus food surplus donation programme
– The programme, called What's Edible is Shareable, was introduced in 2017, as Tesco Lotus was the first retailer in Thailand to announce its commitment to lead in tackling food waste.
– Currently, 40 hypermarkets located in 13 provinces (Bangkok, Rayong, Khon Kaen, Chonburi, Phuket, Nakorn Ratchasima, Ubon Ratchathani, Chantaburi, Chiang Mai, Lampoon, Lampang, Chiang Rai, and Satun) as well as five distribution centres, donate surplus food on a regular basis.
– To date, more than 550,000 kilogrammes of surplus food has been saved from going to landfill.
– This is equivalent to more than 1.3 million meals provided to those in need.
– Tesco Lotus distribution centres have donated 21,422 eggs and 17,970 kgs. of rice with damaged packaging.
– A documentary titled "Food Waste: An Unpalatable Truth" was launched in early 2018 to raise awareness about the little known issue in Thailand. Watch it here: https://youtu.be/r8Us6zjz0Xw
Initiatives by Tesco Group
– In 2013, Tesco became the first retailer in the UK to publish independently assured food waste data.
– The Community Food Connection programme was launched in 2016 in the UK to connect Tesco stores with local charities. To date, more than 50 million meals have been redistributed.
– In 2016, the Perfectly Imperfect range was introduced to UK customers. More than 14,230 tonnes, equivalent to over 177 million portions of Perfectly Imperfect fruit and vegetables, have been sold.
– In 2017, Tesco in the Republic of Ireland and Central Europe published food waste data.
– In 2018, Tesco UK removed "Best Before" dates from nearly 70 fruit and vegetable lines.