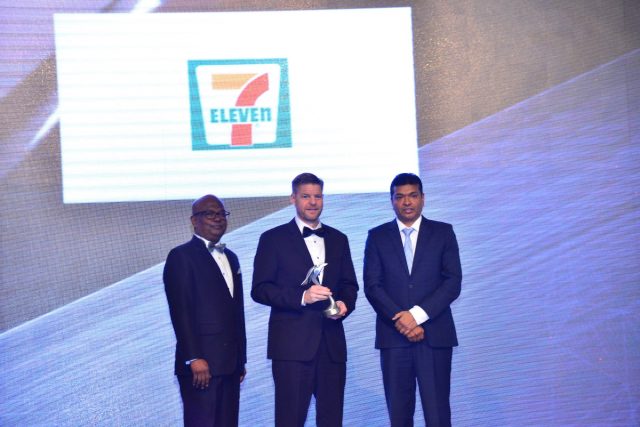 Kuala Lumpur, 31 October 2018 – 7-Eleven Malaysia, the leading standalone convenience store chain in the country, celebrates its fourth consecutive win with a Silver recognition in the Putra Brand Awards' Retail category during the awards dinner ceremony held in the Grand Ballroom, Majestic Hotel, Kuala Lumpur. The attainment of the award marks yet another achievement for 7-Eleven as it represents the acknowledgement for brand excellence in the country from the consumers.
Chief Executive Officer of 7-Eleven Malaysia, Colin Harvey shared, "It is indeed an honour to be recognised with this prestigious branding award for the hard work of the team here at 7-Eleven. We owe a huge thanks to our customers for being receptive to our branding efforts as well as being endlessly supportive of the business. All of us at 7-Eleven Malaysia have been further motivated by this achievement and moving forward, we plan to intensify the roll-out of more initiatives such as more e-commerce facilities, top in class fresh food and beverages range, the latest and in-demand merchandize selection and innovative loyalty programs among others as we strive to fulfil the needs of consumers better by providing true convenience."
He added, "Brands need to make meaningful connections with consumers and indeed, successful brands are those that make meaningful connections with consumers.  People want brands to improve their lives and the lives of people they care for. Brands that focus on giving back to society and making our lives more convenient receive higher levels of engagement and trust and in return are the ones that will earn a premium value."
"We shall strive to continue making meaningful connections with consumers and play a meaningful role in people's lives whilst enhancing the well-being of communities that we operate in as we live up to our motto of being Always There For You", he concluded.
Organised by the Association of Accredited Advertising Agents Malaysia (4As) and launched in 2010, the Putra Brand Awards is Malaysia's premier brand award that recognizes brand building as an integral business investment. The nation's preferred brands are decided by Malaysian consumers and the winners are awarded a Gold, Silver and/or Bronze in various categories.
7-Eleven Malaysia is the pioneer and the largest standalone 24-hour convenience store operator in the country with over 2,250 outlets nationwide. For more information, please log on to www.7eleven.com.my or follow 7ElevenMalaysia on Facebook, Instagram and Twitter.