Heineken Asia Pacific has introduced Heineken 0.0 non-alcoholic malt beverage in Thailand, adding another country to its growing non-alcoholic malt portfolio. Heineken 0.0 was first launched in the Netherlands, Spain and Germany in 2017. Since then, Heineken has made available the non-alcoholic brew in more than 50 countries including Singapore (Nov 2018), Australia, New Zealand and now Thailand.
Aimed at men and women of the legal drinking age
Heineken 0.0 has no added sugar and just 69 calories per serving (330 ml). The drink is aimed at both women and men aged 20 and older (above the legal drinking age) who like the taste of beer but not the alcohol effect.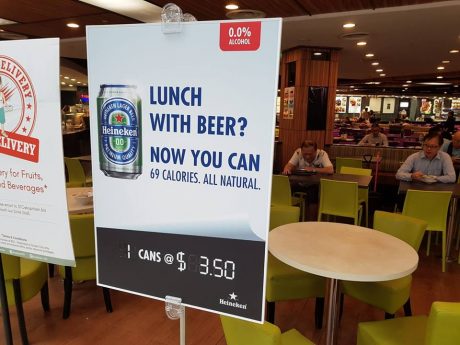 In Singapore, Heineken sees opportunities for non-alcoholic malt drink citing the overlap in beer and soft drink consumption among 73% of beer drinkers aged 25 to 44 years old in the country.
Apart from the usual channels, Heineken will also be focusing on the non-traditional channels including e-commerce, co-working spaces, coffee chains and cafes as well as gyms and salad bars.
Setting up facility in Singapore to produce Heineken 0.0
To support the growth of the non-alcoholic malt category in Asia, Asia Pacific Breweries (APB) Singapore will invest SGD 3.8 million to set up a de-alcoholiser at its brewery by the third quarter of 2019. Once completed, the Singapore brewery will be able to produce Heineken 0.0 for the region. At the moment, the Heineken 0.0 in Thailand and Singapore is brewed in the Netherlands.