Gardenia, the top packaged bread company in Singapore and Malaysia, has diversified into noodles in Malaysia and into snacks in Singapore.
In Malaysia, Gardenia has introduced NuMee Gardenia, a halal-certified yellow noodle. NuMee is also the first pasteurised yellow noodle in Malaysia. The pasteurised process eliminates bacteria and harmful microorganisms. The noodles are free from added colouring.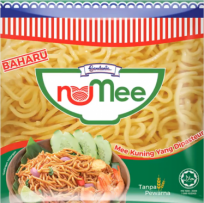 Gardenia has access to wheat, which is a major ingredient in bread making. Diversifying into wheat-based yellow noodle therefore makes perfect sense for Gardenia.
Moreover, the yellow noodle segment, dominated by numerous small brands, is ripe for disruption. The new NuMee Gardenia addresses consumer concern about the halal status of yellow noodles and the bitter taste found in some of the poorer quality yellow noodles in the market.