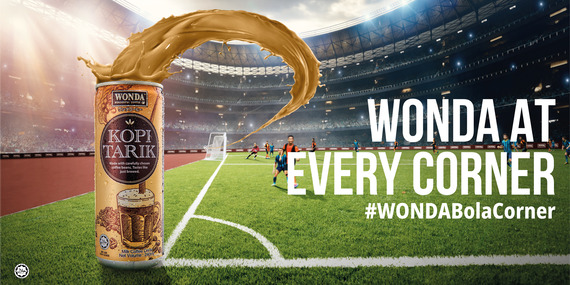 WONDA Coffee calls on Malaysians to create the longest football juggling video worldwide. 
Kuala Lumpur, 20 December 2022 – In conjunction with the return of the FIFA World Cup, WONDA Coffee (one of Malaysia's leading ready-to-drink (RTD) coffee brands that offer the smooth taste of freshly brewed coffee in a can) is calling all football enthusiasts to be a part of its #WONDABolaCorner to form the longest football juggle video with "The Largest Online Video Chain of People Performing Football Kick-up" for the Guinness World Records.
Corners are taken very seriously in football matches especially when a goal is scored we frequently see players running towards their fans and celebrating their victory at these corners. Similarly, Malaysians also have their own version of corners; whether it's the mamak or the local burger stalls, the corner is where everything happens. Therefore, WONDA Coffee strives to always make a presence at every corner to amplify these celebrations among fellow Malaysians through one of the local favourites, the WONDA Kopi Tarik with its localised campaign.
Not just a Malaysian flavour but also the country's best-seller, WONDA Kopi Tarik is ready to provide Malaysians with the boost they need to be invigorated throughout the World Cup season – ensuring they enjoy one of the most significant football celebrations with as much energy as possible with an initiative that is localised specially for Malaysians.
Though Malaysia is not part of the World Cup line-up, the country has some of the finest footballers to be lauded such as Mohd Faiz Subri who won the 2016 FIFA Puskas Award (an award that was once won by world-renowned football player, Cristiano Ronaldo). WONDA Coffee is determined to unite Malaysia's "Borderless" connection across the country to create history like never before by being involved globally in other ways – which is attempting the Guinness World Records where interested participants will record themselves juggling the football for a minimum of two kick-ups without dropping it and submit their videos on WONDA Coffee's Facebook and Instagram.
Amy Gan, Vice President of Marketing of Etika Sdn Bhd shared that WONDA Coffee is truly proud to be able to bring the nation together in a once-in-a-lifetime opportunity with a shared goal to break a worldwide record that also fuels their love for the sport further and through this, they hope to honour these world-class football talents that Malaysia has. To kickstart this motion and motivate Malaysians to join in this excitement to break the record are some of Malaysia's well-known footballers such as Mohd Faiz Subri, Safiq Rahim, Steffi Sidhu and more.
"Apart from bringing Malaysians together in a single take of video, this activity also showcases the country's various talents while encouraging them to do more with their football skills. This is a nationwide celebration, you may even catch a glimpse of yourself on our billboards or social media, so do not miss out on this chance."
Every football season, mamak restaurants are packed with fans of all ages, gender and race roaring for their teams and transforming into football commentators. The sacrifices Malaysians make to stay up till the wee hours of the morning demonstrate how enduring their love for football is. WONDA Kopi Tarik is here to keep them awake during their favourite sport yet deliver something special and relevant to Malaysians.
To keep that spirit going, WONDA Coffee is also organising the first mamak activation in Malaysia post-pandemic by partnering with 20 mamak restaurants nationwide to stream selected football matches throughout the World Cup season, while hyping customers with its number one coffee can, the WONDA Kopi Tarik.
"We've stationed WONDA Coffee promoters at these 20 mamaks to serve the customers with WONDA Coffee's chilled beverages – signifying that at every corner you go, WONDA Kopi Tarik will accompany you especially throughout this football season," concluded Amy.
For more information on how to participate in the longest juggle video attempt, please visit