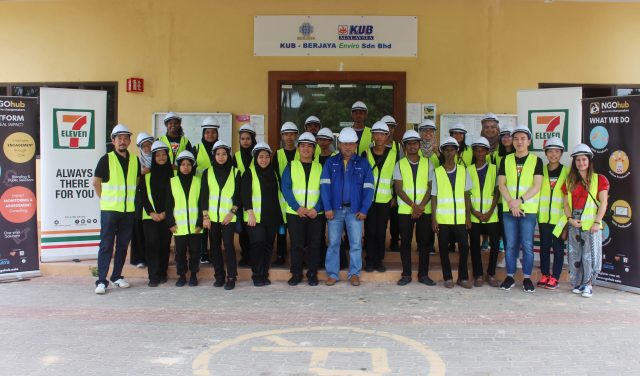 Bukit Tagar, Selangor, 13 May 2019 – 7-Eleven Malaysia recently conducted its latest CSR initiative by bringing the youths from Rumah Saffiyah and Sweet Care Home for an eco-educational visit to Bukit Tagar Sanitary Landfill in collaboration with its start-up, NGOHub Asia.
Bukit Tagar Sanitary Landfill (BTSL) was developed by KUB-Berjaya Enviro Sdn Bhd (KBE) under the supervision of the Ministry of Urban Wellbeing, Housing and Local Government. BTSL was conceived and developed as a regional sanitary landfill, capable of handling solid waste from Selangor and Kuala Lumpur. It has been operating since 2005, managing the entire solid waste generated from Kuala Lumpur and several municipalities from Selangor. Presently, it receives approximately 2,500 tonnes of solid waste per day and its facilities is expected to last up to 130 years with the estimated population increase.
The activity started off with a detailed presentation by Mohd Fatimi Said, KBE Deputy General Manager of Operations on the landfill, including its design and capacity, waste management processes, environmental monitoring and renewable energy production from methane gas. Having won multiple awards for the largest and most advanced engineered sanitary landfills in Southeast Asia, BTSL uses modern technologies including the "zero discharge" practice to ensure optimal protection to the environment.
The KBE team also showed the youths and volunteers the 3 sites that make up the landfill – Level IV landfill with full HDPE membrane liner, power generation plant, and leachate treatment plant. The activity concluded with lunch provided by the KBE team and distribution of 7-Eleven goodie bags.
Ronan Lee, 7-Eleven Malaysia General Manager of Marketing said, "Through this visit, the youths have gained first-hand knowledge and insights to our local waste management system and interacted with industry professio­nals. We hope this educational trip was as eye opening to the youths as it was to us, especially on the importance of proper waste management and what we as the public can do better to preserve and maintain the environment we live in."
"Building awareness is powerful. Through educational visits like this, the public will learn ways on better waste management such as separating home wastes for a greener future," he added. KBE encourages more students to participate in their educational visit so that they may learn the technologies employed in a sanitary landfill.