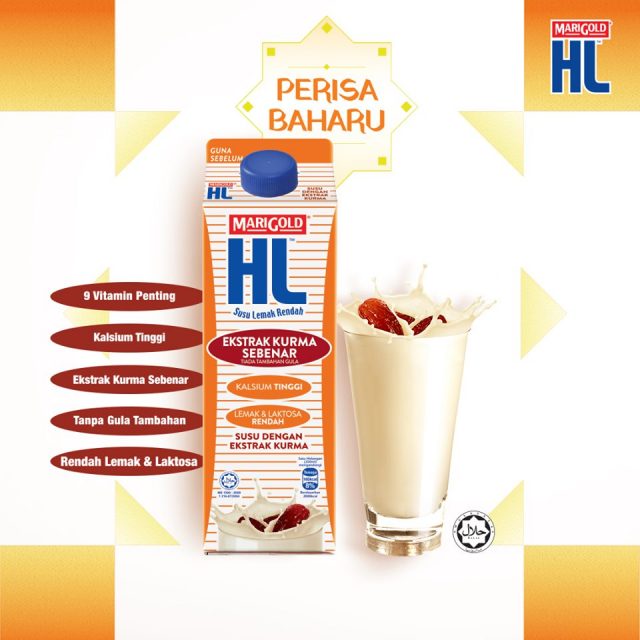 MARIGOLD HL Low Fat Milk ushers in the holy month of Ramadan with the launch of the new MARIGOLD HL Low Fat Kurma Milk. The delicious new variant is a special Ramadan treat that is as healthy as it is delicious, loaded with vitamins and minerals.
The decadent MARIGOLD HL Low Fat Kurma Milk is an enriching blend of the rich, creamy sweetness of fresh dates with MARIGOLD HL Low Fat Milk. The super milk is fortified with nine essential vitamins, namely vitamin A, B1, B3, B6, B12, C, D3, E and Folic Acid; and it is higher in calcium but lower in fat and lactose compared to other milk brands in the market! The addition of kurma or dates, which are extremely nutritious, reinforces MARIGOLD HL Low Fat Kurma Milk as a "double super" – one glass provides long lasting nourishment for body and mind.
While fasting, it is important to consume the right nutrients during Sahur to prepare the body for a day of fasting. Consuming a glass of MARIGOLD HL Low Fat Kurma Milk during Sahur ensures the body stays hydrated and keeps it energized throughout the fasting period. *Dates are touted as a "super food" that has many health benefits. They contain high amount of fibre and antioxidants. They are also an excellent source of energy and iron which is especially beneficial for expecting mothers as it promotes the development of healthy red blood cells in infants. **As for breastfeeding mothers, consuming kurma milk can increase prolactin, which is the hormone that assists the body in producing milk.
MARIGOLD HL Low Fat Kurma Milk is the only pasteurized milk that provides the perfect balance of highs and lows for good health! It is perfect to consume on its own, used in dessert recipes or to elevate breakfasts by pouring it over cereal or making overnight oats. It is available at all major supermarkets, hypermarkets and convenience stores from RM6.49 to RM7.50 (1 Litre).
*Source: https://www.healthline.com/nutrition/benefits-of-dates
**Source: https://news.sanfordhealth.org/womens/top-10-superfoods-for-lactating-moms/
About MARIGOLD HL Low Fat Milk
MARIGOLD HL Low Fat Milk has been Malaysia's favourite milk since 1988 and remains the No. 1 Pasteurised Low Fat Milk in Malaysia even today. MARIGOLD HL Low Fat Milk has also garnered the Gold Award in the 2017 Reader's Digest Trusted Brands Awards and has been awarded the prestigious PUTRA BRAND AWARDS 2015 and 2016 – The People's Choice in the category of Beverage – Dairy, as voted by the people of Malaysia.