Dydo Mamee has introduced Yobick Lite+ yogurt flavoured drink in Malaysia in early April 2019. Yobick Lite+ has a 53-55% lower sugar content compared with Yobick and Yobick Sakura. Moreover, Yobick Lite+ contains collagen from fish.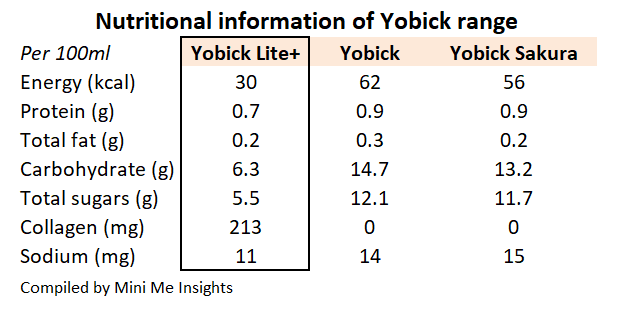 The key ingredients in Yobick Lite+ are water, sugar, skim milk powder, maltodextrin, non dairy creamer, acidity regulator, soybean polysaccharide, collagen (fish), flavouring, pasteurised yogurt powder (whey, streptococcus thermophilus, lactobacillus bulgaricus), honey, inulin and sweetener (Acesulfame-K E950, Sucralose E955).
All three Yobick products are made in Thailand by Toyo Seikan (Thailand) Co., Ltd.