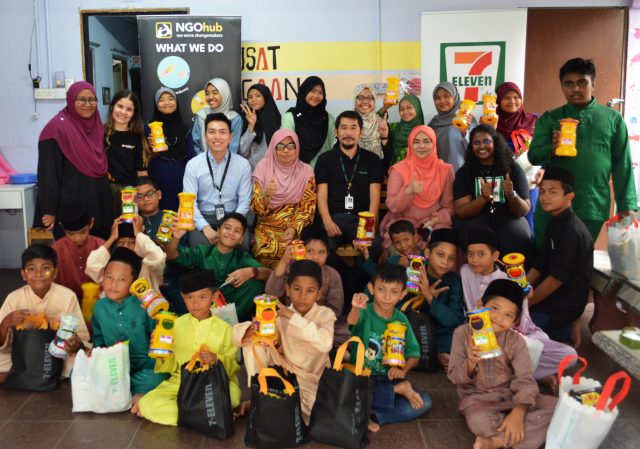 Setapak, 5 July 2019 – 7-Eleven Malaysia, the largest convenience store in the country recently carried out a CSR activity with NGOhub Asia. The joyous event begun from decorating gifts of coin banks for the kids from Pusat Jagaan Nuri to a wonderful meal time together.
The home was founded by Puan Nopisrah (Mama Noor) in September 2007 who was inspired to build this home after witnessing the desperate needs of single mothers and abandoned babies. Mama Noor who realizes the minority of this community including the elderly parents who were abandoned and youths who were in juvenile cases needed much care. The home started off with eight orphans and a number of poor children who were the first ones are in the care of the Home. The home now has outgrown to be a shelter for 30 children with various needs. There are 14 boys and 16 girls aged between 6 to 20 years old.
The Home has been under the care of NMC Management Consultant, a company offering accounting and secretarial services under the ownership of Puan Norpisah where 5% of its profit goes to Pusat Jagaan Nuri. The Home aims to change the lifes of children who are abandoned by providing them proper education and guidance for them to thrive and improve for their future.
As part of the CSR initiative, volunteers from 7-Eleven Malaysia and NGOhub Asia worked hand in hand in decorating the coin banks with stickers and glitters to create a beautiful gift for the kids. After enjoying the activities, the children were treated to a scrumptious meal that was prepared. The children received Raya Packets from the volunteers before the event ended.
Ronan Lee, 7-Eleven Malaysia's General Manager of Marketing said, "During this festive season, we believe that providing a coin bank to each kid would nurture the children to understand the importance of saving money and also a practice skill on money management .It's always better to start teaching your child as young as possible, as the saying goes, "melentur buluh biarlah dari rebungnya".
In a conversation, Mama Nora shared that "Many kids here have grown up and become an accountant just like me and they are given opportunities to work in my accounting firm. This activity definitely has been a benefit to encourage them to save money and spend the money wisely. I am grateful for the support and kindness shown by the volunteers to make this event successful as the children had a great time learning and participating together."
The home still requires support from the public in terms of cash or donations of any kind. For more information on how to contribute to them, please contact Puan Nopisrah at 019-219 1001.
About 7-Eleven Malaysia
7-Eleven Malaysia Holdings Berhad through its subsidiary 7-Eleven Malaysia Sdn. Bhd. is the owner and operator of 7-Eleven stores in Malaysia. Incorporated on 4 June 1984, 7-Eleven Malaysia has made its mark in the retailing scene and has been a prominent icon for over 34 years. 7-Eleven Malaysia is the pioneer and largest 24-hour standalone convenience store operator in Malaysia with over 2,330 outlets nationwide and serves more than 900,000 customers daily. 7-Eleven stores can be found across bustling commercial districts to serene suburban residential compounds throughout Malaysia, from petrol stations and LRT stations to shopping malls and medical institutions. 7-Eleven is Always There For You.