Update: Nestle has introduced Nescafe Cold Brew Citrus, according to 7-Eleven Malaysia's Facebook post on 12 July 2019. The key ingredients are cold brewed coffee extract, sugar, instant coffee, sodium bicarbonate and flavouring.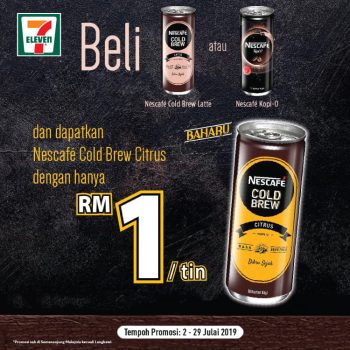 We ran a search on Nestle to see what's new with Nescafe and Milo on the website of the Department of Islamic Development Malaysia (JAKIM). Companies that wish to have their products certified halal have to apply for the certification with JAKIM. Once the application is successful, it will be registered on the JAKIM site for the public.
To our surprise, we have discovered interesting products that may be introduced in the country in the near future. Click here for the list.
Nescafe Cold Brew Citrus – Nescafe has added fruit flavour into instant coffee in Asia and in RTD coffee in Indonesia but not yet into cold brew.
Nescafe Citrus – This is an RTD coffee with citrus flavour. Citrus coffee can be found in foodservice already eg Tealive Fruit Espresso.
Nescafe Elderflower – This is an RTD coffee with botanical blend.
Milo Protein Plus Lactose Free / Milo Protein Plus – Milo Protein Up is already in the local market but not under the name Milo Protein Plus. The lactose-free version could be a variant for consumers with lactose intolerance.
Milo Nutri Pluz (Milo Nutri +) – We are not sure what this is?
Nescafe Latte Intenso – Stronger latte?
We expect these new beverages will be rolled out into the market in the coming months so stay tune for our update.