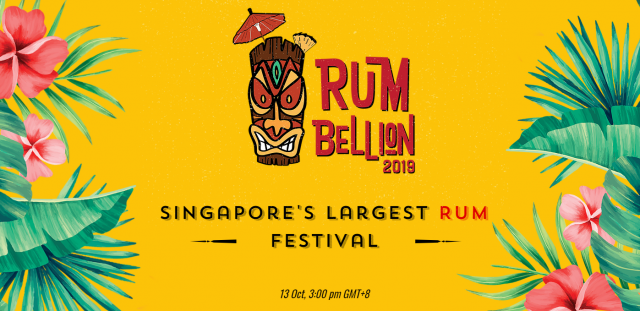 Singapore, 19 August 2019 – Rum Bellion officially presents Singapore's first ever rum festival experience.
Set to take place on Sunday, 13 October 2019 from 3 PM onwards, Rum Bellion is an exciting initiative by Neon Pigeon and its neighbour venues Taki Taki, Limehouse and Bula Café & Bar, to explore the world of rum. Throughout the afternoon, rum brands from all over the world will be taking over the four venues for a day of rum and fun along the iconic Keong Saik Road.
Guests can expect to experience a line-up of leading and emerging global rum brands and bars from around the world with outstanding rum programmes. With guest shifts from top venues such as The Sea by the Old Man in Hong Kong and JungleBird in Kuala Lumpur, Rum Bellion will also play host to a handful of bars visiting Asia for the first time, such as BlackTail from New York and Dirty Dick from Paris. With more than 20 spirit and mixer partners, Rum Bellion will be a treasure trove of rum experiences in an open-forum setting. Roam around the four venues to join in intimate masterclasses, hourly guest shifts and tastings. Suitable for rum enthusiasts and newbies alike, Rum Bellion aims to be a friendly and light-hearted event for the appreciation and education of rum in all its forms.
Commemorating Singapore's first rum event, the first 200 guests to arrive will receive a limited-edition "Rum Bellion" tote bag filled with merchandise and keepsakes, including a Rum Bellion T-Shirt and giveaways from participating brands. Drinks coupons priced at $12 per coupon can be pre-purchased from 16th September 2019 on Rum Bellion's official website, with a promotion for 10 coupon purchases; coupons can also be bought at the door on the day itself.
Fat Prince, Fung Kee Hotdogs, Limehouse and Flat Stanley Bali will also be present at Rum Bellion 2019 with food for purchase. Other activations taking place along Keong Saik Road during Rum Bellion include a market selling gifts, an on-site tattoo artist and a Caribbean-style carnival complete with face painters for kids, making Rum Bellion a great day out for both families and friends.
For more information on the participating brands and full list of activities taking place during Rum Bellion, please visit Rum Bellion's official website at www.rumbellionsg.com or refer to the Appendix below.
Host Venues:
Neon Pigeon
Taki Taki
Limehouse
Bula Café & Bar
Participating Guest Shift Bars:
BlackTail (New York)
Dirty Dick (Paris)
JungleBird (Kuala Lumpur)
Honi Honi (Hong Kong)
The Sea by The Old Man (Hong Kong)
Origin (Singapore)
The Other Roof Singapore)
Participating Spirit & Mixer Brands:
Amrut
Angostura
Appleton
Bayou
Capucana
Diplomatico
Fever Tree
Flor De Cana
Havana Club
Khukri Rum
Maracatu
Mekong
Mount Gay
Nusa Cana
Perrier
Phraya
Plantation
Sailor Jerry
Sampan
Six Saints
Tanduay
Trouble Brewing
West Indies
Zacapa