Singapore, 27 August 2019 – Grand Park Orchard offers the ultimate venue for celebrations with its modern Cantonese outlet, Mitzo Restaurant & Bar and its idyllic rooftop bar, Bar Canary. Mitzo offers a sophisticated and contemporary take on classic Cantonese cuisine, while Bar Canary transports guests to an oasis right in the heart of Orchard Road. The vibrant atmosphere and offerings of each outlet takes celebrations to new heights, from an unforgettable hen's night at Bar Canary to an intimate solemnisation at Mitzo, Grand Park Orchard infuses a touch of uniqueness to each celebration.
Mitzo
Mitzo is located on the fourth floor of Grand Park Orchard and offers a contemporary take while staying true to the philosophy of Cantonese cuisine. Personal attention is guaranteed with dedicated service staff to help cater to special requests to suit the needs of guests.
Executive Chef Nicky Ng serves up plates of classic Cantonese dishes with a modern makeover, the dishes at Mitzo are designed for sharing to allow for variety and sampling. Complementing the food are the artisanal cocktails created by Head Bartender Azlam Kadir, who effortlessly reimagines classic cocktails and combines them with signature Chinese elements.
Mitzo is surrounded by full length windows, letting in plenty of natural light, creating an atmosphere that is vibrant and inviting. The main dining area has a total capacity of 100 seats, where the restaurant's long side profile is divided into sections, offering guests a more elusive experience. The contemporary restaurant allows for private tables and seating rearrangements to tailor and suit every occasion.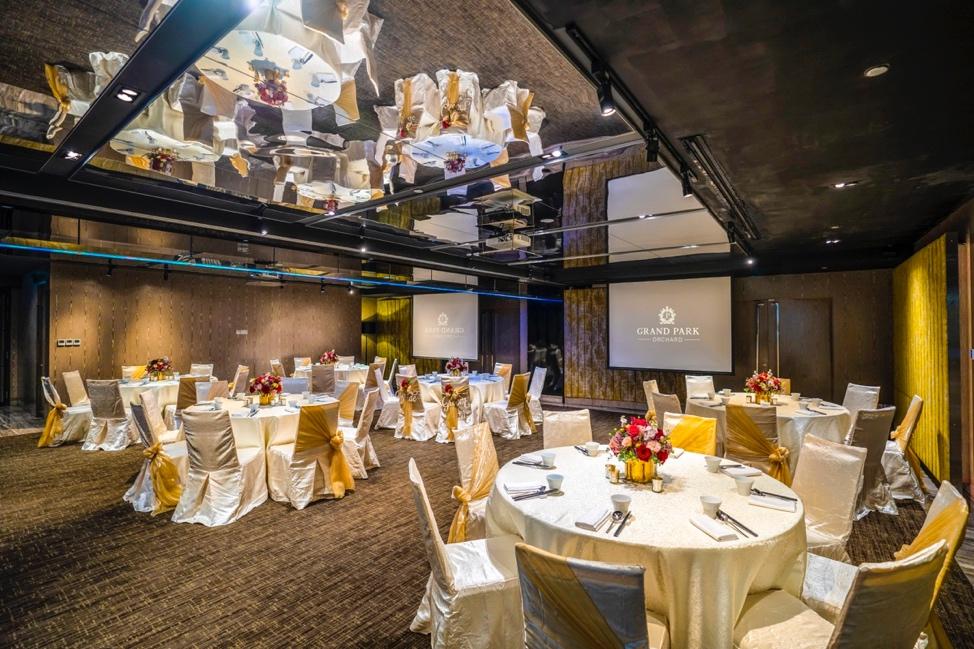 For bigger get-togethers, the Grand Salon can accommodate up to 70 seats and can be accompanied with a small stage, making it ideal for weddings, anniversaries and corporate events. To take the festivities to the next level, Mitzo offers canapés and bespoke menus that will be perfectly catered to suit each occasion, true to the Chinese banqueting traditions.
For smaller, and more private events, the Drawing Room can host 20 guests. The space features a lounge seating and a mesmerising jellyfish tank, presenting a memorable experience and offering complete privacy with its tinted glass doors. A perfect fit for solemnisation, wedding anniversaries, birthdays or bachelorette parties, the Drawing Room takes parties up a notch.
At the heart of the restaurant is the Cocktail Atelier, a vibrant mixology bar where the palette of intricate skills and colourful flavours come together to create a sensorial cocktail experience. The coveted space seats up to six and allows guests to watch the talented bar team shake up artisanal cocktails that go along with the delectable cuisine. Perfect for pre and post dinner drinks, as well as champagne and cocktail receptions, guests can begin and end-off the night with the creative interpretations of old classics and cocktails with quality ingredients, bringing forth new dimensions of flavour and experience.
These cocktails and dishes can be bespoke for celebrations, along with the interior seating that can be easily tailored to seating needs. From hiring AV equipment and customised décor, to quality modern Cantonese cuisine created by Executive Chef Nicky Ng and artisanal cocktails by Head Bartender Azlam Kadir, Mitzo is the one-stop destination for all events.
Bar Canary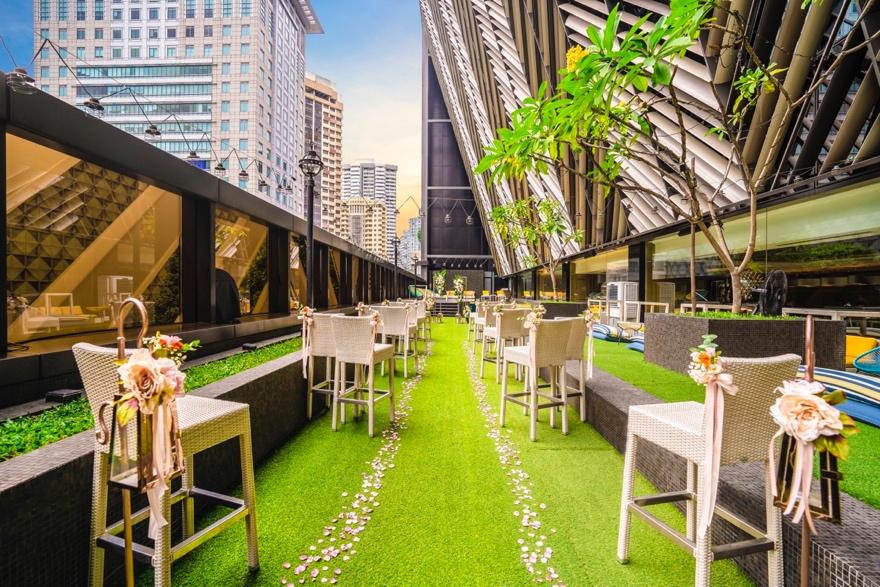 Bar Canary has a seating capacity of up to 80 pax, and makes for a truly unique experience for weddings, hen nights, or bachelor parties. The cosy rooftop bar offers a vibrant setting creating a tropical paradise right in the heart of Singapore's iconic Orchard Road.
The space can be transformed into an intimate solemnization venue, where the lush greenery can be complemented with fresh flowers, transporting guests to an idyllic oasis with its breezy location. As the Sun sets, the starry night sky and twinkling fairy lights illuminates the outdoor venue, together with the cool night air and refreshing bar programme, Bar Canary is the perfect choice for hen nights and bachelor parties.
For event enquiries, please contact [email protected] or call +65 6603 8827