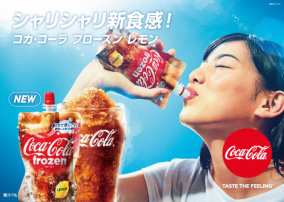 7-Eleven Singapore has made available Coca-Cola Frozen Lemon in a squeezable pouch, offering the classic Coke taste in a sherbet-like texture. The new Coca-Cola Frozen Lemon was previously launched in Japan in 2018 and in South Korea.
Now you can get it in Singapore. You need to freeze it for 4 hours before leaving it at room temperature for 15 minutes. After that, knead until slushie-like before consuming.
Since it is hard to get hold of Coca-Cola Frozen Lemon in other markets, consumers in Thailand and Vietnam can head to selected 7-Eleven outlets, which have the Arctic Coke machine that can turn the drink into a slushy-like texture.
The new Coca-Cola Frozen Lemon and the Arctic Coke machine highlight the importance of texture as a new way to engage consumers who want more unique experience from their drink.