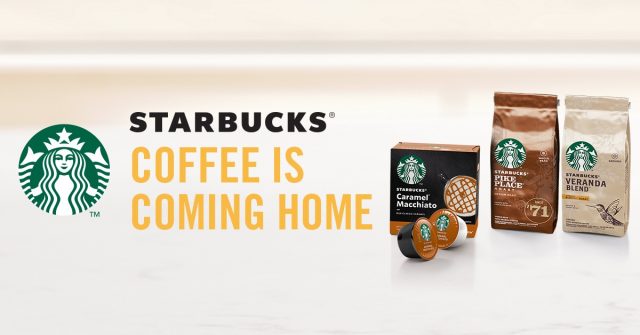 In Malaysia and Singapore, Nestle is bringing Starbucks into your home with Starbucks At Home featuring Starbucks capsules using Nescafe Dolce Gusto system. The 11 products include ground, roast and whole bean packaged coffees made from Arabica coffees that are sourced ethically.
Starbucks At Home is the product of the global coffee alliance formed between Nestle and Starbucks in August 2018. Under the agreement, Nestle has the perpetual rights to market Starbucks Consumer Packaged Goods and Foodservice coffee and tea products around the world, outside of Starbucks coffee houses and excluding Ready-to-Drink products.
In the next phase of launch known as "We Proudly Serve Starbucks," Nestle will focus on bringing the signature Starbucks coffee taste profile and flavours into foodservice outlets.
Starbucks At Home is positioned as an upmarket product. For comparison purposes, Nescafe Dolce Gusto (16 capsules) come with a price of RM 26.63, while Starbucks at Home (12 capsules) are priced higher at RM 30.00.

The key attraction of Starbucks At Home is one can enjoy Starbucks at home without leaving the house. One concern about Starbucks at Home is would consumers pay more for something that is even more expensive than the current Nescafe Dolce Gusto system.
Another thing is consumers are increasingly visiting Starbucks to enjoy its innovative ice blended drinks such as Mixed Berry Frappuccino with Pomegranate Pearl, which cannot be recreated at home.
The Starbucks At Home range is available in the following choices:
Americano
Cappuccino
Espresso Roast
Espresso – Colombia
Latte Macchiato
Click here to purchase Starbucks At Home on Lazada Malaysia or visit Fairprice On when purchasing from Singapore.