7-Eleven Philippines has collaborated with Emborg to introduce Cheesy Rice Meals. The meals are available in hearty and savory Beef Caldereta and rich and flavorful Chicken Ala King. The price is PHP 70 each.
7-Eleven Philippines has been working with leading packaged food brands to incorporate their flavours or ingredients into ready meals. This collaboration enhances the appeal of the ready meals and give them a stamp of approval.
Phad Thai
In Singapore, 7-Eleven has introduced Phad Thai noodle ready meal that is said to come with distinct tamarind and Thai fish sauce flavour.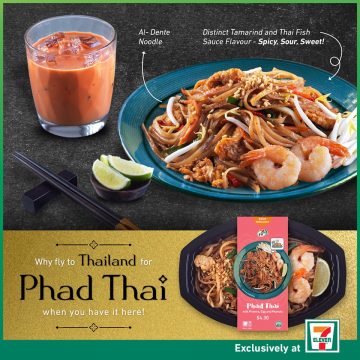 In neighbouring Malaysia, Phad Thai meal kit is gaining popularity as evidenced by the growing availability of such meal kits in supermarkets.
New beverages from FamilyMart Malaysia
FamilyMart Malaysia is offering Brown Sugar Bubble Latte. It is a smooth aromatic combination of fresh milk, coffee brewed by roasted Arabica beans and brown sugar bubble. The normal price is RM 7.90.
Consumers can also enjoy milk shake in mocha, a smooth and creamy combo of coffee, and Dark Chocolate Sofuto. There is an option to add on Taiwan Brown Sugar Bubble for a better mouthfeel.