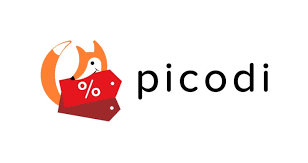 Black Friday: facts and numbers
In Malaysia and around the world, the next Black Friday will take place on 29 November 2019;
The peak of shopping activity takes place at 11 am and 3 pm;
During Black Friday, an average Malaysian buys 4 products;
Malaysians are planning on spending around RM300 per person in both online and brick-and-mortar stores.
In the autumn and winter season, Black Friday sale plays an important role not only in terms of e-commerce turnover but also the activity of shoppers. With the beginning of November, small and middle-sized businesses, as well as bigger players on the market, begin Black Friday preparations. They announce huge sales to take place at the end of November, in both online and brick-and-mortar stores.
Curiously enough, merchants claim that this is not entirely about the fight for increasing their sales. In a sense, sellers and buyers swap places during Black Friday. In normal circumstances, customers gain benefits by shopping regularly and thus asserting their loyalty. In November, stores are the ones that must prove loyalty toward their clients, which can be assessed with regard to the level of rebates and availability of highly discounted products.
For several years, Black-Friday.Global analysts have been closely following Black Friday trends in Malaysia and around the world. Below, we present a handful of statistics and interesting facts connected with the busiest shopping day in the world.
Black Friday: trends in the past years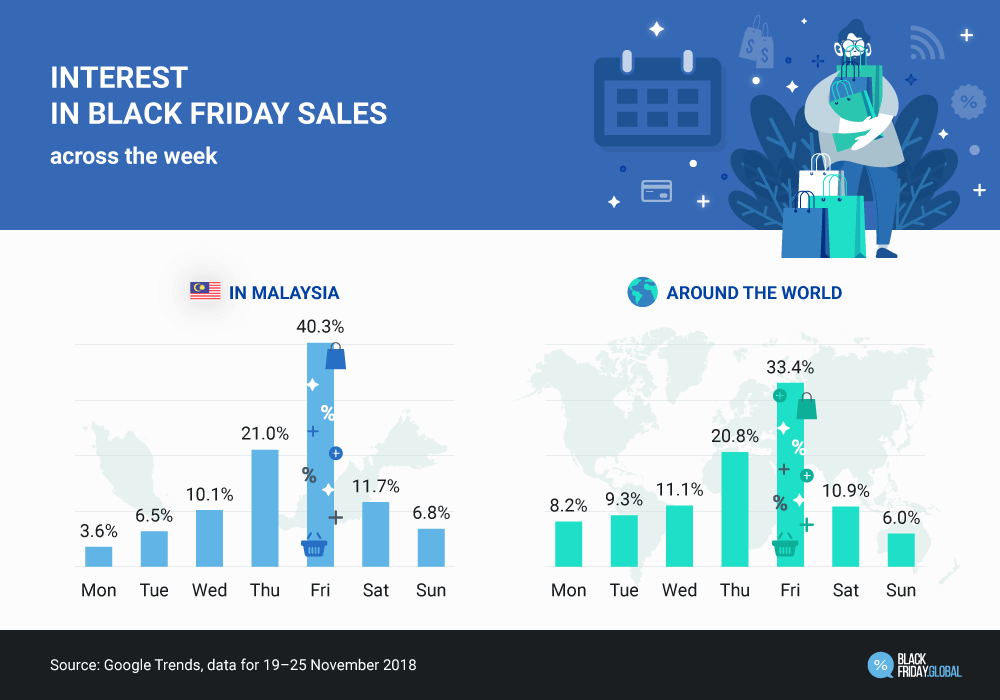 In the beginning, Black Friday used to be a one-day happening in the United States. However, over the past few years, the event has grown into a shopping marathon that lasts for several days. It may sometimes start on Thursday and continue until the end of the week, or even month. In an attempt to grab consumers' attention, some stores start the so-called presales as early as Monday. Nevertheless, in most countries, the peak of shoppers' interest falls on the same day. In Malaysia, Google Trends data for 19-25 November 2018 shows that more than one third of all queries related to Black Friday sales were recorded on Friday (40.3 per cent). Nevertheless, the interest of customers starts to grow on Wednesday and fades on Sunday. This tendency is characteristic for not only Malaysia but other countries as well.
The research conducted by Black-Friday.Global in 2018 shows that 56 per cent of surveyed Malaysians are aware of the existence of Black Friday. However, not all of them were able to recall the exact date, which may explain the gradual increase of interest in this event even a few weeks before it takes place (Google Trends).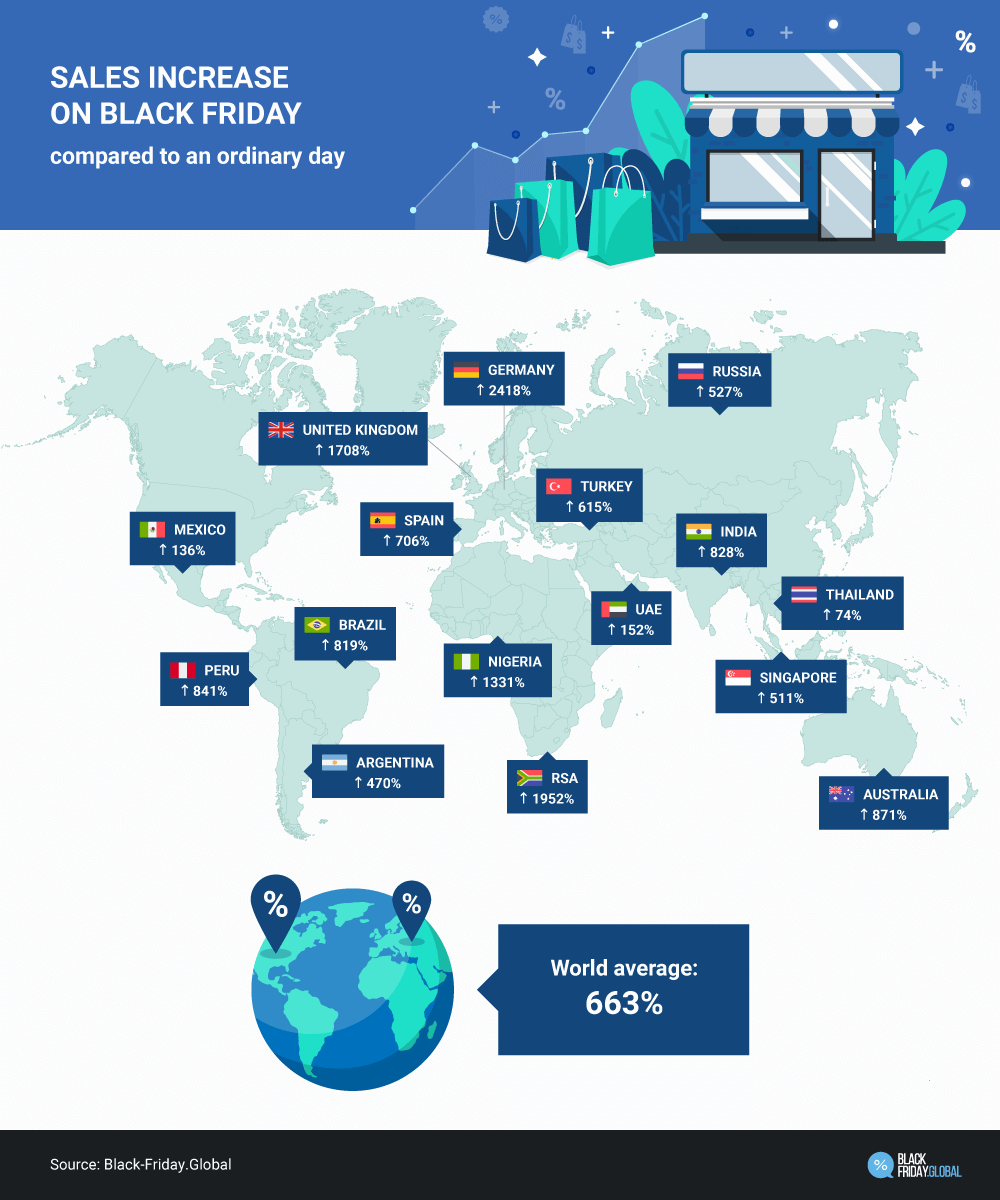 The internal Black-Friday.Global data for 2018 in Malaysia shows a 448 per cent increase in sales compared to an ordinary day. Such high numbers are not uncommon. For example, in Singapore the increase is 511 per cent, in the United Kingdom — over 1708 per cent, and in Germany — over 2418 per cent.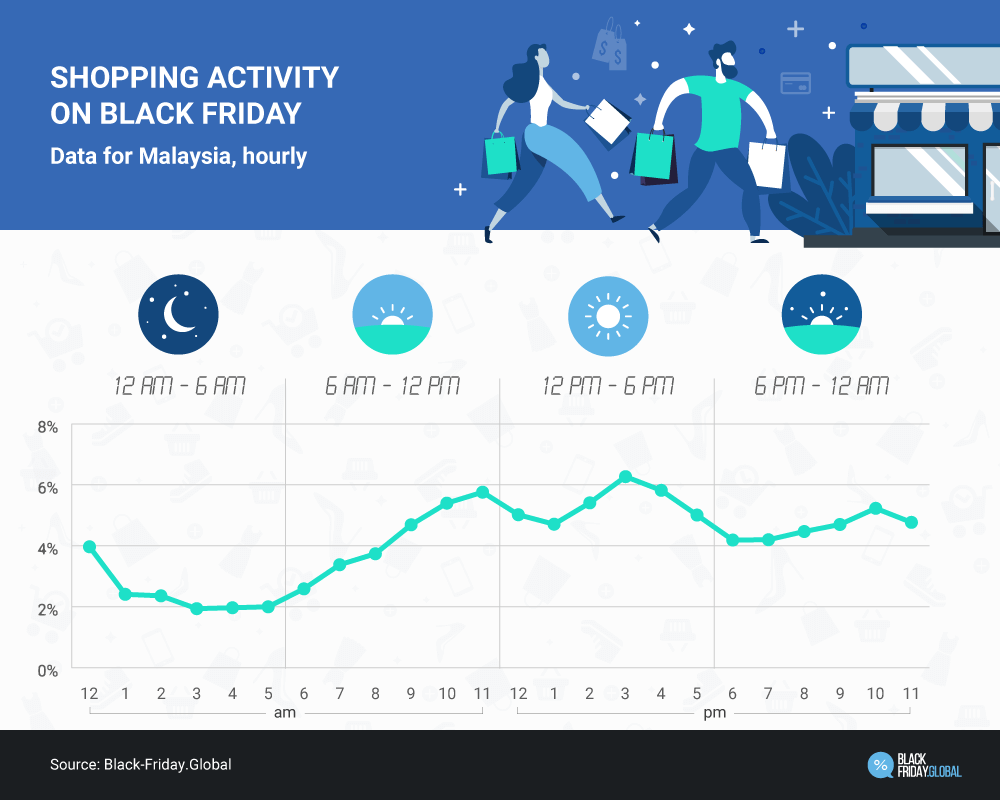 Unlike the United States, citizens of other countries do not usually have a day off on Black Friday. Although peaks of online shopping activity in various countries are slightly different, generally they fall on the morning and evening. On the Malaysian Internet, the intensity of shopping was distributed quite evenly between 9 am and 11 pm, with peaks at 11 am and 3 pm according to Black-Friday.Global data for 2018.
On the other hand, in countries like Turkey, Finland, Greece, Singapore, or Hong Kong, Black Friday seems to have been much-anticipated — basing on the fact that most of the shopping was done right after midnight.
Level of discounts versus shoppers' expectations
Statistical data from the past few years show that an average Black Friday discount in Malaysia has slightly decreased (from 61 per cent in 2017 to 59 per cent in 2018). Interestingly, these numbers exceed expectations of Malaysian consumers (who get ready for 51 per cent markdowns).
Shoppers from Belarus, Greece and Peru expect higher price reductions (62 per cent). Unfortunately, local stores are only able to offer discounts which are 8-10 percentage points lower than those anticipated by customers. On the other hand, monitoring the deals from stores in Ukraine, RSA and the Philippines shows that merchants in these countries are prepared to offer far more attractive discounts, exceeding the expectations of shoppers.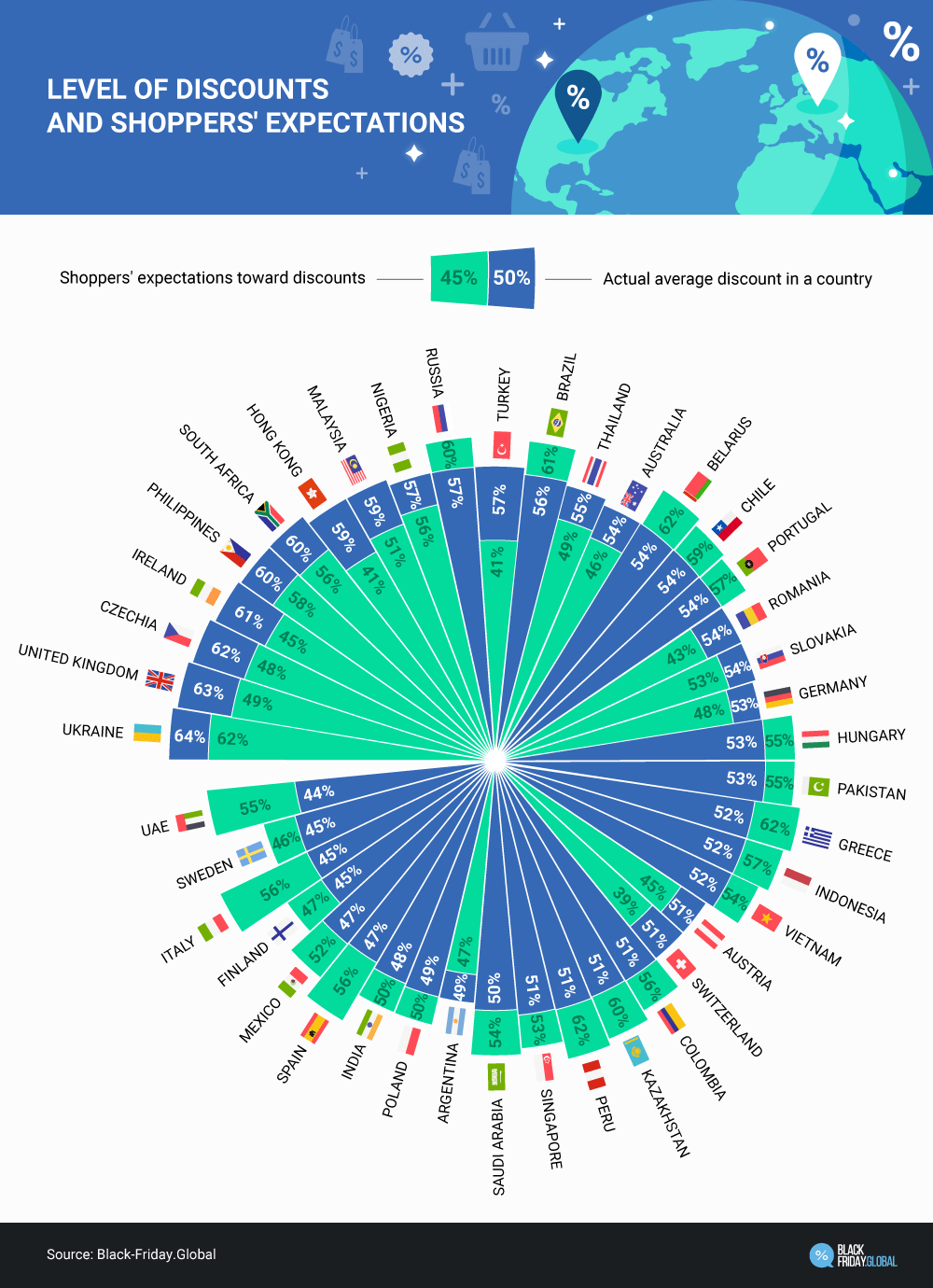 Top products bought by Malaysians
According to the survey, among Malaysians who are going to take part in the Black Friday frenzy, 59 per cent already know what to buy. As for the number of purchased items, Malaysians are going to buy 3.6 on average. Past years' statistics indicate that the most popular categories of products among Black Friday shoppers in Malaysia are electronics, clothing, cosmetics and perfumes, shoes, as well as jewellery.
Around the world, widely-understood fashion products take the lead during Black Friday. Nonetheless, in some countries like Brazil, Switzerland, India, Romania, or Malaysia, electronics prevail in shopping carts.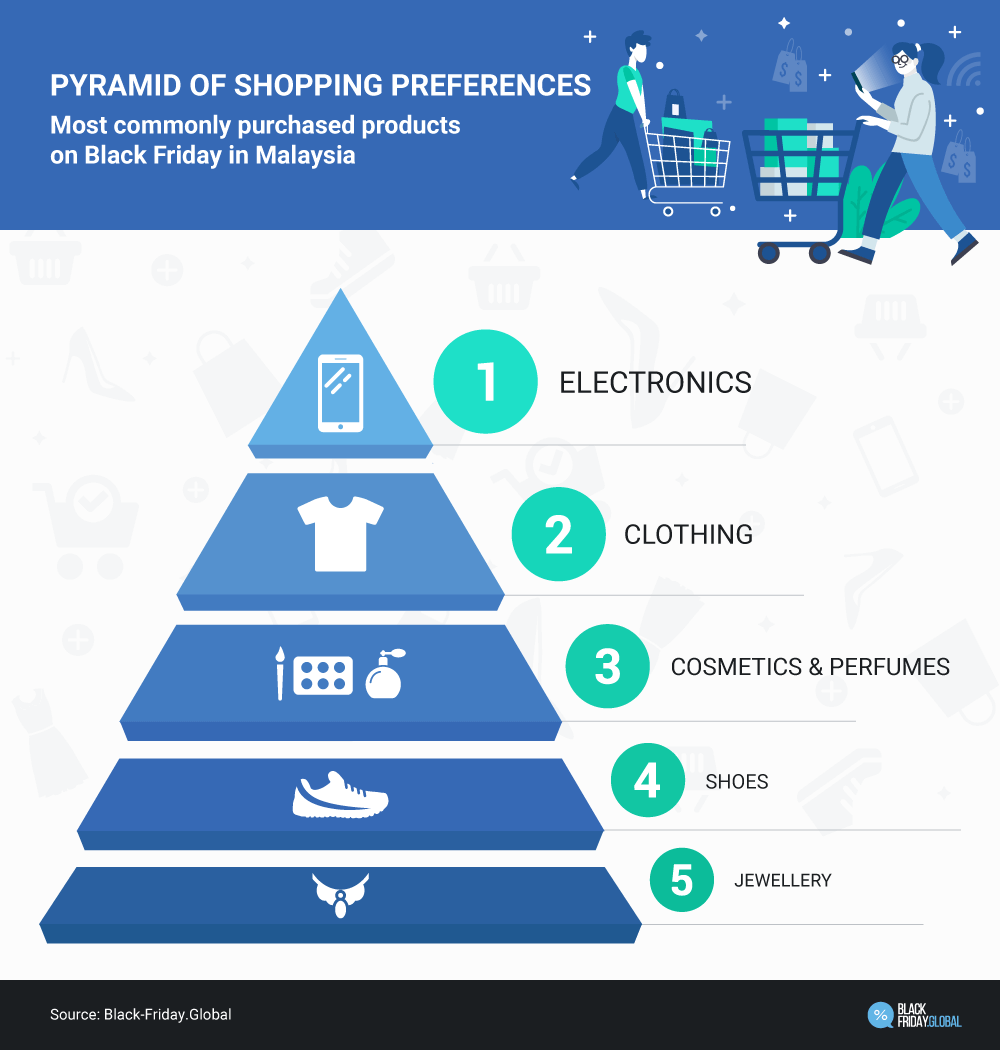 Black Friday spending
Malaysians are planning on taking part in both online and brick-and-mortar sales. Those who will choose more than one channel are ready to spend around RM300. It is equivalent to US$73. In other countries, shoppers have a smaller budget in mind, like Kazakhstanis (US$58) or Pakistanis (US$35). In contrast, consumers who declare to spend record-breaking amounts come from the USA (US$485), Canada (US$430), the United Kingdom (US$397), Ireland (US$339) and the United Arab Emirates (US$291).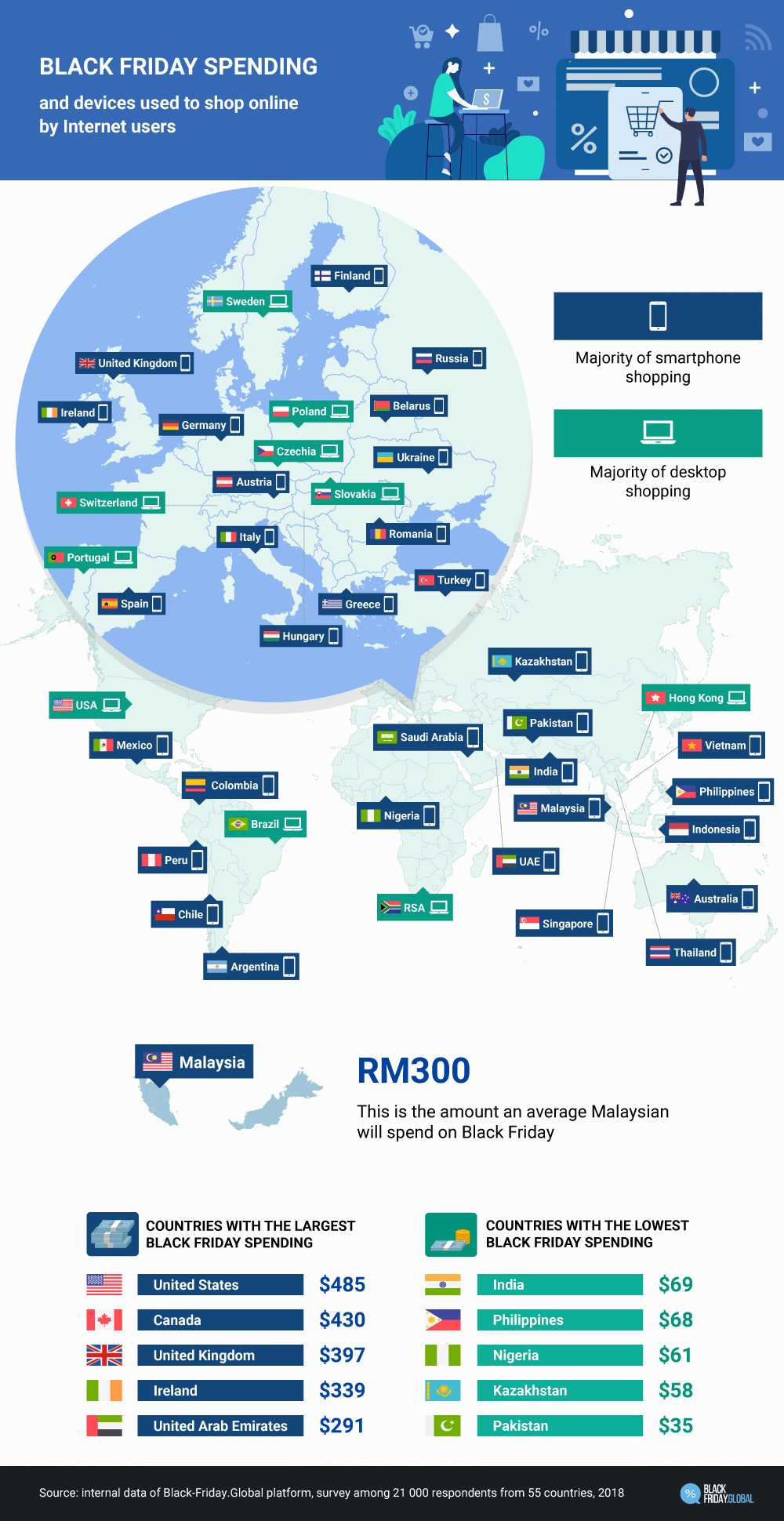 According to the data from 2018, when shopping online during Black Friday, more than half (56 per cent) of Malaysian customers used smartphones, 41.8 per cent preferred desktops, and the remaining 2.2 per cent chose tablets. Purchasing with smartphones was a global trend, noted among others in the United Kingdom, Germany, Turkey, or Indonesia.
Methodology and data source
All statistical data comes from Picodi.com, a global discount platform operating since 2010, which created Black-Friday.Global, a site dedicated to Black Friday sales. The surveys conducted in July and November 2018 among 21 thousand respondents from 55 countries were also used in the report. For currency conversion, we used the average exchange rate from xe.com.