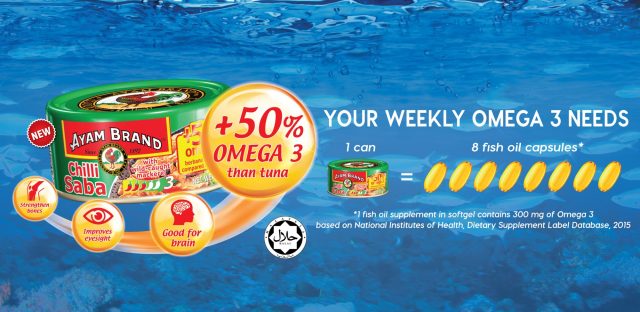 Ayam Brand has made available Saba Mackerel Flakes in Malaysia and they come in 3 delicious recipes Mayonnaise, Extra Virgin Olive and Chili. The key selling point of Ayam Brand Saba Mackerel Flakes is the extra omega 3 content, which is 50% more than tuna.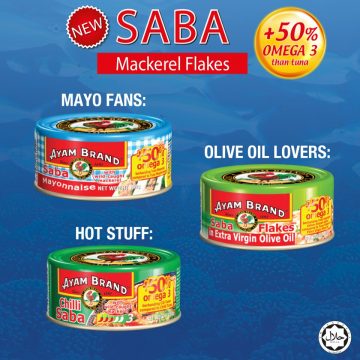 One can of the Ayam Brand Saba Mackerel Flakes fulfills a person's weekly Omega 3 needs as each can is said to have omega 3 equivalent to 8 fish oil capsules (1 fish oil supplement in softgel contains 300mg of omega 3).
The omega 3 in the new canned seafood is described as helping to strengthen bones, improve eyesight and is good for the brain.
Ayam Brand has an existing range of canned mackerel products in the market. The brand does mention about the goodness of omega 3 and how each can of Ayam Brand Sardines and Mackerel provides the individual's omega-3 needs for a full week.
However, with the launch of the Ayam Brand Saba, the brand puts a stronger focus on highlighting omega 3 as the key product benefit. The brand also communicates in easy to understand message for consumers to grasp the benefits of omega 3 and how much omega 3 is in one can of Ayam Brand Saba in terms of the number of omega 3 softgels.