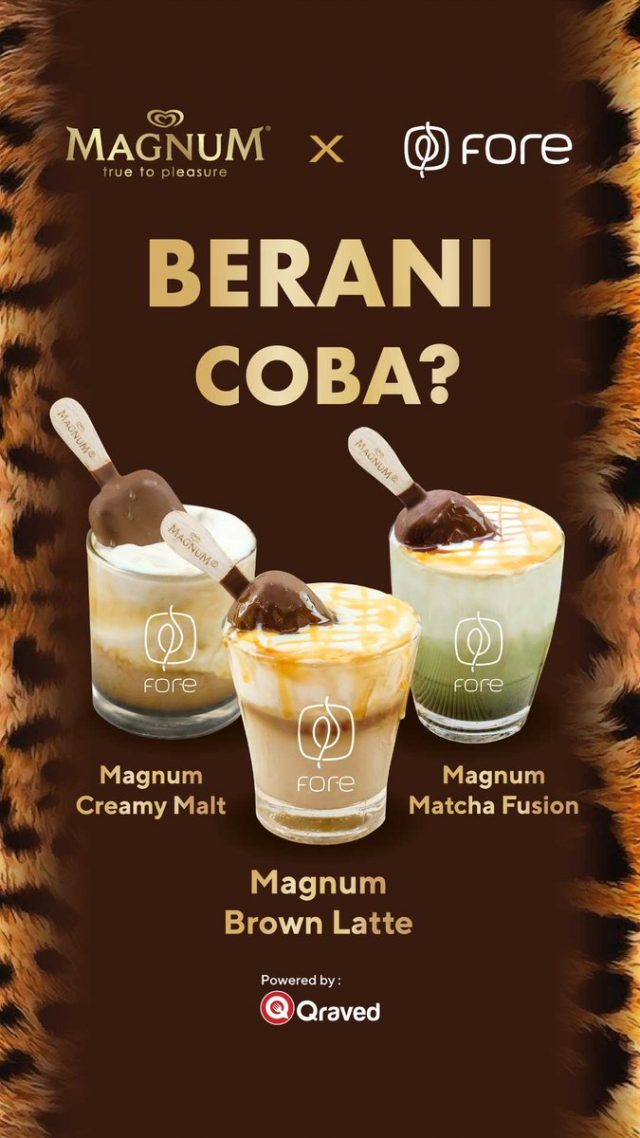 Indonesian tech-enabled coffee brand Fore Coffee has collaborated with Magnum ice cream to bring a new twist to foodservice beverage menu in Indonesia. Known as the "Special Creation of Magnum Double," the new drinks Magnum Brown Latte, Magnum Creamy Malt and Magnum Matcha Fusion come with a Magnum Double Chocolate that is to be dip inside a hot drink. The melted ice cream gives the added Magnum touch to the drink.
For example, Magnum Brown Latte is the combination Magnum Double Chocolate and Fore Coffee espresso with a touch of caramel on top.
Magnum Creamy Malt is for non-coffee drinkers comprising Magnum Double Chocolate with fresh milk, while Magnum Matcha Fusion consists of Magnum Double Chocolate, premium matcha and fresh milk. All three drinks offer a bold taste and serve to empower consumers to be bold.
The limited edition Fore Coffee X Magnum is priced at IDR 50,000. This unique drink with ice cream creation is available at selected outlets in Jakarta, Depok, Tangerang and Bekasi.
The concept of dipping ice cream into hot beverage is nothing new. In fact, FamilyMart Taiwan's Let's Café has partnered with Häagen-Dazs for something similar with its hot chocolate drink.