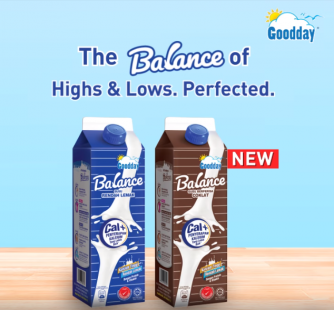 The Goodday Balance Pasteurised Low Fat Milk in two variants, Low Fat and Low Fat Chocolate, will offer Malaysians additional benefits of Vitamin D along with a decadent and pleasant taste.
KUALA LUMPUR, 7 February 2020 – Goodday Milk, Malaysia's favourite milk brand, has recently announced the launch of another Pasteurised Milk range – Goodday Balance Pasteurised Low Fat Milk. Fortified with the additional benefits of Vitamin D that aids calcium absorption, Goodday Milk's latest product is available in two variants, namely Goodday Balance Pasteurised Low Fat Milk and Goodday Balance Pasteurised Low Fat Chocolate Milk. Delightfully creamy, the Goodday Balance range is both decadent and aromatic, making it a delicious and wholesome beverage choice anytime during the day.
Unlike other commercially available pasteurised milk that are often fortified with calcium, the Goodday Balance Pasteurised Low Fat Milk pays special attention to their Vitamin D content*. While it is one thing to consume calcium, emphasis also needs to be given to calcium absorption. According to an article published on Harvard Health Publishing, Vitamin D's best-known role is to keep bones healthy by increasing the intestinal absorption of calcium. Without enough Vitamin D, the body can only absorb 10% to 15% of dietary calcium, but 30% to 40% absorption is the rule when vitamin reserves are normal. A diet therefore needs to contain optimal levels of vitamin D and calcium for adequate bone health.
The Goodday Balance range is also loaded with other essential nutrients including protein, Vitamin B1, B2, B3, B6 and B12, making it a great beverage choice for consumers, from toddlers to young adults.
"With Goodday Milk, our focus has always been to offer consumers with beverages that are both healthy and nourishing. Our latest product, Goodday Balance range, is not only packed with a delicious and aromatic taste compared to regular milk but also fortified with Vitamin D, a nutrient composition not commonly seen with other pasteurised milk products. Goodday Milk has been providing Malaysians with top quality milk for over 50 years now and will continue to do so with our ever-expanding product range." said Santharuban T. Sundaram, Senior Vice President of Marketing and Alternate Business at Etika Sdn. Bhd.
The pleasant aroma and taste of Goodday Balance products are sure to keep consumers coming back for more. The all new Goodday Balance Pasteurised Low Fat Milk range is now available in packet size of 1L at hypermarkets and supermarkets nationwide.
For more information on Goodday Milk and future campaign activities, please visit: www.facebook.com/gooddaymilkmalaysia.
*higher content as compared to the Goodday Low Fat Milk