Nescafe, the leading coffee brand by Nestle, is continuing its experimentation with unique flavours to pique consumer interest in its coffee. The latest latte creations from Nescafe for the Thai market are Milk Tea Espresso and Caramel Biscuit.
Milk Tea Espresso taps into the strong interest in milk tea but with an espresso twist, while Caramel Biscuit is a flavor that is rather unique. Caramel Biscuit is probably playing around the consumer habit of dipping biscuit into coffee.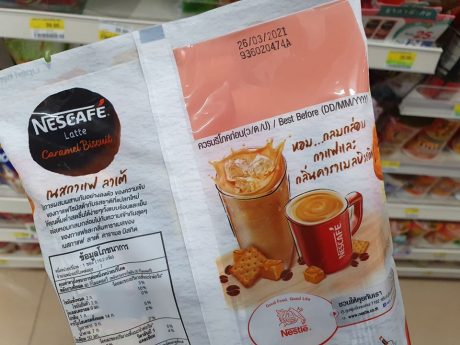 Nescafe explains the concept behind the new Nescafe Latte in a recent press release. According to Ms. Naritta Vipulyasekha, Business Manager – NESCAFÉ Coffee Mixes, Nestle (Thai) Ltd., "Nescafe saw an opportunity to run the market by maximizing the base of young-generation consumers who now drink coffee on many occasions and not just in the morning, which is the prime time for coffee, but also after lunch or in the evening, or when they would like to refresh themselves such as while studying for exams."
She added that "This led to the development of 'NESCAFÉ LATTE,' a new coffee mix product range created under the concept 'New NESCAFÉ LATTE Redefine coffee experience with unexpected twist of flavors'.
The official description of Milk Tea Espresso is that it blends Robusta coffee with black tea, which offers the intense flavor and pleasant aroma that goes perfectly with Robusta coffee. Caramel Biscuit combines Robusta coffee with a hint of delightful caramel for a well-balanced and rich flavor.