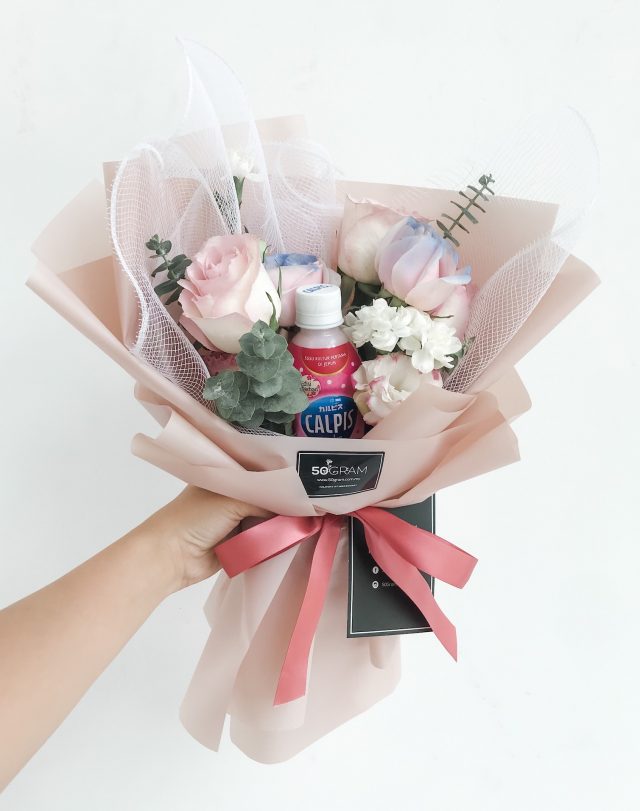 Calpis rewarded 2 courageous Malaysians with a limited-edition Calpis Sakura bouquet from 50Gram
14 February 2020, KUALA LUMPUR – Continuing its unconventional and creative ways of celebration, Calpis – Japan's first cultured milk drink – takes this opportunity to surprise two Malaysians with a limited-edition Calpis Sakura bouquet on Valentine's Day in recognition for their extraordinary guts to express love and care towards family, friends, and strangers. Going against the norm of chocolate gifting, the collaboration with local florist, 50Gram, pairs flowers with healthier alternatives, such as the limited-edition Calpis Cherry Blossom, to promote a new Valentine's Day culture. Delicious, with a hint of cherry blossom taste, Calpis Cherry Blossom is a highly anticipated favourite of many fans of cultured milk drink.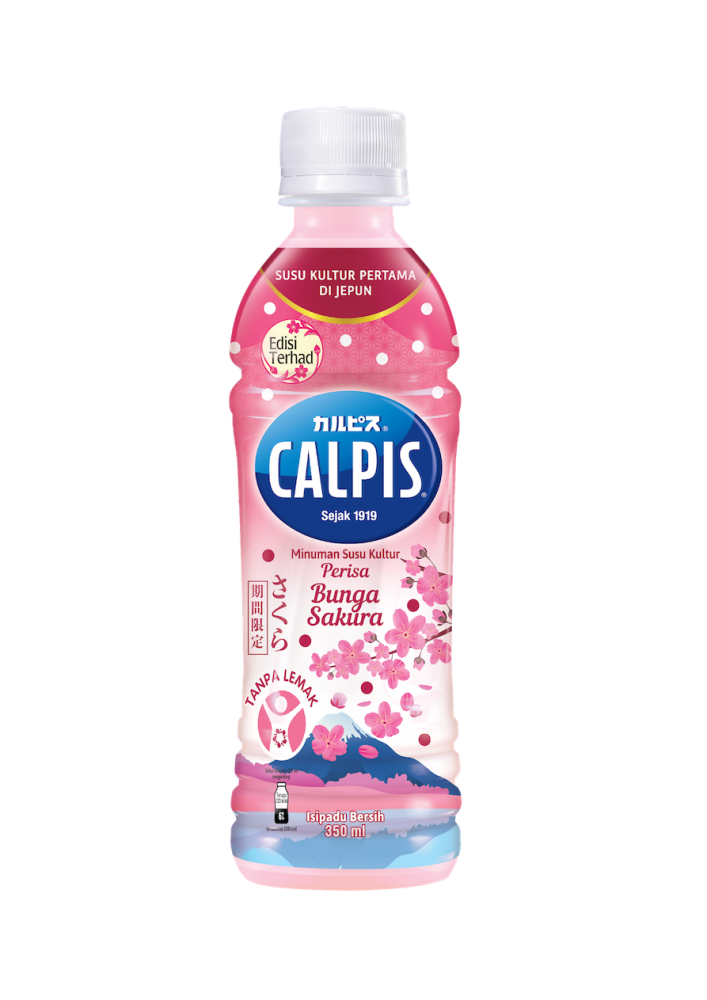 Santharuban T. Sundaram, Senior Vice President of Marketing and Alternate Business at Etika Sdn Bhd. explained the creative idea behind this rewarding campaign: "Long been an advocate of maintaining good gut health, Calpis hopes to spark a new Valentine's Day gifting trend where instead of pairing flowers with chocolates, the combo with Calpis Sakura would still be a special way to win your love ones heart while also reminding them to cherish a healthy gut. With good health, we can embark on more loving adventures with not just our life-long partner, but also enjoy every day better with friends and family."
Taking a creative approach to good gut health, Calpis is celebrating the first Valentine's Day of the decade by reminding Malaysians that love comes in many forms – self-care, courage, expression, community participation – and that it takes a great deal of guts to express our love for ourselves and others. This could mean loving yourself by working on your fitness, loving your community by joining voluntary projects or mustering up courage to express your love for that special someone.
Rewarding Malaysians who have the 'guts' to love selflessly
Some said the graciousness of a Sakura flower's lifecycle represents a symbol of warrior spirit in Japan – like a beautiful courage blossoming from within. Inspired by the tales of warrior spirit in Sakura, Calpis surprised two courageous Malaysians who have the guts to express selfless love in their everyday actions. Some of the heroic acts include:
A) An honourable love for the family
It's not every day that we can give up our lifelong dreams to take a different path in life, but A'in has the guts to do so, and for very honourable reasons. Taking over her late father's burger stall, Nurul A'in Azman, the 24-year-old civil engineer graduate, had chosen to give up her engineering dream to help out with the struggling family. The burger stall is said to be operated in Bukit Antarabangsa, with more than 15 different types of burgers for sale. Living with her mother and sister who suffers from autism, A'in is always seen as the pillar of strength and courage for her family.
B) Spreading smiles and love by being your best self
A smile goes a long way in the hospitality industry, but this waiter has outdone himself by giving the entire restaurant a laugh. Putting himself in the spotlight of everyone's dining session, this waiter danced to a cover of the infamous Black Pink's song 'Kill this love' while serving a table. The gutsy act itself caught many diner's attention and the video went viral on social media – further spreading the positive vibes beyond the restaurant. Kudos to him for being courageous enough to put himself out there in the public!
Calpis reminds Malaysia that love starts with yourself
"Calpis has always been a fun brand – we find unconventional, interesting ways to engage with our fans and bring an important message. As one of the leading cultured milk drinks in Malaysia, our aim is to ensure that Malaysians are able to live healthier lifestyles while promoting a healthier gut and ease of digestive process. Through this collaboration with 50Gram, we are able to surprise Malaysians on this special day and remind them that their actions are loved by many and thus encourage more act of love and courage in the society," concluded Santharuban.
From now till 29th February, the limited-edition Calpis Sakura bouquet is available for order on 50Gram website. In addition, all 50Gram purchasers will receive a free limited-edition Calpis Cherry Blossom bottle with any purchase of bouquets while stocks last.
It's time to celebrate a new kind of Valentine's Day – order one now and express your love to your loved ones! For more order details, kindly visit the website at https://50gram.com.my/product/calpis-sakura/.