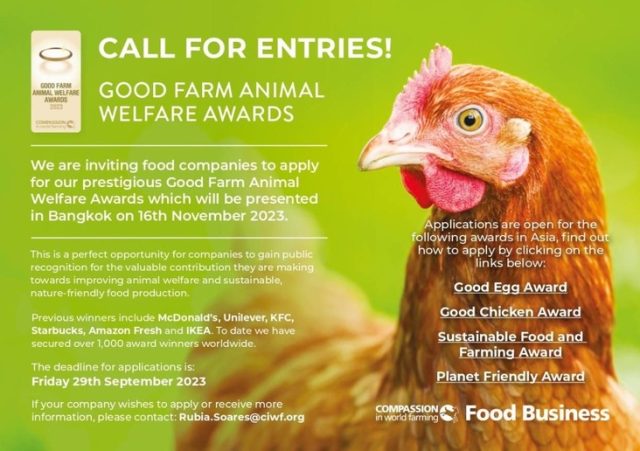 Wednesday 20 September 2023 – Leading international farm animal welfare charity Compassion in World Farming is now calling for entries for its Good Farm Animal Welfare Awards in Thailand.
These prestigious awards will be presented in Bangkok on 16th November 2023, and we are inviting food companies that are committed to improving farm animal welfare and supporting sustainable, nature-friendly food production to apply.
The Good Farm Animal Welfare Awards celebrate positive changes for farm animals and sustainable food production, and winning an award will allow food businesses in Thailand to gain international public recognition for the valuable contribution they are making in improving the lives of farm animals and driving sustainability in their supply chains.
The 2023 Good Farm Animal Welfare Awards in Thailand will be presented to winners in the following categories: Good Egg Award, Good Chicken Award, Sustainable Food and Farming Award and Planet Friendly Award.
To date, a total of of 1,000 Good Farm Animal Welfare Awards have been presented worldwide to winners whose policies and commitments are expected to benefit more than 2.5 billion animals globally each year. Previous winners include big brand names such as McDonald's, Unilever, KFC, Starbucks, Amazon Fresh and IKEA.
Compassion in World Farming was founded in 1967, and for the past 15 years its Food Business Team has been working with more than 200 of the world's leading food companies – helping to raise welfare standards for farm animals throughout their supply chains.
Recognising the urgent problems of the climate, nature and health crises facing us all today, the charity not only encourages positive changes in animal farming but is also focussed on reducing the reliance on animal-sourced foods and moving the food industry towards more nature-friendly, regenerative agriculture – taking a holistic approach to sustainable food production.
Don't miss out on this great opportunity to apply for these prestigious awards. They provide an ideal opportunity to demonstrate your leadership as an ethical and environmentally-minded organisation and increase consumer confidence in your brand.
For more information please contact: [email protected] and Agency in Thailand Taste Inc Asia Facebook : Taste inc Asia-Food Marketing Agency, Line @tasteincasia , Tel +66-97-985-9355