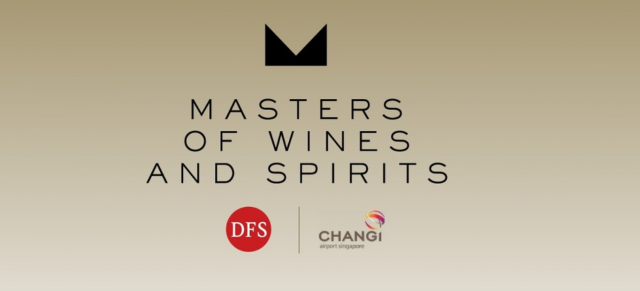 Exhibition to showcase 59 masterpieces from over 50 legendary houses
FEBRUARY 13, 2020, SINGAPORE – DFS Group (DFS), the world's leading luxury travel retailer, in partnership with Changi Airport Group (CAG), will present its ninth annual Masters of Wines and Spirits (MOWS) exhibition in Singapore during the month of March at Changi Airport's Terminal 3 Departure Transit hall. The exhibition will feature an exclusive collection of 59 of the world's rarest and finest wines, spirits and champagnes from over 50 world-renowned brands and houses.
DFS Masters of Wines and Spirits is part of the DFS Masters Series, a signature program of exhibitions around the world. The Masters Series is a showcase of the pinnacle of DFS' leadership and innovation in curating and creating exceptional experiences across its five pillars of luxury: Wines and Spirits, Beauty and Fragrances, Watches and Jewelry, Fashion and Accessories, and Food and Gifts.
Renowned for its bespoke curation of products, majority of which are limited edition or exclusive to DFS, Masters of Wines and Spirits is a celebration of the world's finest industry expertise, as well as the vast knowledge of DFS' merchant teams, who work throughout the year to develop product specifically for Masters of Wines and Spirits, deliver new brands and signature classics.
"We are thrilled to present the ninth edition of our esteemed Masters of Wines and Spirits exhibition with another astounding collection, featuring 59 masterpieces," said Brooke Supernaw, Senior Vice President Spirits, Wine, Tobacco and Gifts at DFS Group. "Bringing together some of the world's most sought-after wines, spirits and champagnes, we look forward to offering our discerning customers at Changi Airport access to a collection of rare and exclusive products, many of which have been developed exclusively in celebration of this year's Masters of Wines and Spirits."
Changi Airport Group is proud of the continued partnership with DFS Group of the latest edition of the Masters of Wines and Spirits exhibition. Highly regarded in the industry as a world class event, travellers can expect a remarkable selection of exquisite and rare wines and liquors from around the world," Teo Chew Hoon, Group Senior Vice President for Airside Concessions, Changi Airport Group.
This year's Masters of Wines and Spirits curated collection will be available for preview and purchase at DFS Changi Airport Terminal 3 Departure Transit, Main Store, Upper Level from March 1 2020.
DFS Masters of Wines and Spirits 2020 Collection
This year's unique collection includes the Johnnie Walker Master's Ruby Reserve, an incredibly rich, full-bodied 40-year-old whisky that celebrates Master Blender Dr. Jim Beveridge's 40th year – his ruby anniversary – at Johnnie Walker. Limited to just 398 bottles, this exceptional whisky has been crafted using eight extremely rare whiskies, personally selected by Dr. Beveridge from some of the very finest casks in the Johnnie Walker reserves. This celebratory Scotch is Dr. Beveridge's tribute to the whiskies that have left an indelible mark on his career. It follows Dr. Beveridge being awarded an OBE by Her Majesty the Queen for his outstanding service to the Scotch whisky industry in October 2019. This is the first time that this product is available by a retailer and is presented in a golden red Baccarat crystal decanter, crafted using 24-carat gold powder.
Another first release for a retailer is The Macallan Exceptional Single Cask, an exquisite and delicate expression that was distilled in 1950 and released in 2018. Also available for the first time in Asia and distilled in 1966, The Dalmore 51 Year Old's vibrancy is testament to The Dalmore's carefully composed spirit: complex and full-bodied.
Available exclusively at DFS, the Bowmore 1965 Washback Edition is the ultimate expression of the rare and undefinable house style of the Bowmore distillery. For this year's DFS Masters of Wines and Spirits, Bowmore has partnered with Scottish cabinet maker, John Galvin to create two limited-edition wooden cabinets using authentic Oregon pine from Bowmore's No.1 washback. Both limited-edition Bowmore 1965 Vintages will be available exclusively at DFS Masters of Wines and Spirits 2020.
The Rosebank Vintage 1990 was distilled three years prior to the closing of the distillery, and the bottling has been produced specially to mark the impending revival of the iconic Rosebank Distillery. Bottled in a bespoke Rosebank bottle with unique engraved rose detail and presented in a vibrant and rich red wooden cylinder with a bespoke certificate, these 200 are available exclusively in travel retail.
Specially created for DFS is The Compass Box Collection, a singular vision expressed in 114 inventive ways. Our largest collection ever showcases 114 individual expressions, Compass Box has experimented with every aspect of Scotch whisky's flavor spectrum, expanding it in the process. DFS Masters of Wines and Spirits offers an unmissable opportunity to complement this one-of-a-kind Compass Box Collection perfectly.
This year's collection also includes wines from Penfolds with the Special Bin 111A Clare Valley Barossa Valley Shiraz 2016 Methuselah, an altogether new style. Two special Shiraz single-vineyard parcels were blended together to make this wine beguilingly beautiful and different. Château Lafite Rothschild Double Magnum Collection 89, 99, 09 has been exclusively created for DFS and presents a rare opportunity to collect three of the great vintages produced by this estate. Another exclusive creation for DFS sees the Château Pichon Baron Double Magnum Collection 88, 98, 08 offers these describable vintages in double magnum.
Rare cellar release, Ornellaia Archivio Storico Collection 01, 04, 06 are the wines that have remained undisturbed in perfect cellaring conditions at the estate ever since their birth, and each bottle is individually packaged in an exclusive wooden box. A special collection created for DFS is the Shafer Hillside Select Magnum Vertical Collection 12, 13, 14, a perfect vertical in rare, limited-release large format bottles.
With only 12 released items, the limited edition Jérobo-Gem is an exclusive tasting table by Charles Heidsieck. This handcrafted luxury creation boasts a Jéroboam 1989 coming directly from Charles Heidsieck cellars and six Cristal glass specially chosen by the House Chef de Caves.