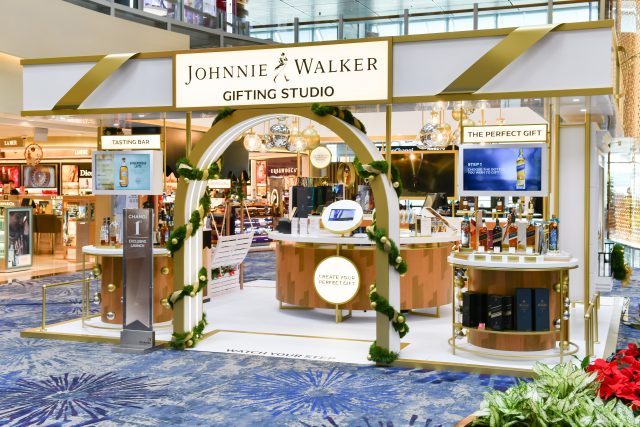 From delicious cocktails to unique treats by top chefs, the Johnnie Walker Gifting Studio is officially open following a festive celebration.
Singapore, 6 December 2019 – Diageo Global Travel, in partnership with Changi Airport Group (CAG) and DFS Group, the world's leading luxury travel retailer, celebrated the official launch of its new and exclusive Johnnie Walker Gifting Studio at Singapore Changi Airport at Terminal 3 yesterday. The special launch event was attended by representatives from Diageo, CAG, DFS Group, top chefs and leading bartenders in addition to local and global media and influencers.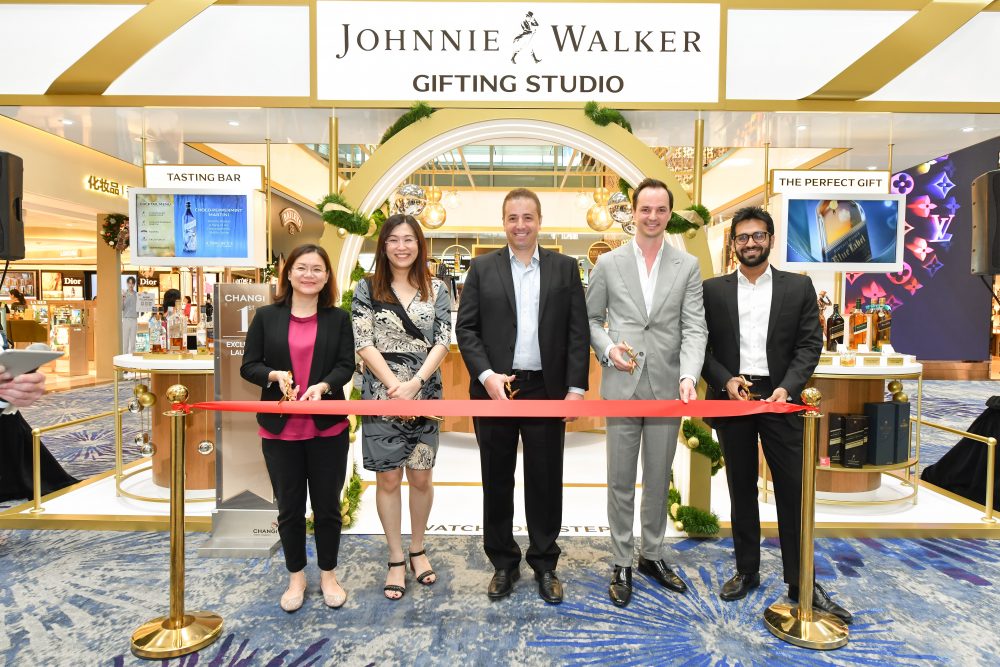 Actor Robert Tonelli Jr. hosted the launch celebration, kicking off with welcome addresses from Diageo and DFS followed by the official ribbon cutting. He then encouraged all guests to immerse themselves in the festive spirit by inviting them to choose from an array of charms, personalised ribbons, bags and gift tags to create their own bespoke gift with a bottle of Johnnie Walker Blue Label. Throughout the event guests enjoyed delicious treats featuring Johnnie Walker, The Singleton, Baileys and more, produced by top Singaporean chefs.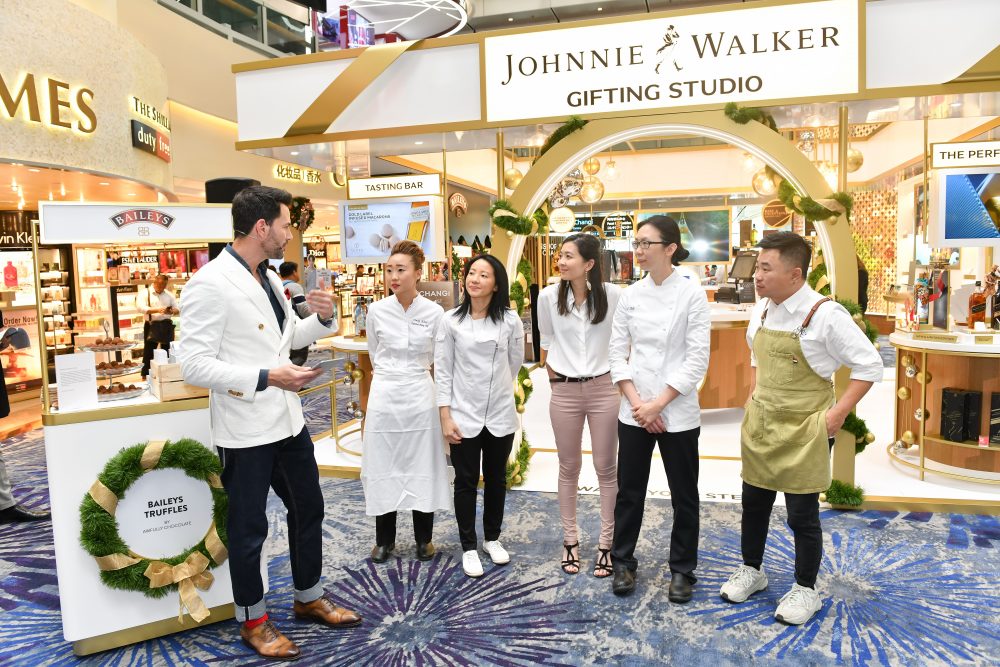 Celebrated Singaporean chefs attended the event to serve bespoke treats infused with products from the Diageo portfolio and created especially for the gifting studio. Cheryl Koh, Asia's Best Pastry Chef 20161, served beautiful macarons infused with Johnnie Walker Gold Label, as well as dark chocolate sablé tarts infused with Johnnie Walker Aged 18 Years. Janice Wong, Asia's best pastry chef2 for two years running was also in attendance, treating guests to delicate Baileys pralines, whilst Pang Kok Keong from Antoinette, Samantha Tan from Awfully Chocolate and Cindy Khoo from D9 Cakery at Hilton Singapore delighted attendees with The Singleton-infused bon bons, Baileys Truffles and Tanqueray No.10 Choux Puffs.
All treats showcased at the event will be available for travellers to try at the pop-up throughout the festive season. Each week is dedicated to one of the partner chefs, meaning travellers can sample different creations each time they visit.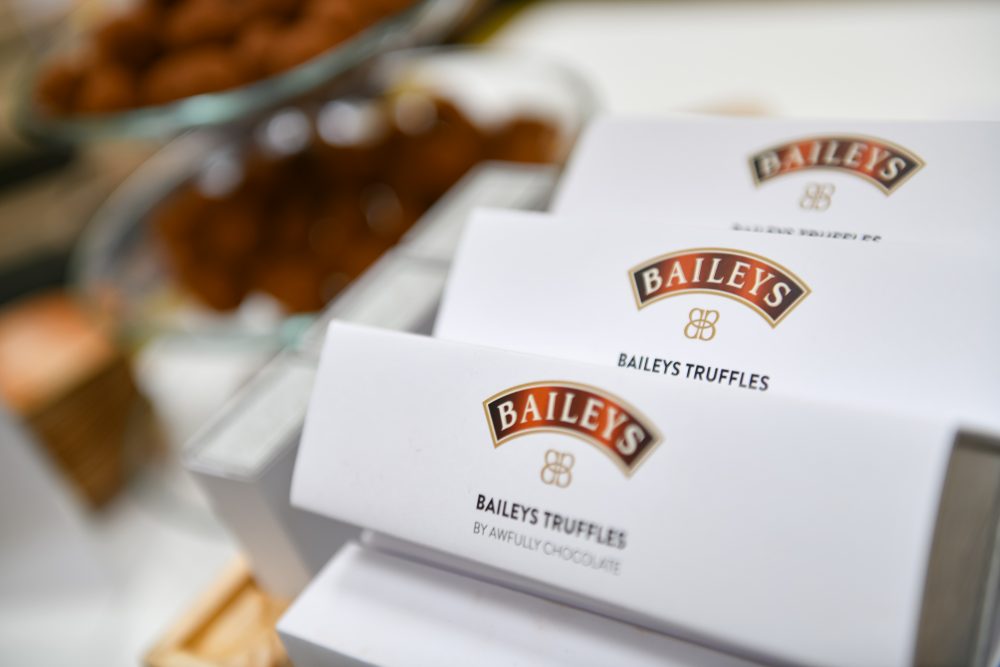 Festive cocktails were served throughout the event, including a Baileys infused Eggnog, Choco-peppermint Martini with Johnnie Walker A Song of Ice, Roe & Co. infused Gingerbread Latte, Tanqueray-infused Cranberry Punch as well as a festive Johnnie Walker A Song of Fire cocktail.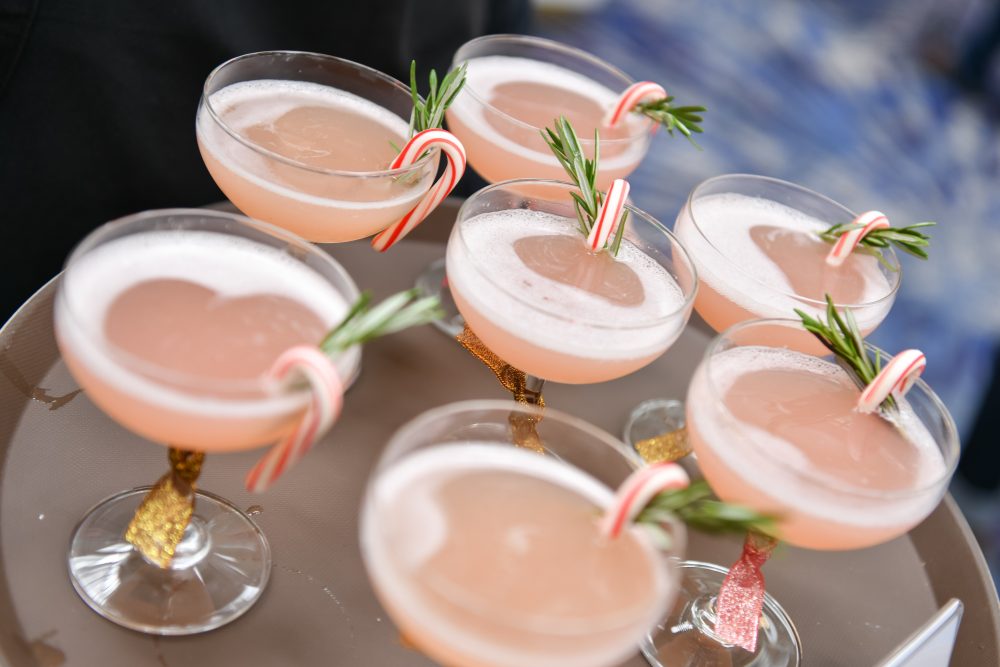 Speaking about the collaboration, Cheryl Koh said ""I've loved being part of this special partnership. Working with the highest quality produce to create edible pieces of art is one of the most exciting parts of being a pastry chef. This time of year is all about giving back, and I'm delighted to share my two creations with everyone here and with the travellers who will visit this beautiful gifting studio over the festive season."
Paulo Guludjian, General Manager for Diageo Global Travel in Asia, Pacific, Middle East, India and Egypt, said "Today has shown how exciting and engaging this gifting studio really is. Offering product personalisation often ties in beautifully with the shopper mission at this time of year and with plenty of options to choose from we've no doubt our consumers will find what they're looking for."
While the new installation will predominantly focus on Johnnie Walker and showcase the brand's gifting accessories and latest blends, travellers will also be able to explore similar gifting ideas and limited editions from some of the wider Diageo portfolio including Baileys Irish Cream and limited-edition Special Release malts.
The Johnnie Walker Gifting Studio is situated in the Terminal 3 Departure Transit Hall and will remain open until January 9th, 2020.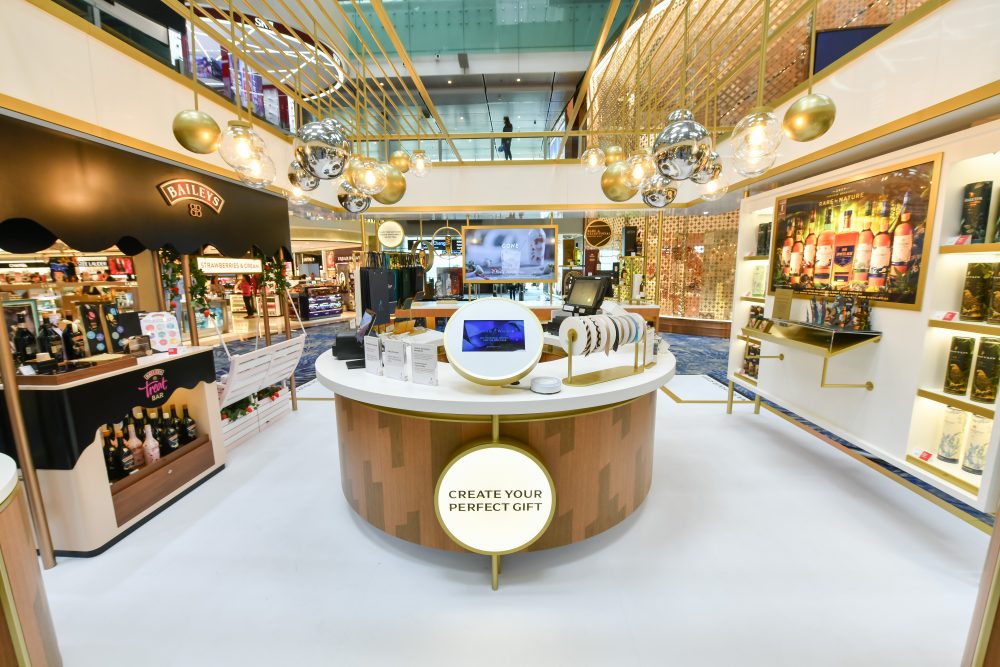 1 The World's 50 Best Restaurants 2016
2 Prestigious San Pellegrino Asia's 50 Best for 2013 & 2014
Treats will be available throughout the month at the pop-up:
Week 1 (30 Nov – 6 Dec): Johnnie Walker Gold Label infused macarons from Tarte by Cheryl Koh
Week 2 (7 – 13 Dec): Baileys pralines from Janice Wong Singapore
Week 3 (14 – 20 Dec): The Singleton-infused Bon Bon's by Pang Kok Keong from Antoinette
Week 4 (21 – 27 Dec): Baileys truffles from Awfully Chocolate
Week 5 (28 Dec – 3 Jan): Tanqueray No. 10 Choux Puffs by Cindy Khoo from D9 Cakery at Hilton Singapore
Week 6 (4 – 9 Jan): Johnnie Walker Aged 18 Years Dark Chocolate Sablé Tart from Tarte by Cheryl Koh
Cocktail samples will be available throughout the month at the pop-up:
1. A Song of Fire – Johnnie Walker A Song of Fire, Red Grape Juice, Five Spice
2. Bailey's infused Eggnog – Baileys, Salted Egg Yolk, Milk, Cinnamon
3. Choco-Peppermint Martini – Johnnie Walker A Song of Ice, Chocolate Milk, Mint Syrup
4. Roe & Co infused Gingerbread Latte – Roe & Co, Gingerbread Syrup, Milk Coffee
5. Tanqueray-infused Cranberry Punch – Tanqueray No. 10, Cranberry, Pink Grapefruit, Lime