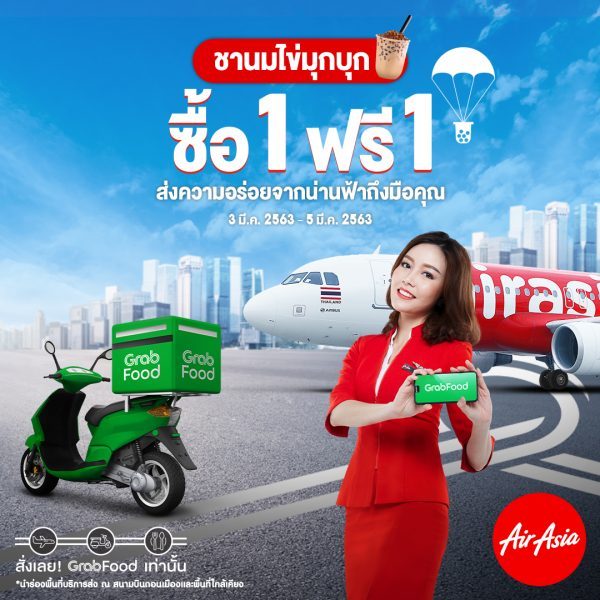 AirAsia Thailand said it is making available 5 of its most talked about in-flight offerings Boba Milk Tea, Boba Thai Milk Tea, Boba Pink Milk Tea, After You Nom Yen Bun and After You Bread with Salted Egg Custard and Dark Chocolate Custard through GrabFood from 3 March 2020 onwards, according to the press release. Many of these items are longer available for in-flight purchase.
AirAsia also revealed it was able to achieve monthly sales of up to 50,000 glasses of boba milk tea, thanks to the unique flavor and chewy diamond shaped pearls.
Through the collaboration, consumers now can enjoy special in-flight offerings without even have the need to fly. This offer is initially limited to Don Mueang Airport and surrounding area.
We have seen AirAsia's in-flight menu brand Santan and T&CO operating a brick-and-mortar store in a shopping mall in Kuala Lumpur offering ASEAN fast food. The dishes include some of AirAsia's famous in-flight dishes such as Pak Nasser's Nasi Lemak and Uncle Chin's Chicken Rice. Airline meals have a reputation of being mediocre in taste.
The concept of selling unique in-flight desserts/beverages has better prospect because it is much more easy to deliver on taste, consistency and exclusivity.