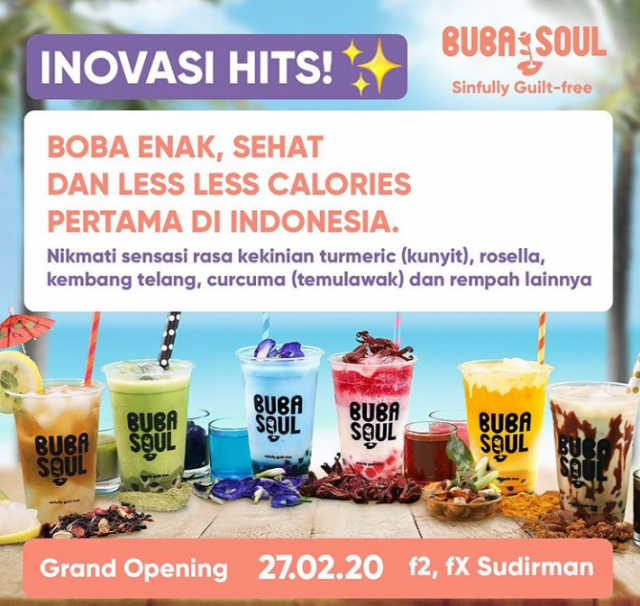 Buba Soul, a milk tea outlet at FX Sudirman, Jakarta, has unveiled a new milk tea series that combines with traditional Indonesian herbal medicine also known as jamu. In line with its "Sinfully Guilt-Free" approach, Buba Soul latest creations use turmeric (kunyit), Javanese ginger (temulawak), ginger (jahe), cinnamon (kayu manis), roselle, lemongrass (sereh) and butterfly pea (kembang telang). The drinks are sweetened with palm sugar (gula aren) and organic honey.
The ingredients are sourced from Indonesia to support local farmers. Buba Seoul is also playing its bid to protect the environment by using eco-friendly packaging materials such as cassava-based bag, corn-based paper cup, paper straw and biodegradable cup.
Among the jamu-inspired drinks are Berrylicious Curcuma, Hot Golden Turmeric, Butterfly Pea Flower Milk Tea and Java Beautea.
Apart from the jamu drinks, Buba Soul has some of the normal favourites like Creamy Brown Sugar Premium Milk Tea and Nobel Matcha.
Each drink costs around IDR 25,000 to IDR 45,000
The launch of Buba Soul showcases the on-going trend in bubble milk tea towards better-for-you (eg jamu-inspired) and eco-friendly.