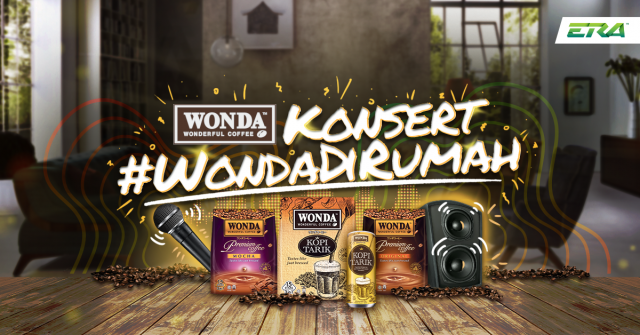 Konsert #WONDADiRumah will be keeping Malaysians entertained during the Movement Control Order (MCO) period
Kuala Lumpur, 26 March 2020 – One of Malaysia's leading ready-to-drink (RTD) coffee brands, WONDA Coffee, is bringing the first ever concert from home featuring some of Malaysia's hottest singers who will be performing LIVE from their very own home. This marks Malaysia's first ever concert-from-home, keeping everyone entertained for seven days straight during the Movement Control Order (MCO) to fight boredom. With the Konsert #WONDADiRumah, WONDA Coffee is encouraging everyone to continue staying at home, stay entertained and more importantly keeping everyone safe.
Konsert #WONDADiRumah will be featuring different Malaysian artists every day, with each session lasting up to 30 minutes on Astro Ria or ERA IG TV at 6.30pm from 25 March to 31 March. The sensational and melodious artists will take the stage daily to sing their famous songs featuring Aizat Amdan, Noh Salleh, Syamel, Zizi Kirana, Haqiem Rusli, Akim and Stacy.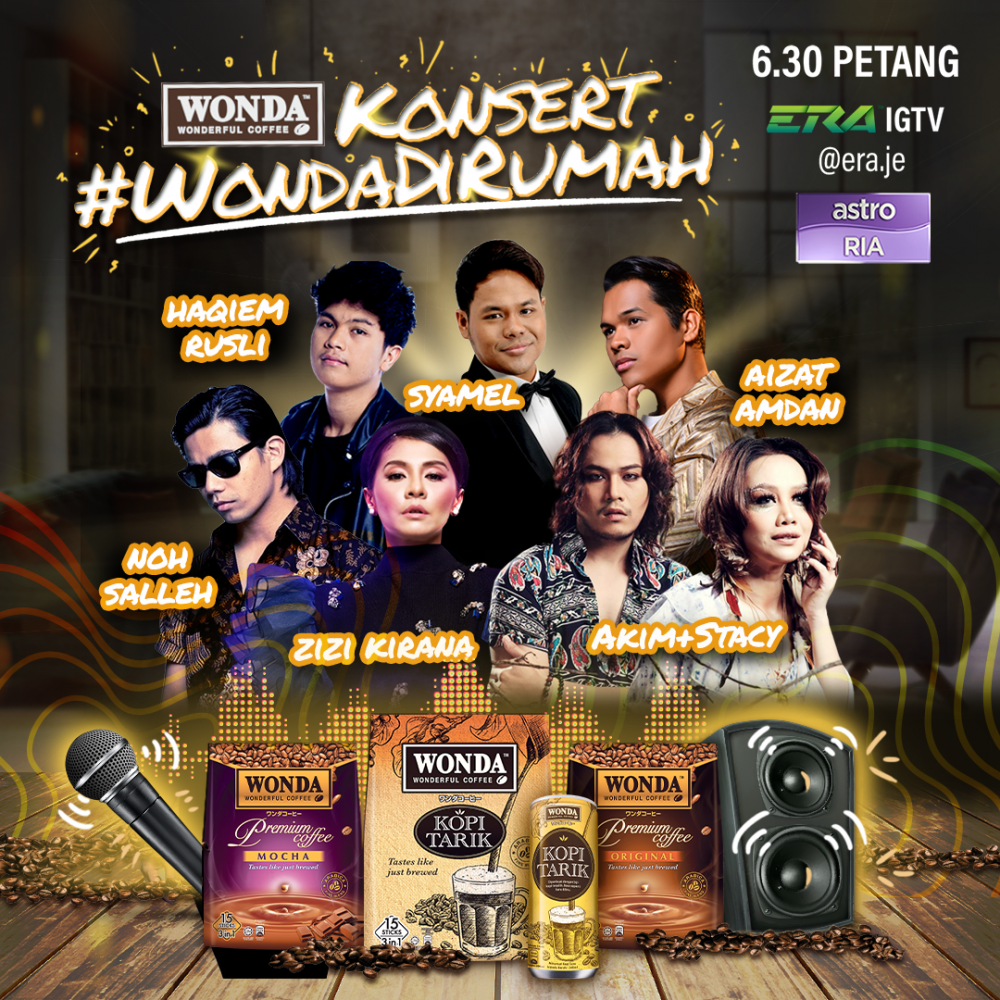 "We are truly thankful for the seamless cooperation between all parties, including Astro, performing artists and partners, to make Konsert #WONDADiRumah happen in just a few days. As we go through some trying and challenging days, we believe it is our responsibility to explore ways to encourage more people to stay at home while providing light entertainment for our consumers," said Santharuban T. Sundaram, Senior Vice President of Marketing and Alternate Business from Etika.
The entertaining first-of-its-kind concerts are not the only treat. Etika will also be rewarding Malaysians for their stay-at-home efforts. WONDA Coffee will be running daily challenges – Cabaran #WONDADiRumah based on the theme of the day where Malaysians can be in the running to win e-vouchers worth RM14,000! Daily challenges announcement will be made every morning at ERA Instagram or on-air, and consumers to upload their submission (video or photo) by tagging @era.je with hashtag #WONDADiRumah. Throughout the campaign, there will be 4 winners a day who will walk away with RM500 Shopee e-voucher to be utilized at the Etika Flagship Store – this new online retail channel is made possible through Etika's partnership with Shopee and it provides consumers an easy, convenient way to shop for their favourite drinks without needing to leave their homes. Etika wants to help ensure that Malaysians can continue to enjoy their favourite drinks, such as Goodday Milk, WONDA Coffee, Pepsi, Tropicana Twister and others, even when they are home.
Fill your tummy and ears at once
With the current situation, Etika would like to minimize the amount of travel Malaysians need to do to get essentials and food. Therefore, panic buying is not required, and it is recommended to purchase via online to minimize the risk of contracting the virus. If consumers are hungry, Etika is bringing special promotions with myNEWS, Domino's Pizza and Shopee where orders will be delivered right at their doorsteps.
Malaysians are able to order special deals of delicious Maru Bento from myNEWS with WONDA Booster or Tropicana Twister via Grab Mart, which they may check out from the Grab app or www.mynewsdash.my from 25 to 31 March 2020.
With Domino's Pizza, starting from 25 March to 19 April 2020, Malaysians are able to enjoy 50% off on Pepsi 1.5L with every purchase of Buy 1 Free 2 Domino's pizza and experience Domino's "Zero Contact Delivery". Use the 'ZERO1' code at www.dominos.com.my or Domino's Pizza Malaysia app.
Meanwhile, Malaysians will be able to purchase WONDA 3-in-1 Premium Coffee available in Kopi Tarik, Original and Mocha variants anytime from Shopee and have these packs of coffee to be delivered to their doorsteps by ordering at shopee.com.my/etika.os.
"We would like to continue to positively motivate and encourage everyone for their effort throughout this MCO period. We believe that in working together, we can overcome this period of hardship. At Etika, we hope to be able to serve Malaysians better in the future, bringing everyone more fun and entertainment, while also, more importantly, keeping safety our utmost priority," added Santharuban.