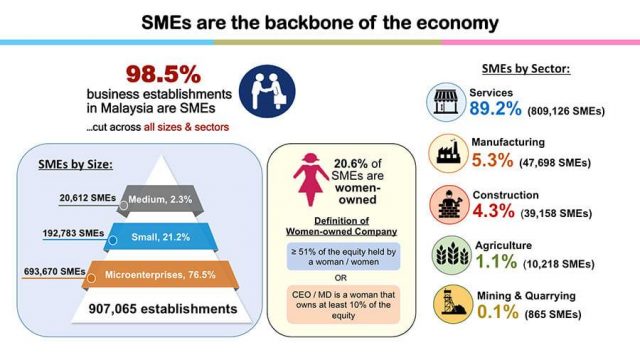 SME Malaysia & Bizsphere Gathered 15,627 SMEs feedback on Business Sustainability During COVID-19
Kuala Lumpur, 30th March – SME Association of Malaysia (SME Malaysia) in partnership with Bizsphere Brand & Marketing Group (Bizsphere) launched a survey on 29th March evening and had attracted 15,627 SME responses in less than 18 hours. The survey titled "Business Sustainability of SMEs During Covid-19 Crisis" was initiated to gauge the sustainability of Malaysia SMEs during the COVID-19 crisis and impact from Movement Control Order (MCO).
"We have been receiving phone calls, emails and messages from SMEs since the 1st day of MCO. Many has highlighted their challenges in business operation and fear the sustainability of their businesses. SME Malaysia has been sharing all these feedback to various ministries yet lack sound facts to support. Thus, we decided to run a survey to collate inputs from all SMEs." Says Datuk Michael Kang – National President of SME Malaysia.
The survey had attracted participation of 15,627 SMEs mostly via WhatsApp and Facebook viral share. "BIZSPHERE has only less than 2 hours to prepare for the survey and we maximised our network of SME database to get as much response as possible. We managed to gather 10,000 responses in the short span of 5 hours. It shows how eager SMEs would like to express themselves to the government" added Yap Keng Teck – Managing Consultant of Bizsphere.
59.2% of the survey was completed by small size SMEs, while the balance was responded by 22.3% micro and 18.5% Medium size SMEs. Most of the SMEs (53.3%) have less than 75 employees. The survey found that more than half or 51.2% of SMEs is projecting to experience more than RM 500,000 losses within 6 months from March to Sept 2020.
"The biggest challenge of SMEs is cashflow. Most SMEs are very tight in cashflow. It is expected that there will be no cash inflow for at least 3 months due to MCO. Yet, SMEs will still need to continue paying full salary, rental and some statutory payments. Nearly one third or 33.3% of SMEs can only have enough cashflow for month of March while 37.8% can only sustain up to month of April 2020. There are only 26.3% of SMEs found that government assistance through stimulus packages will help them sustain their business despite the additional allocation of RM 100 billion loan to SMEs under Prihatin Package. 77.6% of SMEs have yet to apply for the special relief fund. "SMEs are afraid to have to high of gearing as many of them already have existing loans. The economic uncertainty for next 6 months will burden repayment capability and risk to go under bankruptcy. 4% out of 22.5% whom have applied for the loan has been rejected by the banks." says Datuk Michael.
SMEs have different reactions when asked the possible actions they will take manage their employees from April 2020 onwards if without strong stimulus package from government to SMEs. 43.8% says they will persuade employees to utilise their annual leaves on voluntarily basis. About ¼ or 25.6% will initiate retrenchment of employees / cut total of employment. SMEs employs up to 70% of countries total employment of 10 mil. This may translate to possible 2.56 mil of people out of job. "This is serious and scary if it is not well managed." "Government will need to have concentrated measures to avoid such incident to happen." Says Keng Teck.
SMEs are now lack of confidence on the coming months. 82% predicts that they will be at lost for financial year 2020. 29.1% of SMEs believes that "business as usual" can only be back after 6 months whilst 61.7% of them believes that business will need more than 9 months for business to stabilise to normal.

About SME Malaysia
SME Association of Malaysia (formerly SMI Association of Malaysia) was established on 13th July 1995 with the objectives of promoting, providing supports, services and solutions towards the best interest of small and medium industries, enterprises and businesses in Malaysia. Since the inception, the Association has been organizing numerous mega and international conferences, seminars, award, exhibition and localized projects to educate, elevate and expose its members as well as small and medium industries, enterprises and businesses in Malaysia.
The Association is also actively engaged in dialogs with the various ministries of Malaysian Government to reflect and provide feedback on the needs and improvement required for a stronger and more professional small and medium industries, enterprises and businesses, whom represents 98.5% of the Malaysian economic establishment.
About BIZSPHERE Brand & Marketing Group
BIZSPHERE is a branding and business consultancy firm that specialises in maximizing SME brand potential for business growth and long-term branding success. Our clients include regional and emerging brands like JOVEN, Inovar Floor, Captain Oats, AVIS, Bluescope, Miaow Miaow and many more. BIZSPHERE provides a full spectrum of branding and marketing services ranging from strategic consultancy and training, to tactical campaigns and creative production.
BIZSPHERE makes branding easy and provide practical solutions that meet business needs over and beyond branding objectives by capitalising on our systematic marketing processes and network of professional marketing partners. Our strengths lie in our ability to embrace branding in the practical business world. Be it a business start-up or an established exporting brand, BIZSPHERE have the right cost-effective solutions customized to each unique business entity.