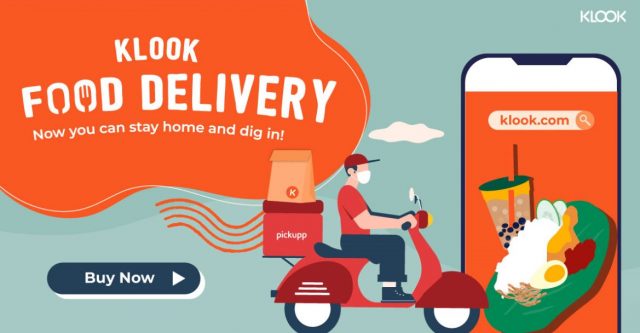 With travel-related spending fell sharply due to the Movement Control Order (MCO), travel-related companies in Malaysia have to innovate to survive. Klook, together with AirAsia's Ourshop, have now branched deeper into non-travel related services.
A clever way to ride out the storm, Klook, the world's leading travel activities and services booking platform from Hong Kong, has launched a new food delivery service for the Klang Valley in Malaysia.
The new Klook delivery service includes leading names in the restaurant scene such as:
Shang Palace at Shangri-La Hotel in Kuala Lumpur
Lemon Garden Cafe at Shangri-La Hotel Kuala Lumpur
Zipangu in Shangri-La Hotel Kuala Lumpur
Serena Brasserie at InterContinental Kuala Lumpur
The Porki Culture in Seapark
Hawker Chan at Petaling Street
Niko Neko Matcha in Bangsar
Delivery is available for locations situated within 8km from the selected restaurant and will take approximately 1 hour from the selected timeslot. The delivery fee for most of the partners is RM 12.00.


Klook also has the Klook N Go option that allows consumers who have bought the F&B deals to claim their meals by showing their e-voucher upon arriving at the restaurant.
Ourshop's scope is even wider. The e-commerce arm of AirAsia has launched a new campaign called S.O.S., a campaign to save the small businesses that we love. Not only is S.O.S. saving the SMEs, the airline is betting on S.O.S. and Ourshop to give the airline much needed extra revenue to tide over the current difficult times. Products sold through Ourshop will be delivered via Teleport, the logistics arm of AirAsia. 
The online marketplace is too competitive. The challenge for Klook and Ourshop is to get onboard new partners quickly and products that attract consumers.