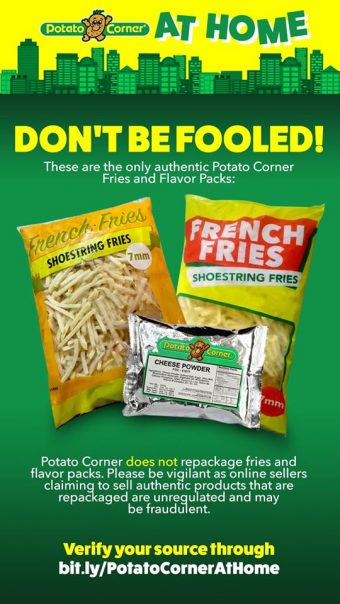 Potato Corner, the favourite flavored French fries franchise in the Philippines, has joined the other foodservice operators in the country to launch their own Potato Corner at home. The range consists of authentic Potato Corner fries and flavour packs.
The Potato Corner At Home kit is available for only PHP 699 comprising 1×2.5kg bag of fries and 1x220G pack of flavoring. The flavour choices are cheese, BBQ, sour cream and chili BBQ.
More information on the outlet and contact number is available by clicking on this link. Potato Corner is warning consumers not to be fooled by online sellers claiming to sell authentic products.
During this crisis, Potato Corner has recruited a team of "Special Forces" numbering around 200 with the figure still growing strong. The new wave of entrepreneurs are helping to make Potato Corner authentic fries accessible to more consumers.
Potato Corner has partnered with Serenitea to sell its cook at home fries kit at two Serenitea outlets. It is recommended to pair it with a limited edition Serenitea DIY Home Kit for that fries + milk tea combination.