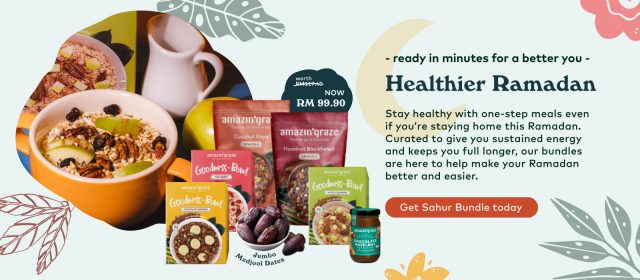 Amazin' Graze, Malaysia's homegrown healthy snack and granola maker, if offering healthy Ramadan bundle to help those who are fasting feel energised and full for the whole day. Skip the hassle of grocery runs, this Ramadan Bundle comes with everything you need to have an easier and healthier Sahur meals, delivered straight to your door.
A selection of oat-based meal in 3 different flavours and ready in 90 seconds, paired with tasty granolas, decadent nut butter, and jumbo medjool dates that are lip-smackingly juicy. 18* nutritious meals ready in minutes for you and your family to have sustained energy and stay full longer.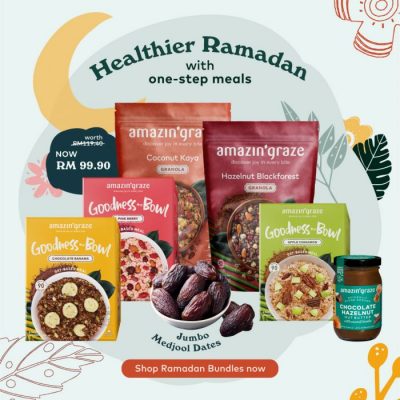 What's Inside:
Hazelnut Blackforest Granola 250g
Coconut Kaya Granola 250g
Chocolate Hazelnut Butter 180g
Goodness Bowl Chocolate Banana 240g
Goodness Bowl Apple Cinnamon 240g
Goodness Bowl Pink Berry 240g
Jumbo Medjool Dates 100g (5 pcs)

*18 meals = 18 sachets of Goodness Bowl in the bundle. This is based on suggested serving size.
Sign up to get the Amazin' Grace exclusive Ramadan recipe.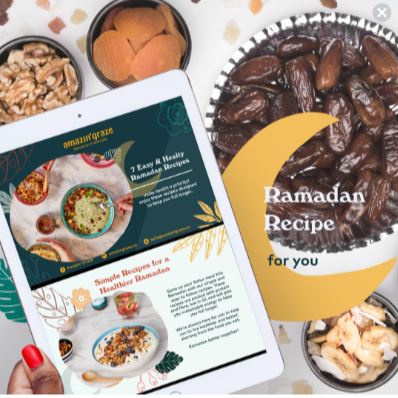 The Ramadan Bundle is now priced at RM 99.90 (regular price RM 119.40).
Amazin' Care Box
Amazin' Grace has made available a more affordable pack called Amazing Care Box comprising a selection of snacks & meals to keep you full longer and staying healthy.
What's inside:
1 x Hazelnut Blackforest Granola Bites 40g
1 x Blueberry Goji Coconut Granola Bites 40g
1 x Pandan Coconut Nut Mix 30g
1 x Coconut Curry Lime Nut Mix 30g
FREE Medjool Dates 30g
FREE Care Card
Amazing Care Box is priced at RM 24.90 (regular price RM 28.60).
Goodness Bowl

Amazin' Graze Goodness Bowl, a new oat-based meal, is available in Choc Banana, Pink Berry and Apple Cinnamon. The oat-based meal is filled with complex carbs offering protein and nutrients in the form of better for you energy making you feel full for a longer period. Goodness Bowl is dairy-free and vegan-friendly.
Goodness Bowl is available for RM 14.90 per pack.
Click here to purchase Amazin' Graze healthy snacks and oat meals from the company's own official store.
Join the Amazin' Grace's mailing list to enjoy free delivery & a welcome gift with your first order.