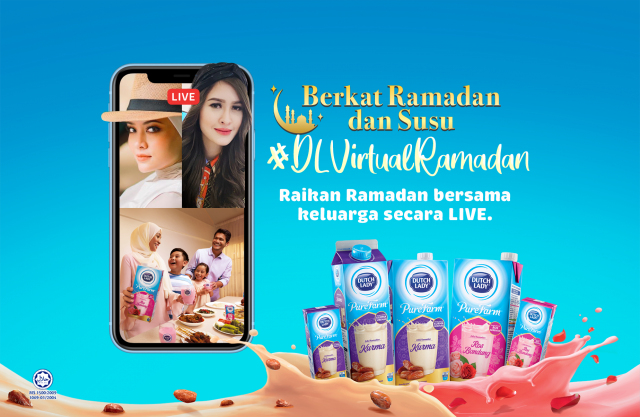 Malaysia's beloved dairy brand reintroduces its limited-edition Kurma and Ros Bandung flavours for Ramadan
PETALING JAYA, 30 April 2020 – Dutch Lady, the No.1 dairy brand in Malaysia, has reintroduced two flavoured milk products for Ramadan due to popular demand. The beloved Kurma and Ros Bandung flavours are back to provide highly nutritious benefits and a great tasting energy booster to help Muslims in Malaysia observe this meaningful period of reflection and togetherness.
Made with real palm dates and rose extracts, the Dutch Lady Kurma and Ros Bandung milk flavours ensure that Muslims still have the needed nutrients to stay energised during the Sahur to Iftar daily fast while facing the challenges brought about by the COVID-19 pandemic and Movement Control Order (MCO).
Muslims in Malaysia can start their day with Dutch Lady Kurma milk to provide them with long-lasting energy to power them through the day. They can then end the day on a sweet note with a refreshing glass of Dutch Lady Ros Bandung milk as they break fast with their loved ones. With the lack of Ramadan Bazaars nationwide, the Dutch Lady Ros Bandung milk can now provide a healthier and delicious alternative to a bazaar beverage staple.
As our country prepares itself for a Ramadan like never before, and we practice social distancing for the greater good, this first-ever Virtual Ramadan series will enable Malaysia and its majority Muslim population to make the most out of their Ramadan in 2020 while fulfilling our goal of nourishing the nation. The series sees the collaboration between Dutch Lady, Malaysia's No.1 dairy brand, and celebrity mums Syatilla Melvin (@samtilla) and Eina Azman (eina_azman), as they host a series of live streams on Instagram to bring communities together and share how they prepare for Sahur and Iftar. Syatilla's live stream ran on 25 April 2020, while Eina's is slated for 9 May 2020.
"We understand that celebrating Ramadan while separated from loved ones can be mentally and emotionally challenging for a lot of us, as Ramadan is the time we reach out and foster closer ties with both our family and friends," said Dutch Lady Milk Industries Berhad Managing Director, Tarang Gupta.
"With this in mind, we did not hesitate to introduce the #DLVirtualRamadan series in an effort to bring communities together to share in the bond of observing this meaningful occasion of reflection and solidarity. With this initiative, we hope to encourage families to strengthen their relationships as they enjoy it with the Dutch Lady Kurma and Dutch Lady Ros Bandung milk products during Sahur and Iftar," Tarang added.
#DLVirtualRamadan aims to strengthen the bond between Malaysians at a time when many are feeling disconnected by social distancing and the MCO. Fans who already tuned in to Syatilla Melvin's IG live on 25 April had the opportunity to participate in her Ramadan preparations as she shared her favourite tips and insights of her own practices. To continue making the most of this situation, viewers can expect to engage in an exciting Iftar session with celebrity mum Eina Azman, who will serve refreshing recipes as Muslims nationwide sit down together to break their fast. For a more immersive experience, viewers can also ask her questions on her preparation for this Ramadan and stand to win exclusive Dutch Lady Ramadan kits. Tune-in details are as follows:
Dutch Lady Kurma and Dutch Lady Ros Bandung are now available in all major Hypermarkets and Supermarkets, as well as e-commerce platforms nationwide while stocks last.
For more information on the #DLVirtualRamadan series, check out the Instagram and Facebook pages at https://www.instagram.com/dutchladymy and https://www.facebook.com/dutchladymalaysia respectively. For more information on Dutch Lady Kurma and Dutch Lady Ros Bandung, visit www.dutchlady.com.my.