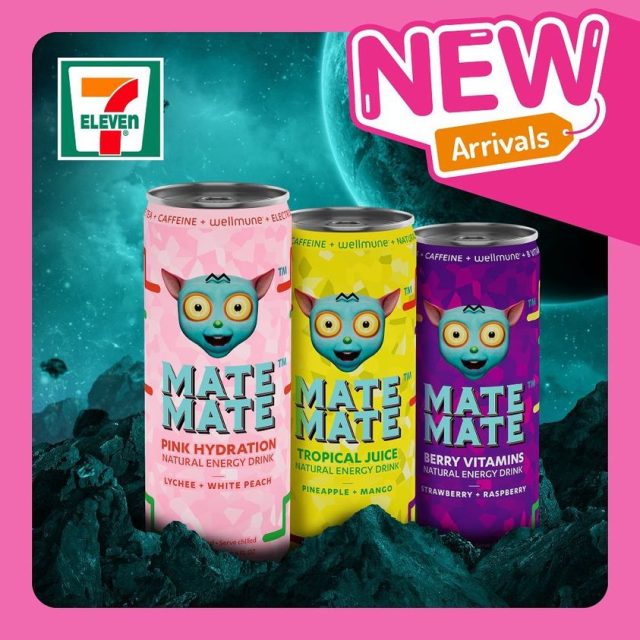 Mate Mate energy drinks are now available in 7-Eleven across Singapore. Mate Mate is the next generation, all-natural energy drink specially formulated to deliver a mental and physical energy boost perfect for those looking to make the most of their wakeful days & longer nights.
Made from the green Maté leaf that's a natural source of caffeine and low in sugar, Mate Mate is also the first energy drink in the market to be enriched with Wellmune, a natural, clinically tested and proven ingredient found in foods that promote health and well-being.
Wellmune strengthens and boosts the body's immune health and promotes higher brain function. The result: You get maximum energy in just three 250ml cans.
Mate Mate Pink Hydration quickly replenishes fluids and electrolytes while delivering a long-lasting energy boost. Savour the unique combo of Lychee, White Peach & electrolytes that offer hydration and an exotic and refreshing treat for your tastebuds.
Mate Mate Tropical Juice energy drink comes with 100% natural blend of pineapple and mango to recharge your body for a tropical delight.
Mate Mate Berry Vitamins energy drink is naturally flavoured and infused with strawberry and raspberry for a berry berry delicious and satisfying energy to boost your mental focus.
Apart from RTD energy drink, Mate Mate is also available in sachet (17g).
Buy now at Mate Mate Online Shop, Lazada or Shopee.