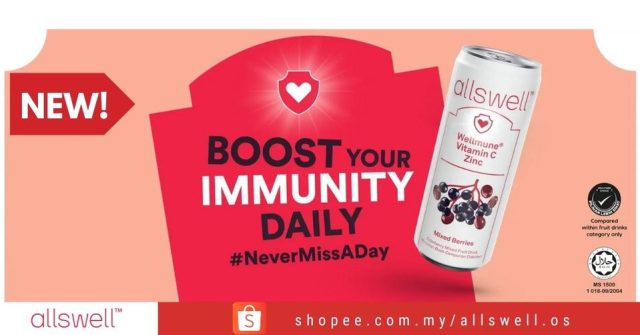 Singapore's Allswell has released a new range of immunity drink in Malaysia to cater to consumers who want to improve their immune health. Allswell Immunity Drink contains Wellmune, a yeast beta glucan clinically shown to help strengthen the immune system.
Wellmune is clinically demonstrated to help:
Improve general immune health
Maintain overall physical health
Protect against the harmful effects of stress
Promote healthy energy levels and mental clarity
This halal-certified beverage contains natural fruit juice of elderberries and mixed berries. The drink also has vitamin C and zinc to support the immune system.
Allswell Immunity Drink with Wellmune contains 55.2mg of yeast beta glucan per serving of 240ml and 4.2g of sugar per 100ml.
The key ingredients are juice concentrates (apple, red grape, blackcurrant, elderberry), permitted natural flavourings, vitamin C, Wellmune Yeast Beta Glucan and zinc sulphate.
Allswell Immunity Drink introduces Malaysian consumers to Wellmune as an immune boosting ingredient as well as elderberry as an ingredient that is packed with antioxidants and vitamins that may boost the immune system.
Allswell Immunity Drink is manufactured by Tastiway Sdn Bhd for Allexcel Trading Sdn Bhd, which is a unit of Allswell in Singapore. In Malaysia, Allexcel markets its own house brand of functional food and beverage products under the Allswell brand.