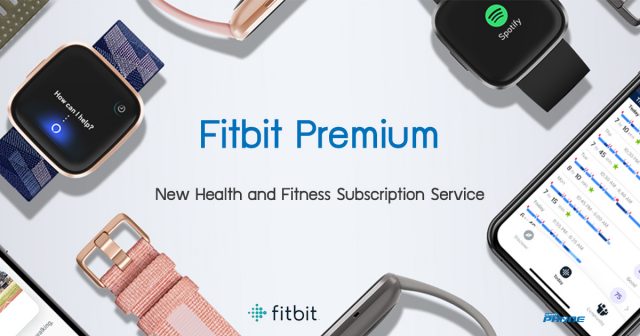 With Malaysians working from home and staying safe indoors during this time, we realize how hard it is to focus on your health and wellness, and that it can be challenging to keep up your healthy habits. It is more important than ever to stay positive and active during this crucial time of social distancing, as a healthy mind lives in a healthy body. Here are 7 ways in which Fitbit can help you achieve your health and fitness goals, while maintaining social distancing.
Fitbit Premium – Personalized guidance in the Fitbit app
Fitbit Premium is offering a 90-day free trial on its app to new users to help you stay active, sleep well and manage stress during this challenging time.
This premium app helps track every part of your day including activity, exercise, food, weight and sleep to help keep you fit and stay motivated. These programs can be customized to make them work for your schedule and needs in light of the recent global pandemic.
If you're already paying for Fitbit Premium, you'll receive 40 new pieces of premium content for free, which will be available in the Fitbit app. For all new Premium members, you will get more than just a 90-day free trial as you will be able to experience personalised health insights, health guidance, advanced sleep tools, customized programs, and 150+ workouts to help you manage this isolation period.
Note: To access the Premium content you just need to open the Fitbit app and tap on the "Premium" tab in the lower-right corner. Free trial only redeemable in app.
COVID-19 Resource Tab
Fitbit has always made it their mission to help people around the world get healthier. While its premium app comes with several programs to choose from including one for getting more sleep, one for kicking your sugar habit, and one to help anyone who just wants to stay active, the brand knows it has to do more in this trying time of the Covid-19 pandemic.
To help you stay healthy, safe, and connected, Fitbit has introduced a new tab, Covid-19 Resource Hub in the app to give our community access to helpful information, motivation, and resources related to this pandemic. Users with the Fitbit app and a Fitbit account in Malaysia will see a new tab on the bottom right, titled COVID-19. In this new tab, you can access tools to help you stay active and healthy from home and stay up-to-date with all of the latest information from the World Health Organization.
Sleep Guidance to better nights and better days
There's more to a good night's sleep than just getting in 8 hours.
Every morning in the Fitbit app, you get a Sleep Score based on the previous night's rest and will give you an analysis based on three categories: sleep duration, sleep depth, and sleep restoration.
But with Fitbit Premium, you can get a deeper analysis of your free daily Sleep Score—with a breakdown showing how it was calculated based on your time asleep, and deep versus REM sleep stages, and how restorative your sleep was.
The app's innovative Sleep Score breakdown also helps you understand which aspects of your sleep you need to improve on; regulating your sleeping pattern, which can be helpful if you've had trouble sleeping but can't quite pinpoint the cause.
Plus through Fitbit Premium's step-by-step guided sleep programs, you'll discover changes you can make to work toward a better night's rest.
10-minutes exercise – every day
Trash out excuses, get geared and squeeze in at least 10 minutes of dedicated movement at home every day to get your heart rate up or work your muscles. Do squats, push-ups, crunches, jumping jacks, grab the stairs two-at-a-time or get some fresh air by going for a speedy walk. Prefer to follow a routine? Try one of these 10-minute routines.
If the tips above are not quite what you want, sweeping and dusting can be a great calorie burning exercise because these chores will make you cover your entire house. Bonus points, now you even have your house clean!
Remember to take mental health breaks and stretch your back
Doing guided breathing sessions regularly can bring more mindfulness to your daily life while you're adhering to social distancing regulations. Learn how to deep breathe through our Relax guided breathing exercises or sessions via Premium for a healthier, calmer, and a more relaxed you.
Aside from that, a tight back can come on without prior warning and could severely affect your daily movements. Stretching is a one-two punch for treating back pain, and posture-perfecting stretches are known to provide instant relief. Check out our 3 tight back recovery stretches guide.
Eat right and drink more water for a stronger body and mind!
A healthy diet and good lifestyle habits can help boost the body's natural defense and immune system, while keeping our bodies and minds strong and healthy. Five foods that are known for their immune-boosting potential include citrus fruits, cruciferous vegetables, garlic, ginger and almonds. Learn how to build your own healthy, balanced meal from Fitbit's guide to building a balanced plate and get inspired with our most popular healthy recipes: 7 High-Protein Breakfasts to Power Your Morning and Healthy Recipe: Easy Veggie Soup with Fresh Pesto
D
Download your wash your hands reminder
Download the Clean Cues clock face for your Fitbit device for an hourly reminder and timer to wash your hands. The clock face features a countdown timer and a gentle buzz every 60 minutes to remind you to wash your hands for at least 20 seconds or more.
So why wait, after all we are all in this together!
Fitbit has evolved over the years to become a community hub for users around the world by introducing more ways to interact on the app. Stay motivated, exchange ideas, solutions, tips, techniques, and information by connecting to the others in our global Fitbit community.
Fitbit Premium is a great way to start utilising this time of isolation to stay healthy, energised and rejuvenated as we work towards that dream body.
For more information about Fitbit, Fitbit Premium and its latest devices such as the newly launched Fitbit Charge 4, please visit: https://www.fitbit.com/my/home.
Click here to purchase Fitbit from Fitbit official store on Lazada Malaysia.