Partners with Kloth Cares & INTI International College Subang to Upcycle Textile Contribution for Communities in Need
Kuala Lumpur, November 1, 2022 – Life is back to normal as we embrace endemicity. Reclaim time, convenience and ease-of-mind when it comes to laundry with the TOP Colour Signature line of Super Colour premium powder detergent and Colour Protect premium liquid detergent with breakthrough 5D Colour ProTech laundry technology.
Now, you can wash all your laundry together be they light, dark, multi-coloured, white, old or new[1] with the confidence that colours won't bleed, colourful clothes will remain  vibrant, and dark clothes will stay dark. It prevents fabric from early aging, keeping them newer for longer helping prolong the life of garments thus promoting more sustainable living.
How 5D ProTech Technology Works?
TOP the No 1[2] Detergent Brand in Malaysia, is an innovative, consumer-centric brand by Lion Corporation Japan, that has been uplifting the way we do laundry in Malaysia through continuous research, producing breakthrough innovations to serve and improve consumer living. It is known for championing the concept of hygienically clean living through its continuous detergent technology innovations.
The new TOP Colour Signature line includes 5D Colour ProTech Technology developed by Lion Corp deploys five colour benefits, hence the name. It keeps dark colours dark and bright colours vibrant through removal of chlorine in wash water. It allows colours to shine through by removing stubborn stains. It prevents pilling due to friction by maintaining fabric smoothness. It prevents early aging of fabric to help clothes look newer for longer.  Its unique cross colour resistance technology prevents colour bleeding for ease-of-mind.
All TOP detergents including the Colour Signature line are powered by Advanced Micro-Clean Tech with Lion Japan's Anti-Microbial Tech that deploys next generation detergent technology that effectively removes 99.9% of harmful viruses including (COVID-19, Influenza A & Coxsackie), and bacteria[3]. This specially curated multi-tech formulation includes Anti-Malodour, Anti-Mite Dust and Anti-Sebum functionalities, enhanced with Bolder Scent Technology, a distinctive fragrance with proven efficacy against malodour control while it enhances your mood.
The winning combination of 5D Colour ProTech Technology and Advanced Micro-Clean Tech in the new TOP Colour Signature line of powder and liquid detergents will uplift your laundry experience, saving time, reducing effort, increasing ease-of-mind while protecting and preserving the condition of your fabrics for longer. Naturally it helps multi-cultural Malaysians Stay True to Their Colours in the spirit of Hari-Hari Warna-Warni, including the desire to be more green and earth-friendly.
Embracing the rising wave of global green eco-consciousness, TOP debuts a new eco-refill pack for its premium liquid detergents including the TOP Colour Protect (3.2kg) TOP Stain Buster (3.4kg) and TOP Silky Miracle (3.2kg) liquid detergents. The eco-refill packs have a sleek and slim design that makes them easy to transport and store, even in smaller homes. They come with a screw-top nozzle for easy, targeted and spill-resistant use.  Most importantly they reduce 80% of plastic usage compared to the classic detergent bottle format, are recyclable and reduces the brand's, and your carbon footprint.  Try the eco-refill packs that are kinder to the environment that offer even more value for money compared to regular packaging.
"With the return to pre-pandemic activity levels, consumers are more conscious of how they present outwardly including how their clothes look. Globally we are seeing a return to bright coloured clothing after the dreary pandemic-era work-from-home pajama-like uniform. Malaysians need a powerful, time-saving laundry solution that would take the guesswork out of all-colour inclusive single load laundry, helping them live a more hygienic, sustainable and eco-conscious lifestyle that will let them Stay True to Their Colours.  The TOP Colour Signature line of powder and liquid detergent delivers what consumers need," says Ms Carmen Foo, Senior General Manager of Southern Lion Sdn Bhd.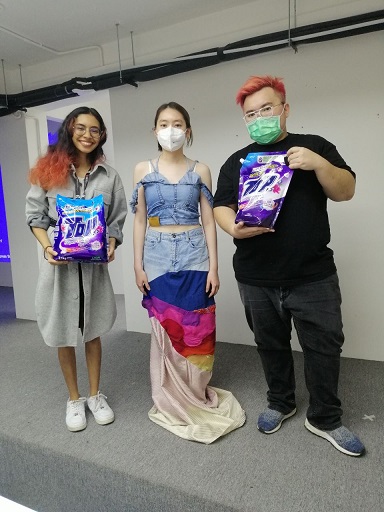 The TOP Hari-Hari Warna-Warni campaign will introduce the new Colour Signature line nationwide through nationwide roadshows, and  through a collaboration with Kloth Cares and INTI International College Subang's Center of Art and Design (ICAD) Fashion Design that encourage Malaysians to learn how to prolong the life and vibrancy of their fabrics including caring for, collecting, repurposing and upcycling to help the Earth.
According to research a staggering 2 million kilogrammes of textile waste and other wearable products end up in Malaysian landfills, daily.
Kloth Cares, the first textile-recycling movement in Malaysia is a social enterprise that targets in 2022 to keep 3 million kilogrammes of textile and other wearable products out of landfills. "Partnering with TOP and INTI International College Subang allows Kloth Cares to reach more Malaysians with the important 5R message to Rethink, Reduce, Reuse, Repurpose and Recycle. Try to prolong the life of your wearables with a detergent that can keep your items looking and feeling their best for longer to reduce the rate with which you must replace your clothes. Reuse and Repurpose these items at home or at work giving them a second life. If you run out of these options, visit the TOP roadshows, and contribute your fabric items to keep them out of landfills," says Ms Nik Suzila, Co-founder of Kloth Cares.
Discover the potential and beauty of upcycled, sustainable and Warna-Warni fashion at the TOP Hari-Hari Warna-Warni roadshows through an exhibition one-of-a-kind upcycled wearable fashion by students from INTI International College Subang ICAD Fashion Design using fabric contributed by Kloth Cares.
"Sustainable, eco-conscious fashion is the way forward. For young Malaysians thrifting is the preferred shopping option. INTI ICAD Fashion Design students have added their unique voice and style to upcycle items from Kloth Cares for the TOP Hari-Hari Warna-Warni roadshow exhibition. Come by the roadshows to be wowed by the exhibits, and learn more techniques to prolong the life and wear of your clothing through repairing, repurposing and embellishing while developing your own personal sustainable style statements," explains, Ms Ang Tong Yin, Dean, INTI Center of Art and Design (ICAD), INTI International College Subang.
Visit the TOP Hari-Hari Warna-Warni roadshows and mini pop-up stores. The roadshows date and location as below:
| | |
| --- | --- |
| Locations | Date |
| NSK Kuchai Lama, KL | 21 – 23 Oct 2022 |
| AEON Metro Prima Kepong, KL | 27 – 30 Oct 2022 |
| AEON Mid Valley, KL | 27 – 30 Oct 2022 |
| AEON Big Wangsa Maju, KL | 3 – 6 Nov 2022 |
| Billion Kota Permai, Penang | 4 – 6 Nov 2022 |
| AEON Tebrau City, Johor | 24 – 30 Nov 2022 |
| Midas Merge, Johor | 25 – 27 Nov 2022 |
All visitors will receive a TOP Colour Signature sample box of 90g liquid and 100g powder. The goodies increase with purchase, buy  RM20 and above in a single receipt to receive FREE TOP face towel or TOP Nylon Bag, purchase RM40 and above to receive a FREE limited edition designer TOP laundry basket and TOP powder container, and purchase RM60 and above to receive a FREE TOP eco bag and TOP Colour Signature powder 750g. To qualify, purchase should include at least one TOP Colour Signature product.
To participate in the TOP Hari-Hari Warna-Warni Sustainability campaign be at the roadshows from 10am to 12noon with at least 10 pieces of clothing that you want to donate to be upcycled. The first 30 donors will receive a TOP Colour Signature 750g detergent FREE. Donate after noon and receive a TOP Colour Signature sample box of 90g liquid and 100g powder detergents. Take your most creative photograph at the pop-up stores, post it to your social media feed with the #TOPdetergent and #TOPHariHariWarnaWarni hashtags to be in the running for RM30 TouchNGo e-wallet pin.
"Stay True To Your Colours with TOP Super Colour Signature & TOP Colour Protect Signature; add colour, value and commitment to the environment to your life with every load of laundry you do. Drop by the roadshows to learn more and score some freebies and prizes, keep fabric out of landfills via donations through Kloth Care bins, be amazed and inspired by the stunning artworks by INTI International College Subang students, or avail yourself of the many introductory offers through TOP official stores on Shopee and Lazada," adds Ms Foo.
TOP Super Colour Powder detergent is available in 100g, 750g, 2.1kg and 3.6kg, while the TOP Colour Protect Liquid detergent is available in 1.5kg refill, 2.5kg bottle, 3.2kg refill and 3.6kg bottle.
To find out more about TOP products and the campaign, please visit http://www.southernlion.com.my or call customer care line at 1800-88-0133.
[1] Always check brand new clothes for colour fastness before adding to your regular laundry load. Cotton, wool and silk are more likely to leach dye on the first few washes compared to synthetic materials such as polyester, nylon and acrylic. Wash clothes of these materials separately on the gentle cycle in cold water to be safe.
[2] Based on Retail Index Service for Detergent category for the 12 months ending March 2021 in Total Malaysia (Copyright ©️ 2021, The Nielsen Company (M) Sdn Bhd)
[3]  Based on an independent lab test conducted in Japan.