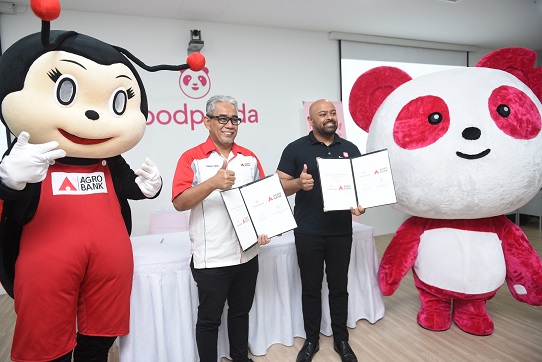 Creating An Empowering Ecosystem To Develop And Support Partners
Kuala Lumpur, November 1, 2022 – The future is looking up for home entrepreneurs as foodpanda Malaysia, Malaysia's leading food delivery platform, and Agrobank signed a Memorandum of Understanding (MoU) to provide financial aid for foodpanda vendors to start and grow their businesses through the HomeChef vertical.
With the partnership, foodpanda's vendors and delivery partners will have the opportunity and access to Agrobank's PEMULIH NewBiz Financing Programme, a micro financing scheme for individuals affected by the current economic challenges but aspire to start their own home-based business centered on food products.
foodpanda Malaysia's Chief Executive Officer, Sayantan Das and Agrobank's President/Chief Executive Officer, Tengku Ahmad Badli Shah Raja Hussin signed the MoU at a ceremony held at foodpanda's HQ in Bangsar South this morning.
Commenting on this initiative, Sayantan said: "As a leader in the food delivery and  quick-commerce space, we believe in empowering entrepreneurship to boost the growth of local businesses. foodpanda does not function as a mere passive marketplace where vendors can connect with their customers, but we strive to nurture and support them to achieve their full potential. We are confident that with this Agrobank partnership, we can synergise our strengths and deliver great changes for aspiring entrepreneurs on our platform."
Tengku Ahmad Badli Shah said: "We are honoured to ink this MoU with foodpanda where we will provide our financial expertise and support to its existing and potential vendors and delivery partners under their HomeChef initiative through our PEMULIH NewBiz Financing Programme."
"The partnership will further boost our vision of leading the nation's agricultural sector through our Shariah-compliant financing products and financial solutions to meet the needs of the agrofood communities including those carrying out upstream activities and up to downstream activities. Agrobank's ongoing efforts through our full-chain financing programmes are in line with the National Agro-Food Policy which contributes meaningfully to the national Gross Domestic Product (GDP) while increasing food safety and Self-Sufficiency Levels (SSL) in Malaysia," he further added.
HomeChef is foodpanda's initiative to develop the growth and expansion of home-based businesses while connecting customers to unique homey dishes via the foodpanda platform.
The exclusive partnership will also see Agrobank collaborating with foodpanda Malaysia on the HomeChef programme on a nationwide roadshow which aims to guide aspiring vendors on their digitalisation journey and to raise the awareness of the programme. Roadshow stops include secondary cities and semi-urban towns in Pahang, Kelantan, Johor , Kedah, Sabah and Sarawak. Ultimately, foodpanda Malaysia aims to create an empowering ecosystem that supports and develops home-based businesses.
"We are beyond excited to be partnering with Agrobank for this programme, as it is aligned with our vision of growing local entrepreneurs in the food and beverage space. We hope to capitalise on Agrobank's strengths and extensive presence to grow the HomeChef initiative and reach aspiring business owners all over Malaysia. Not only does this micro credit programme offer attractive rates and benefits, but it also provides a low barrier to entry for our aspiring home business owners. In combining forces, we believe that we can create an ecosystem to inspire and empower local entrepreneurship," added Sayantan.
HomeChef vendors can enjoy access to foodpanda's business ecosystem of partners and opportunities including local franchise brands, food health and safety training, halal training, packaging and supplies as well as marketing guidance among others. To date, there are more than 5,000 HomeChef vendors under foodpanda Malaysia.
Under the PEMULIH NewBiz Financing Programme, applicants will be given a moratorium for the first six months and charged a 3% profit rate for the seventh month with a maximum financing period of up to 60 months. The financing can be used for the purchase of fixed assets and working capital for business activities such as distribution and delivery of food through p-hailing platforms such as foodpanda. foodpanda delivery partners, too, can obtain financing to purchase motorcycles through this programme.
To find out more about the HomeChef programme, please visit https://bit.ly/3VYKq91.