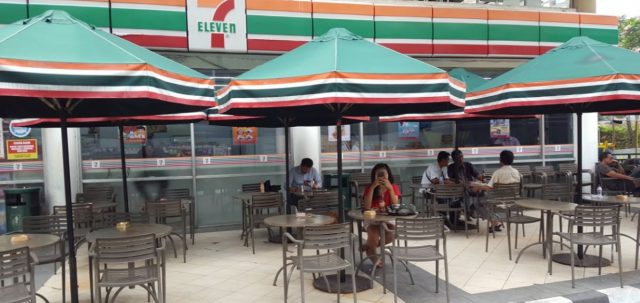 After Ministop, 7-Eleven exiting Indonesia
After the Japanese convenience store Ministop announced in June 2016 it was pulling out of Indonesia, it is the turn of 7-Eleven to announce it is shutting down all stores in the country. PT Modern Internasional, the franchise holder of 7-Eleven, said on 22 June 2017 that all remaining 7-Eleven outlets in Indonesia would cease operation on 30 June 2017 citing "limited resources to support operations."
Failed to sell to CP Group
The decision to shut down was made following the failed attempt less than a month ago to sell off the 7-Eleven operation to a local unit of Charoen Pokphand Group, the operator of the hugely successful 7-Eleven franchise in Thailand.
Ban on sales of alcohol a deciding factor?
The company attributed the poor results of 7-Eleven on the government ban on the sale of alcoholic drinks, which started in April 2015. In 2015, revenue fell 8.9%. In the following year, sales declined by another 23.9% in 2016.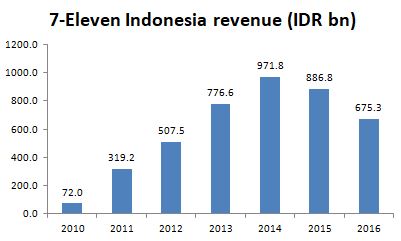 Compiled by Mini Me Insights from PT Modern Internasional annual reports. Excluding non-convenience store revenue. (image above)
Quarterly data reveals downward trend

On a quarterly basis, we see the decline in revenue started during the second quarter of 2015 and this continues for the remaining quarters. The number of stores remains at a high level, ending 2015 with 188 outlets but revenue per store fell. Instead of adding more stores, the company started to trim the store count in 2016 and this resulted in a steep decline in sales particularly acute in Q4 2016 and Q1 2017.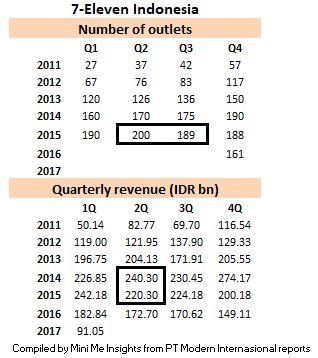 H1 2015 update reveals SSSG down 4.7% following alcohol ban
In the "Retail Initiative in Action! –Meet Everchanging Needs of Customers" first half 2015 update by Modern Internasional, we know that same store sales growth (SSSG) fell by 4.7% during the second quarter of 2015 dragged by the poor performance of centre of store (COS). The decline of COS was due to the loss on sale of alcoholic drinks and the knock on effect on the sale of snacks.

Alfamart & Indomaret escaped unscathed
The country's two largest minimarket chains Indomaret and Alfamart were not affected by the alcohol ban as they have a broader range of products and geographical reach. In contrast to Indomaret and Alfamart, 7-Eleven stores are largely concentrated in the Jakarta (restricted by government regulation) and has less stock keeping unit (SKUs).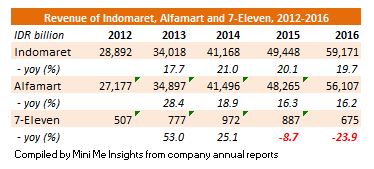 In the third quarter of 2015, an average 7-Eleven outlet carried 2,537 SKUs, according to Modern Internasional's data. In 2016, a typical Lawson convenience store had around 2,500 SKUs, while an Alfamart minimarket had approximately 4,000 SKUs. The higher number of SKUs means the stores have more products catering to the needs of consumers including household and beauty and personal care.
Other convenience stores saw shrinking network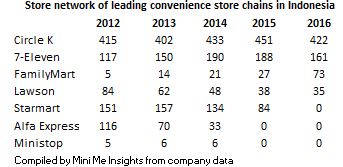 The leading minimarket chains saw continued expansion of their store network but it is a different story for convenience stores. Alfa Express and Ministop ceased operation in 2015, while Dairy Farm's Starmart was sold to PT Fajah Mitra Indah (Wings Corp), the operator of FamilyMart, in 2016 and was rebranded under the FamilyMart banner. Lawson, run by PT Midi Utama Indonesia, the same family of Alfamart, struggled to increase its store network.
Interestingly, there is a new Alfa Express outlet at the Soekarno–Hatta International Airport bus terminal. It is not know if there are similar Alfa Express in other locations.
Indonesian nongkrong culture caused the death of 7-Eleven?
7-Eleven was celebrated by the Western media for finding a niche in satisfying Indonesian hangout culture or nongkrong. Now, experts are pointing the demise of 7-Eleven on nongkrong.
Rosan Roeslani, chairman of the Indonesian Chamber of Commerce and Industry (Kadin) was asked to comment on the recent failure of 7-Eleven Indonesia. He said 7-Eleven has chosen a wrong business model where the margin is minimal and rental is high. He added that consumers spent a lot of the time nongkrong at 7-Eleven but only made minimal transactions in store.

"A person buys one Coca-Cola but spend time there for a couple of hours, it just doesn't fit their business model," said Rosan Roeslani on 25 June 2017.
Financial mismanagement
The financial statement of PT Modern Internasional reveals problems with the company.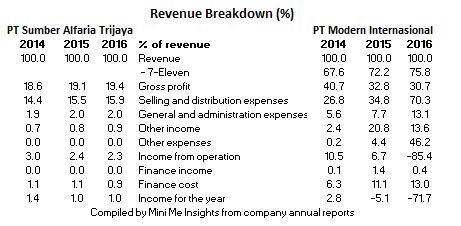 By comparing Modern Internasional's financial statement with Sumber Alfaria Trijaya, the operator of the highly successful Alfamart minimarts, we see huge swing in expenses and an elevated finance cost in the financial statement of Modern Internasional.
The dependence on other operating income, largely from asset sale, is a red light. In 2015, Fujifilm Indonesia agreed to pay the company IDR 229 billion to take back the trade rights to Fujifilm products. The 7-Eleven operator sold the trade rights to focus on expanding the convenience store business.  In 2016, Modern Internasional made IDR 93 billion from the one-off sale of fixed assets.
In 2016, depreciation expense reached IDR 165 billion, up from IDR 107 billion in 2015 and IDR 59 billion in 2014. In 2016, other operating expenses surged with the impairment of inventories, property, plant and equipment. All these severely hurt the bottom line.
The company was forced to sell idle assets to pay off bank loans and shutting down unprofitable 7-Eleven outlets to streamline the business.
At the end, the streamlining of the business failed as sales did not pick up at 7-Eleven, which now generates most of the revenue.
Writing on the wall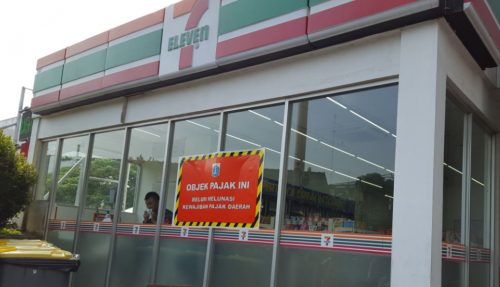 The 7-Eleven stores visited by the author in November 2016 had banners stating the store had not paid local taxes. On hindsight, this was already a clear indicator that things were not going well at 7-Eleven.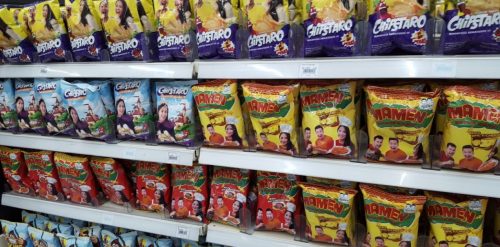 In the last visit in April 2017, the 7-Eleven at Novotel Gajah Mada was devoting a disproportionate large amount valuable shelf space to less well known brands like the snacks made by PT Universal Cipta Pangan. The ready-to-eat meal section had limited choices and was no longer exciting.
What Mini Me thinks
It is very difficult to pinpoint the exact cause of 7-Eleven Indonesia's demise. Some blamed it on high rental cost. Indeed, rental expenses under selling and distribution expenses accounted for 9.2% of total Modern Internasional revenue (including the 7-Eleven business) in 2016. In contrast, rental expenses only represented 0.5% of Sumber Alfaria Trijaya's sales in 2016.
Revenue per store of 7-Eleven was higher than the two leading minimart chains, a title it eventually lost to Alfamart in 2016 as troubles mounted at 7-Eleven. As a comparison, the revenue per store of 7-Eleven Malaysia in 2016 was only IDR 3.1 billion (MYR 1 million).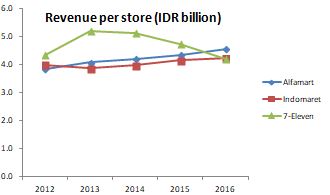 Alfamart generates a much higher revenue per square metre (sqm) as the average selling space is only 90 to 100 sqm. To accommodate the nongkrong customers, 7-Eleven has to go for a much bigger outlet with a larger seating area. Some outlets even have a second floor devoted solely for sit in.

In the last flash news update (Q3 2015), we know the large store format is becoming unsustainable due to the decline in footfall. The company said it was focusing on opening small stores (100-120sqm) to improve store/sqm productivity. At the end of the third quarter of 2015, 121 stores were over 100 sqm, while 68 outlets were under 100 sqm.
We also know the company was striving for financial prudence by using "existing cash flow instead of increasing borrowing" for new store opening. This explains the debt-fueled expansion in the past and the high finance cost.
Since closing a net 27 outlets in 2016 and further 46 since the end of 2016, there are now approximately 120 outlets in operation, according to Jakarta Globes. The store closure meant the company will not be able to survive with the extra burden of servicing existing loans.
The government alcohol ban is a trigger but it all comes down to the actions taken by the management to mitigate the impact of the sales ban by optimising the product mix. Ultimately, the company failed to arrest the decline and paid the price.
The plight of 7-Eleven serves as a reminder to FamilyMart, Lawson and other convenience store players to shape up and to make full use of the space to boost revenue/sqm and to keep focus on what makes convenience store different from their minimart peers – 24/7 and plenty of excitement.